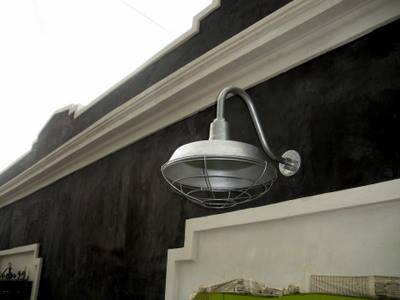 Featured Customer | Original™ Gooseneck Barn Light Graces Home in Historic Merida, Yucatan
Like many retirees, Wes Prince was looking for a change of scenery. But unlike those who simply retire to a sunny locale to relax, Wes took on a renovation project that would send most homeowners running for a condo. Wes sold his loft in Atlanta, and, along with his new bride Lola, packed the Jeep with a five-month-old Golden Retriever and a Chihuahua then drove 3,000 miles to Merida, a 500-year-old city on Mexico's Yucatan peninsula. It was here in this historic city that Wes and Lola tackled the complete renovation of an old ruin that would become their dream home. On his first trip to the area, a friend took him to see the house.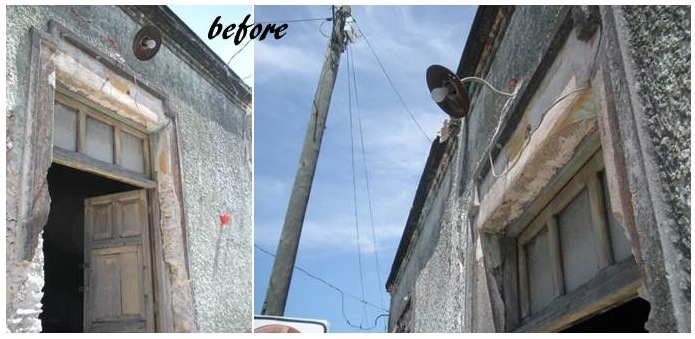 "I bought it that week — something everyone tells you not to do," Wes says. "They all say rent for six months and find the area you are comfortable in. No regrets though. It has turned out to be exactly the right place to be." Wes chronicled the complete restoration process on a Facebook page and after 58 weeks of construction, all completed by hand labor, the electrician hung a Barn Light Electric Original™ Warehouse Gooseneck Light over the front door. The previous owner had chosen a small gooseneck for the space and Wes thought it was fitting to replace it with a more updated version.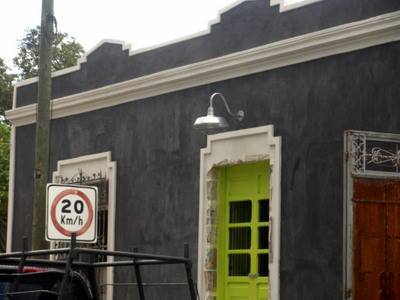 "We felt it important to preserve and respect the history of the home including the facade detail, wall niches, ceiling beams, and original doors. The new additions to the house are soaring and modern, and the blend of old and new works well," Wes explains. "The exterior facing the street retained its original colonial design, but we zeroed in on an industrial/contemporary vision for the house. The Original™ Gooseneck was just the answer to highlight our lime green, 100-year-old front door!" Wes chose a galvanized finish for this American made light to complement the charcoal cement used on the exterior.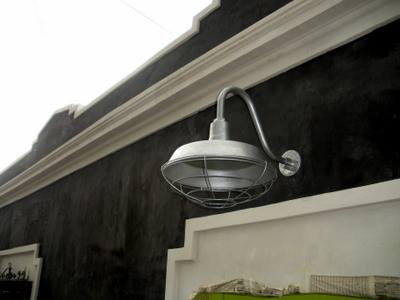 "The finish gives a hint of what will be found beyond the front door and the wire cage adds a bit of security to the fixture," Wes says. After finding Barn Light Electric during an online search, Wes almost didn't make a purchase due to the shipping costs to Mexico. But when Lola made a trip to Houston to visit a new grandbaby, she took advantage of the free shipping in the US and took an empty suitcase with her. The gooseneck was shipped to Houston, carefully repacked inside the suitcase, and arrived in perfect condition in Merida!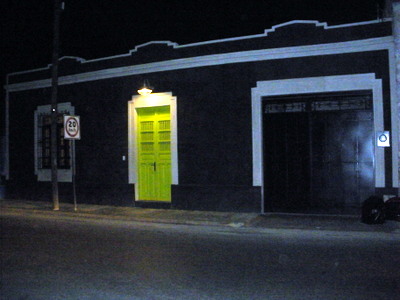 "If the airlines allowed unlimited baggage, we would have purchased lots more from your extensive catalog of unique and interesting lighting," Wes notes. "But there will be more trips back to the US and, as we say here in the Yucatan, 'I'm going to mule down some more things on the next trip…"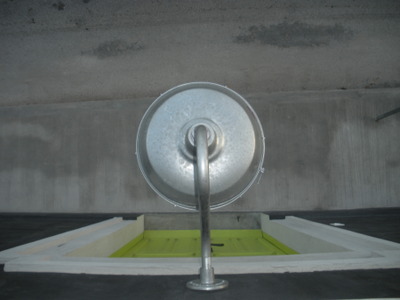 Photos courtesy of the homeowner