Featured Customer | Vintage Industrial Fixtures Lend Noir Era Look to Business
For a business that serves military enthusiasts, vintage lighting brings the perfect touch of history and style to a space. Brady Miller, owner of Monkey Depot in Mesa, Arizona, searched high and low for vintage lighting for his brick-and-mortar showroom but quickly became frustrated.

"The challenges of finding the right ones, finding enough of them, and then the hassle of re-wiring and bringing them up to current code and specs were wearing me down," Brady explains. In his search for some of the vintage maker names such as Benjamin® and Ivanhoe®, Brady stumbled upon Barn Light Electric and realized he could get the vintage quality and look without the hassle.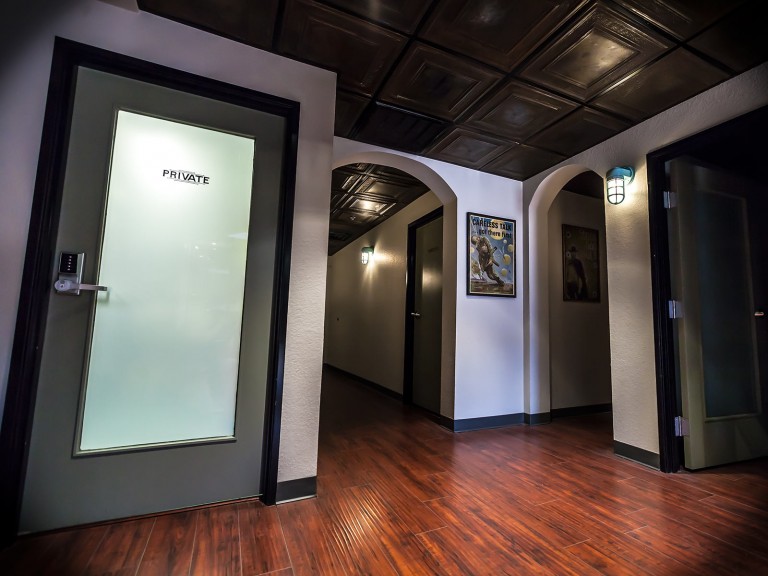 "We really wanted to go for a cross between a vintage factory and a noir era private eye office," Brady says of his showroom. His business features military themed action figures and die cast models, while a second business called Monkey Edge focuses on high-end custom knives and gear. Brady chose four Atomic Topless Streamline Industrial Guard Sconces for a hallway that connects the showroom to the warehouse. These rugged, American made fixtures are finished with a heavy duty cast guard, frosted glass, and a Jadite finish.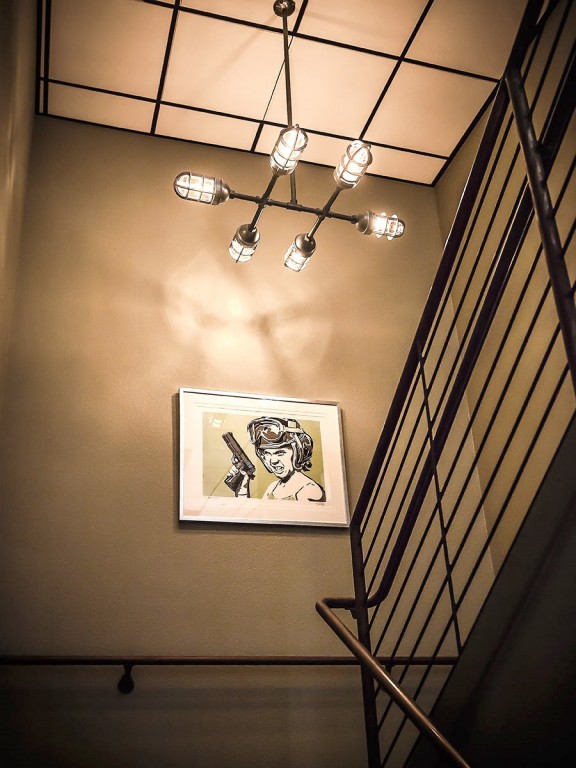 "We chose the chandelier because it was so cool, we had to have one," Brady says. "And it ended up working in the stairwell going to the loft offices. It appears a bit foreboding." This Factory Overhead 6-Light Chandelier features thick cast guard units with a Galvanized finish and frosted glass. The heavy stems lend a distinct industrial appearance.
In the showroom, Brady chose three 20″ Ivanhoe® Sky Chief Warehouse Porcelain Pendants in Vintage Green with Black cotton cords.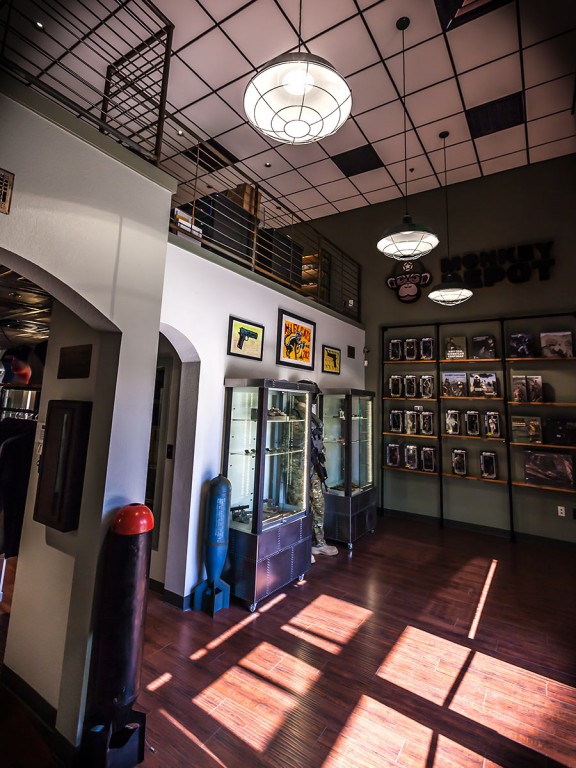 "The warehouse pendants were chosen for their vintage flair as well as for the amount of light they provide," Brady notes. "Their size also separates the showroom a bit visually from the loft." When he received the lights, Brady was impressed by the quality and feel of his new vintage style fixtures.
"They were not like the cheap 'retro' knock offs. We get tons of compliments on the place in general," he says. "To me, good lighting should be invisible to people in the sense that they do not walk in and say 'Hey, cool lights!' But rather, people walk in and say 'Hey, amazing place!" and then start picking out the cool individual elements. This is a major factor in giving an overall feel and vibe to the place."
Photos courtesy of Monkey Depot