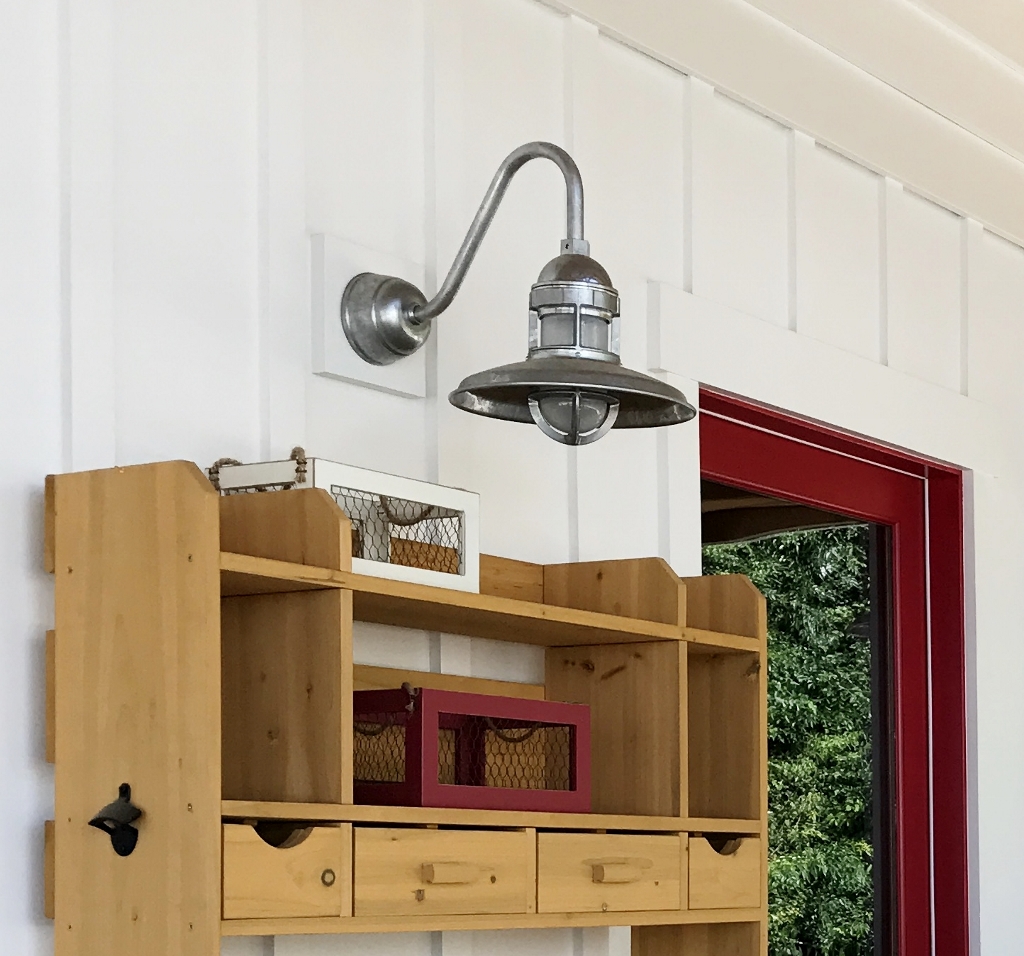 Efficient LED Barn Lights Add Designer Look to Family Haven
The new barn that Eddy and her family built on their property in Rolling Hills, California, isn't just a run-of-the-mill barn. Yes, horses do live here. There's a tack room with all the necessities for riding. And yes, there are stalls, turnouts, and a feed room.
But this gorgeous new barn also serves as the family's treasured social space where they like to hang out especially at night.
"Our barn isn't just a place we go to ride," Eddy says. "We meet down there, the guys smoke cigars, we listen to music, sit on the porch with a glass of wine, and sit in the tack room and chat. It's a social gathering place and, all the while, the kids are feeding the horses way too many treats!" Because the family spends so much time in the barn at night, Eddy chose LED lighting.
"I wanted LED lights because of the cost of electricity, and I like a lot of lighting in different areas," she explains. "I wanted to be able to actually use them without watching the meter go crazy!" Eddy also wanted a Ralph Lauren look with lots of color and gooseneck arm styles to choose from, plus dimmers for a nighttime mood. She found all of the quality, customizing options, and LED efficiency at Barn Light.
No barn is complete without gooseneck lights and Eddy chose the classic Original™ Warehouse LED Gooseneck Light for the exterior of the barn. She customized two of these with 16″ shades and a smaller 12″ shade is installed over the feed room door. All three gooseneck lights have a Galvanized finish and G11 gooseneck arm. Eddy chose the 850 lumen LED with a Warm White temperature and domed lens.
"I like the old fashioned galvanized look of these for the outside of the barn," she notes. "These are the first lights you see approaching the barn and they evoke that old-style barn feel to an otherwise pretty modern structure."
A more contemporary style of gooseneck light highlights the porches, the doorways, and the interior of the barn. The Brisbane LED Gooseneck Light offers a shallow bowl shade design plus cast-guard-and glass for a hint of uplighting to each space. Eddy customized six of these hand-spun barn lights with 12″ shades, a Black finish, and G11 gooseneck arms.
Two other Brisbanes, near a doorway and over a workbench, are customized with a Galvanized finish and G26 arms.
"I love these because they have that little bit of uplighting," Eddy says. "Plus you have the ability to choose from so many colors and variable types and styles of gooseneck arms." Eddy added frosted glass to these American-made gooseneck lights for a soft glow at night.
For the turnouts, Eddy chose the Streamline LED Industrial Guard Sconces. She had used this rustic wall sconce on a previous barn project and loves that the rugged cast guard protects the glass from rowdy horses. She customized these sconces with a Galvanized finish, standard cast guard, frosted glass and a Warm White LED.
"I use domed lights everywhere for safety reasons. Horses rear up and hit things they're not supposed to and they play with anything," she says. "The guards are good because the horses can't break the glass."
The stalls are also well lit by Atomic Topless Dual LED Sconces. These unique wall sconces, shown above behind the Brisbane Gooseneck Light, allow Eddy to illuminate 14 stalls with only seven fixtures.
"These are great to light the stalls since I use half as many," Eddy explains. "And they have the guards on them in case a horse goes coo-coo. Plus they look good!" These wall lights are customized with a Galvanized finish, standard cast guard, frosted glass, and Warm White LED.
Although you might imagine the tack room to be full of nothing but saddles and bridles, Eddy's tack room is truly a haven for the family. Complete with a red Smeg fridge, comfy furniture, and yes, plenty of riding equipment, this space is highlighted by seven Union LED Wall Sconces.
These porcelain enamel wall sconces are handcrafted from steel and finished with a high-gloss Cherry Red porcelain finish that will never fade. The 10″ shades provide plenty of downlighting through the 850 lumen LED and domed lens.
"They look so good with the old fashioned-looking fridge," Eddy says. "The red coordinates nicely with the wood, brick floors and white shiplap. It's just a great, happy-looking accent color." She adds that the warm led adds just the right touch of light.
"They look great and are nicely made. You can tell they are quality lights, and everyone who sees them compliments them," Eddy says. "This is my second barn project and I've used Barn Light fixtures on both, and will use them on my next project as well. I love them all! Thanks for making such great products!"
Photos courtesy of the homeowner