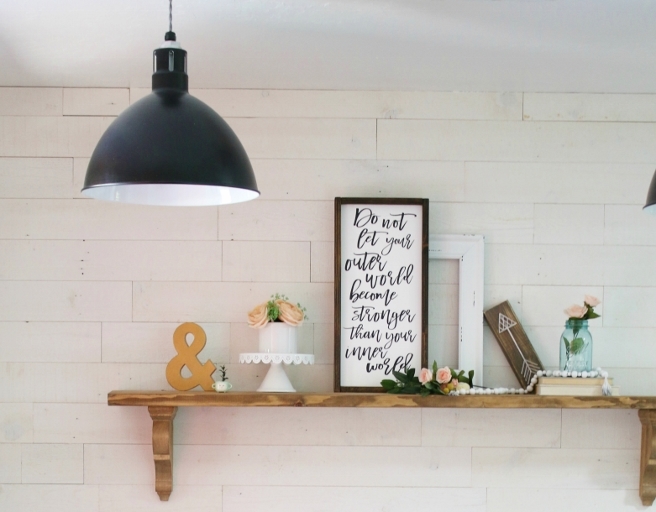 Vented Pendant Lights Add Wow Factor to Entry
Your home either has it or it doesn't. That special something that makes people stop in the doorway, look around, and exclaim "Wow!"
Kelli had the wow factor in her sights as she recently renovated the entryway and front hallway of her Arizona home. Kelli writes for the Lolly Jane blog with her twin sister Kristi.
"The entryway is the first impression when entering a home," Kelli says. "And we wanted that wow factor when greeting our guests." Kelli's renovations are near to her heart as this is her childhood home. She purchased it several years ago and has been slowly working her way through renovation projects which she posts about on her blog.
As she pondered upgrades, Kelli faced low ceilings and poor lighting including one outdated chandelier in the entry and a 40-year-old wall sconce in the hallway. In looking for new lighting, she searched for products made in the USA with authentic finishes to keep the history of the home intact.
"We support American-made products before outsourcing," she notes. "We love Barn Light's story and are proud to buy handmade lights. We wanted pendants and we love the huge selection available on the site. It was so easy to customize our unique barn lights!" Kelli chose the Wilcox Vented Pendant Light and installed two in the entry and two in the hallway.
She customized all four fixtures with a Black finish and black-and-white chevron cords. The pendants in the entry have 16″ shades while the hallway lights feature 10″ shades.
"We chose two shade sizes to match the rooms they would be in," Kelli explains. "The 10″ is perfect for the narrow hallway, and the 16″ shades really stand out as jewels when greeting guests. We love the classic look of the pendants but adore the vented feature to dress them up."
The Wilcox Vented Cord Hung Pendant is handspun from high-quality aluminum then finished by hand with a durable powder coat finish. The deep bowl harkens back to early industrial lighting while the vented neck provides a touch of stylish uplighting. More than two dozen finish colors are available for these ceiling lights along with five natural finishes.
"I typically go for color when decorating, but since we added a lot of white to the entry and hall, I knew a bold black would keep the classic feel of the home, yet allow me to accessorize with colors in the future," Kelli says. "The black-and-white cloth cord keeps in theme with the classic touch. We love the added bonus of customizing the cords."
Kelli's home is full of the farmhouse character she knew as a child and continues to nurture for her own children. Along with the kids' chickens and goats outside, Kelli has created a farmhouse feel inside her home and barn lights play a major role.
"Not only do we love the look, but we love how well they distribute light throughout the house," she says. "Each room is well lit, warm, and cozy. They make such a difference in turning our house into a home."
Photos courtesy of Lolly Jane