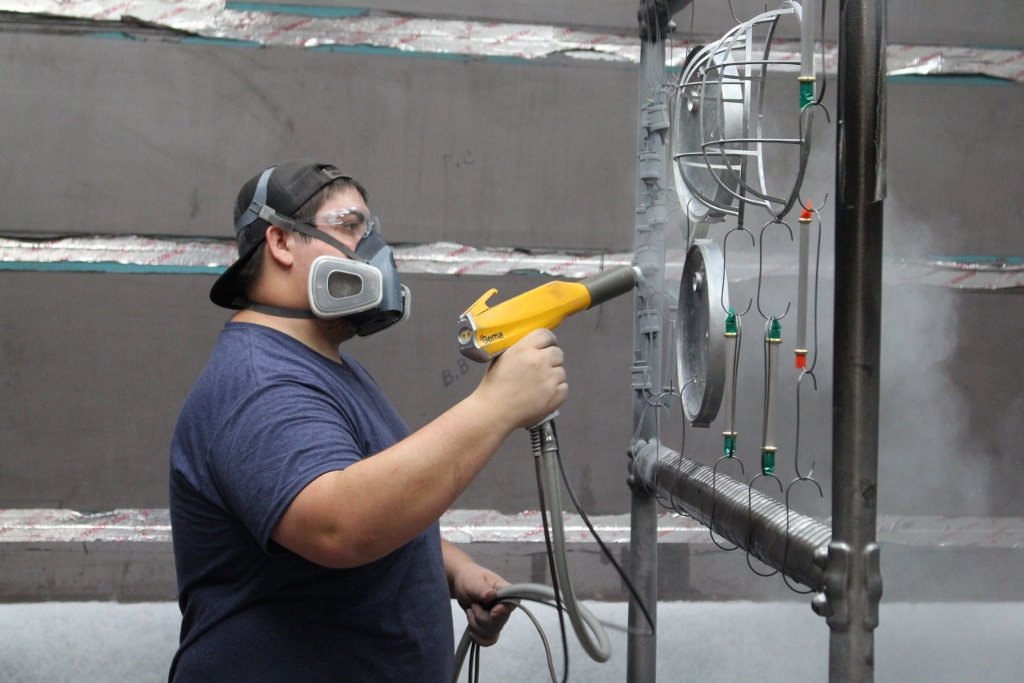 Behind the Scenes | Start With the Finish When Choosing Lighting
While October is officially Manufacturing Month, we celebrate the production of American-made goods every single day here at Barn Light. Our talented crew embraces the hands-on process of crafting high-quality barn lights, porcelain enamel lighting, and industrial furniture that are easy to customize and stand the test of time.
Throughout October, we'll be offering a behind-the-scenes look at our manufacturing facility located on the Space Coast of Florida. Today, we're exploring our different finish options.
There are countless choices when it comes to lighting, but one of the first things you should consider is the finish. One of the most popular finishes is powder coating, a dry powder applied most often to metals. We apply powder coating to an aluminum alloy of a thicker grade that surpasses what you typically find at most retail outlets.
We also pre-treat the aluminum with a phosphate that allows the powder coat to adhere better. This durable finish comes in more than two dozen different colors ranging from traditional hues of Black, Galvanized, and Rust to more vibrant shades of Barn Red, Teal, Magenta, and Sunflower so you're sure to find the perfect color to fit your space.
Natural finishes are also popular and highly coveted for their warmth and timeless style. Copper and brass complement most any décor, and the variations available in the finishes, including weathered brass and oil-rubbed copper, offer even more variety than a raw finish.
The third finish option is porcelain enamel which was the industry standard back in the early 20th century. When warehouse-style shades replaced bare bulb lighting in factories and warehouses, porcelain enamel was used because of its ability to withstand high heat, chemicals, and good old Mother Nature.
Our porcelain enamel shades are crafted in much the same way as they were in the 1930s and 40s. Hand-spun from commercial grade steel, the shades are coated with multiple layers of porcelain enamel glass then baked in a 1,600-degree oven to seal the glass to the steel.
The result is a high-gloss finish that will never fade. You can see the difference between porcelain enamel and powder coat above.
Although porcelain enamel manufacturing all but disappeared when cheaper painting techniques came onto the market in the 1950s, Barn Light revived this long-lost art form and is the only company in America manufacturing porcelain enamel lighting!