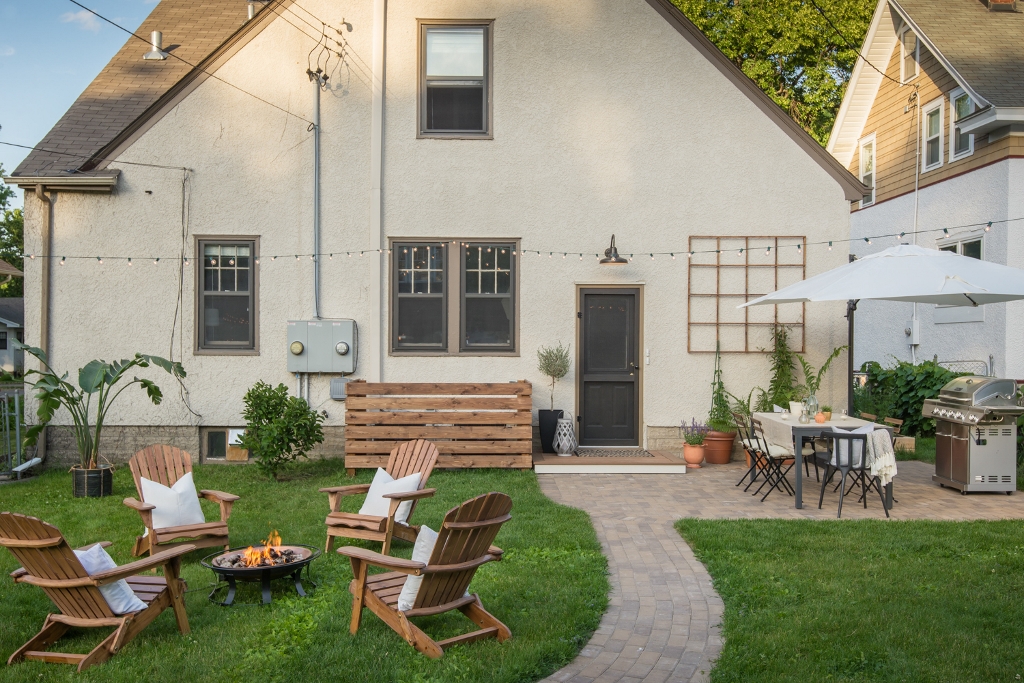 Gooseneck Light Pays Homage to Tudor History
With warmer-than-average temps for much of the country throughout October, outdoor entertaining has enjoyed an extended season. For Erin and her husband, the warmer temps meant even more time in their renovated backyard where they created an oasis for friends and family to enjoy.
"When we moved in two years ago, the backyard was an overgrown jungle that seemed forgotten since the late 1970s," Erin says. "Summers are as good as gold here in Minnesota, so we wanted to create an outdoor space that we could enjoy during warmer months." Erin writes her blog Francois et Moi from the Tudor-style duplex, located in the Fuller Tangletown neighborhood in Minneapolis.
The photo above shows what Erin faced as she began renovating her back yard. Her to-do list: hide the HVAC units, add some paint, shift the location of the patio with new pavers, soften the facade with greenery, add outdoor seating and a new barn light. And voila!
"We wanted to create an outdoor space that paid homage to the bones of the 1930s home," she explains. "We wanted it to feel comfortable and current, but also keep with the home's traditional Tudor style."
The back yard had no lighting at all and since the couple enjoy evening activities, adding lighting was an important design goal. They knew a gooseneck barn light would be perfect but wanted a range of customizing options to choose from. Buying American-made lighting was also important as was having a dusk-to-dawn photocell for convenience.
"We chose the Union Gooseneck Light because it was the one style my husband and I agreed on!" Erin says. "We wanted a look that would celebrate early 20th century design."
The couple customized their new gooseneck light with a 14″ shade, Bronze finish, and G11 gooseneck arm. They also chose the dusk-to-dawn photocell so that the light comes on automatically at dusk and turns off at dawn.
"We went with the Bronze finish to complement the existing bronze storm windows and the newly painted back door," she notes. "The G11 gooseneck arm style had just the right amount of projection over the door that we needed."
Though reminiscent of classic barn lights once found on farms, the Union Gooseneck Light feels current with its sleek warehouse shade and multiple customizing options. The Union shade is also available as a pendant, wall sconce, and in LED.
"My favorite thing about our Barn Light fixture is that it looks as if it's always been there!" Erin says. "It's an extremely well-made fixture that adds a wonderful sense of entry to the back door."
Photos courtesy of Francois et Moi and Kory Kevin Studio