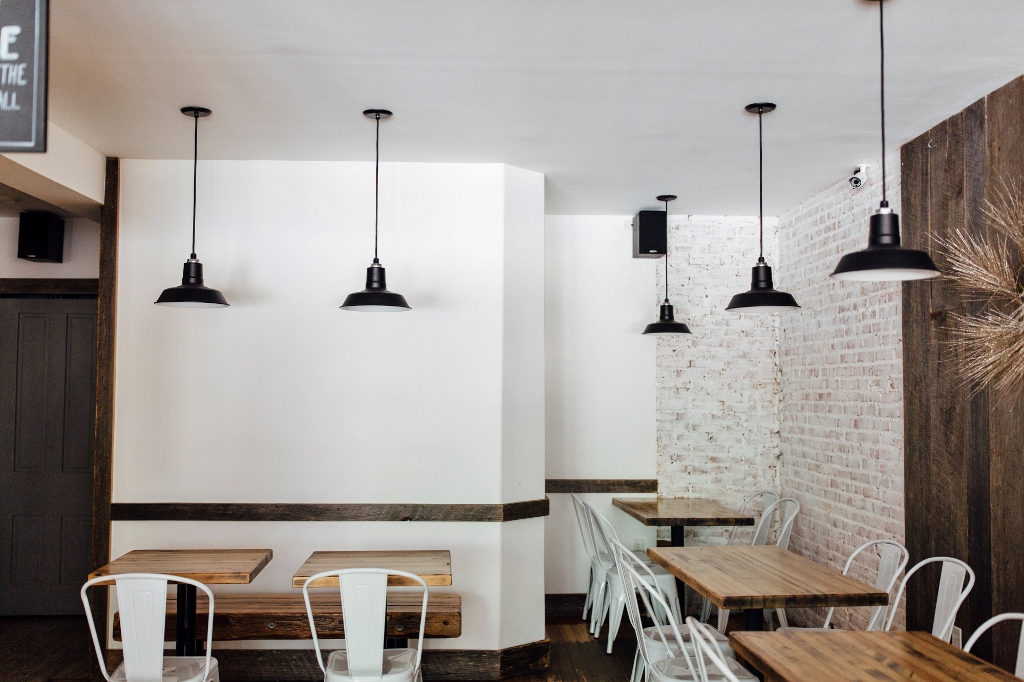 Barn Pendant Lights Establish Inviting Feel to Café
The humble coffee shop. No matter if you live in a small town or in the heart of New York City, your local coffee shop likely serves up much more than a hot cuppa Joe. It's a gathering place for friends, a spot to relax and read, and a hub of information for locals and out-of-towners alike.
In Lancaster, Pennsylvania, Café One Eight is a locally owned shop in the heart of the historic downtown. In business for more than four years, the owners decided it was time for a refresh of the space. They turned to Chris and Claudia Beiler of Creative Space Designers to handle the complete remodel.
"The owners wanted a very functional, clean, and airy space with lots of white for a very inviting feel," Claudia says. "We visited lots of coffee shops in order to create a space that would be our dream café to find." The renovations included a remodel of the dining room, the counter, and the coffee bar area with fresh paint, barn board on some walls, new barn lighting, restroom renovations, and changes in the kitchen as well.
The design team honed in on barn pendants to highlight the counter and seating areas throughout the dining room. With such a crisp, clean palette, the barn-style lighting brought an inviting and not-so-sterile feel against the white walls.
Over the counter, four Wilcox Vented Deep Bowl Pendants bring focused light to the baked goodies along with a splash of uplighting to the ceiling. These hand-spun barn pendants feature 14″ shades, circle vents in the neck, and a Textured Black finish.
"We love the little bit of light spilling out and spreading light over the counter," Claudia notes. "Guests order at the counter, so we wanted to set it apart from the area where guests sit." In the dining areas, Claudia and Chris chose the classic Original™ Warehouse Pendant to bring light to the tables. These are also customized with the Textured Black finish but sport 12″ shades.
"We loved the classic look and the adjustable length in the cord," Claudia explains. "It keeps with the simple, consistent design and contributes to an aesthetically pleasing space. They are also a great value."
A community table takes center stage in the café in front of a brick wall painted with the company logo. An Original™ 2-Light Stem Mount Pendant is a focal point for this popular spot and is customized with the Textured Black finish and a 24″ stem.
"The idea behind the community table was to make it a statement piece of the cafe along with the Café One Eight logo on the wall behind the table," Claudia says. "We wanted a light fixture over that table to help create that statement piece without being overdone." The fresh, updated look of the café and the new lighting has been well received in the Lancaster community.
"We loved the customization that was possible and being made to order in the USA," Claudia says. "We also like the possibility of having several different fixtures but, when put together, gave the space a consistent feel and look."
Photos courtesy of Madeline Broderick Photography, The Chris & Claude Company, and Café One Eight