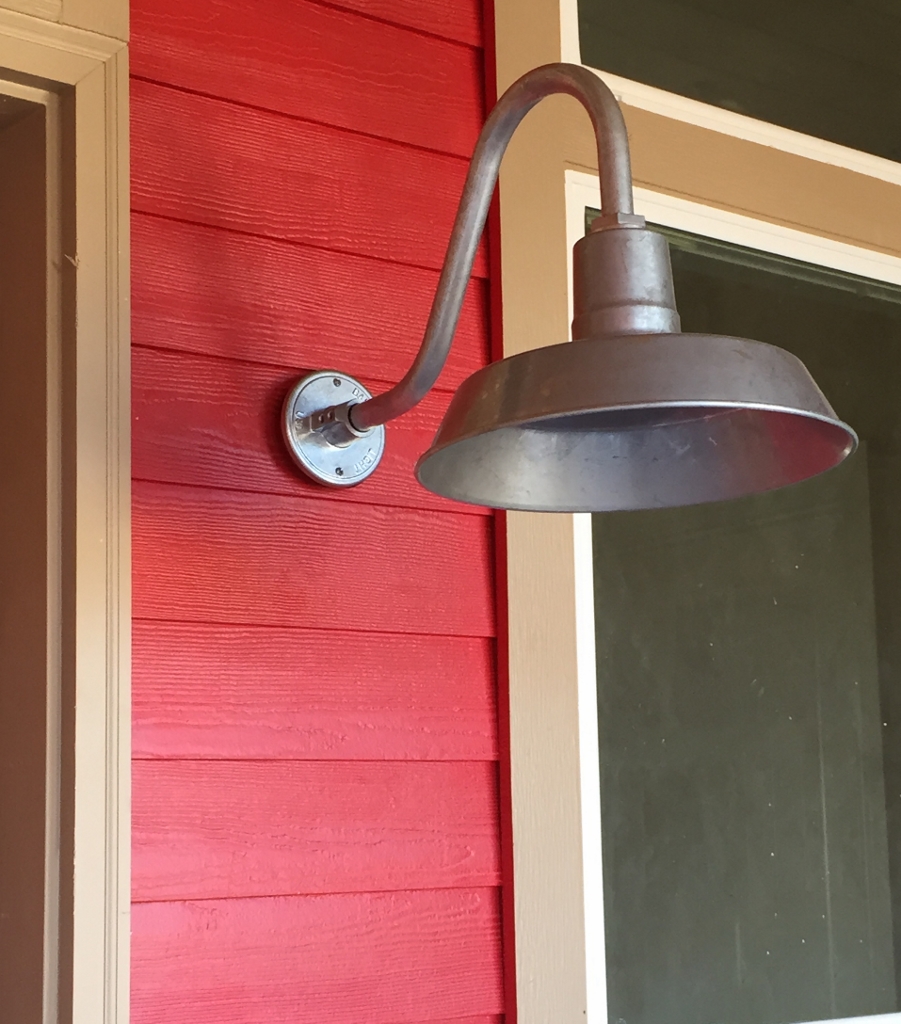 Gooseneck Wall Lighting for Farmhouse Chic Style
Whitney describes the last 14 years of her life as living in a sea of beige. When she moved to Austin, Texas, from Arizona, she wanted her new home to have color and texture with more of a barn/farm/rustic look.
"It's Texas Hill Country with a little bit of lodge and farmhouse thrown in for good measure," Whitney says. "I like to call it 'farmhouse chic.'" When she and her husband began the building process, she turned to Pinterest for lighting inspiration.
"I found Barn Light Electric on Pinterest and fell in love. At that point, I knew I wanted barn lighting for the exterior," she notes. For the front door, Whitney chose a classic RLM-style warehouse shade reminiscent of early American barn lighting. The Original™ Warehouse Gooseneck Light offers a wide span of downward directed light perfect for entryways since it avoids harsh glare. She customized this American-made fixture with a 14″ shade, Galvanized finish, and a G15 gooseneck arm. It is also available in LED, copper, brass, or with a porcelain enamel finish.
"This is my favorite style of light," Whitney says. "I like that they are big and make a statement. The Galvanized finish is just simple and clean and timeless." Having grown up on a farm in Alabama complete with a barn and horses, Whitney was happy to get back to her country roots with her new home.
"I wanted to do whatever possible to make our new home farmhouse country while not going too far over on the country side," she explains. "Besides, the man of the house had to be convinced that he liked country as well!" For the garage, Whitney explored our Discount Barn Lighting Collection and chose the All Weather Gooseneck Farm Light. This hand-spun wall light sports a 15″ shade, Galvanized finish, and a G16 straight arm.
"The garage is pretty big and with the stone columns, we felt the straight arm would be better here so they did not stick out too far," Whitney says. And just like our traditional barn lights, this All Weather Farm Light is handcrafted from commercial grade materials. The price is reduced by having slightly fewer finish options to choose from.
"The house isn't quite finished yet but people have already commented on the lights and asked where we got them," Whitney says. "They are statement pieces really and look fantastic. They set the classic farm tone for the rest of the house." To see more pictures of the work in progress, check out Whitney's Instagram feed!
Photos courtesy of the homeowner