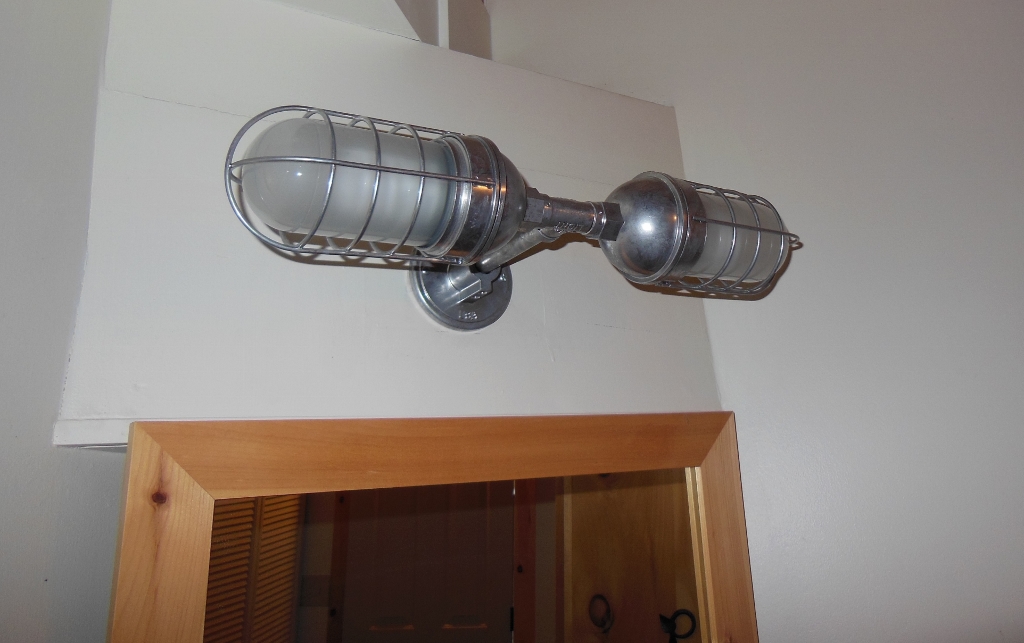 Rustic Industrial Lighting Gives Nod to Steampunk, Nautical
When Lisa and Greg bought their home in 2010, it was only four years old, but they were already thinking about renovations, an addition, and updating the lighting.
"The original house is post-and-beam, a rustic-lux style," Lisa says. "With the addition and renovations, we added huge windows to improve our view and bring in more nature. With polished concrete floors and rustic lighting, the addition is more industrial chic."

The couple's home is located smack in the middle of Lake Champlain in North Hero, Vermont, where winter days can be short and cloudy. Having plenty of light options inside brightens the space and allows the family to address the ever-changing natural light.
In the addition, Lisa layered the lights using Industrial Guard Sconces, large Anchorage Bulkhead Wall Mount Lights, and Flush Mount Guard Sconces.
"Lighting was critical for us and these fixtures allow for high wattage plus dimmers give us a lot of options," she explains. "The heavy, industrial style balances the light-colored wood and glass very well, we think."
The bathrooms get plenty of light from the Atomic Topless Double Industrial Guard Sconce with a Galvanized finish and frosted glass.
"We thought the galvanized finish worked best with the polished concrete floors and slate concrete bathroom counters," Lisa notes. "We like the substantial metal and guards. They give a nod to steampunk and nautical without feeling contrived."
The kitchen sports some barn style with the addition of a Union Wall Sconce over the sink. American made and hand spun from commercial grade materials, this 14″ wall sconce offers plenty of downward light onto the work surface below.
"The kitchen has stainless appliances and black granite counters, so we didn't want to introduce another color," Lisa says. "Galvanized is as industrial as it gets."
To add light among the beams, Greg chose an Alliance 3-Light Chandelier which features three cast-guard-and-glass fixtures attached to a rugged pipe mounting. This industrial pendant light is easy to customize with finish, mounting, guard, and glass options. It is also available as an LED pendant.
"The industrial lights are a bit unexpected in a home setting but work perfectly in our little lake house," Lisa says, adding that she appreciated having a wide variety of American-made lights to choose from at Barn Light Electric.
"Barn Light Electric is a good company with good customer service. You can actually have conversations with them about specific needs or requests," she says. "We had used Barn Light Electric at our Connecticut home and, with this addition and renovations, Barn Light Electric lights were a natural and easy choice."
Photos courtesy of the homeowner