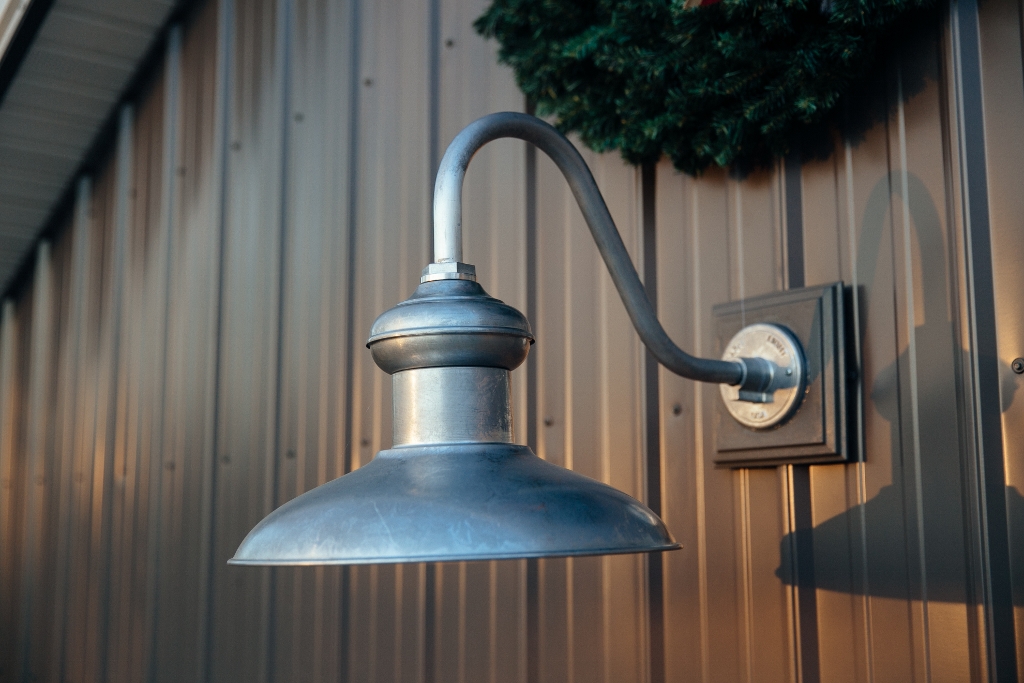 Gooseneck Barn Light Adds Style to Industrial Pole Barn
If you need some holiday inspiration, our Instagram feed is chock full of customer photos worthy of the Hallmark card aisle. Along with festive greenery, twinkling lights, and pretty poinsettias, there's some pretty sweet barn lights too.
But these photos… when we saw these gorgeous shots from Craig in Clarksville, Tennessee, we just had to find out more about this project and share these pics.
Craig recently added a metal pole barn to his property to serve as a garage and work shop. He wanted the structure, built by King Building, to look more like a barn than an industrial building, so he purchased a gooseneck barn light to highlight the front.
"I want to fess up here," Craig admits. "I ordered and installed a light from a different vendor. The light had an integrated bulb and it failed. It was basically a piece of junk."
Craig got a refund and then restarted his search for quality, American-made barn lights. He discovered Barn Light Electric and chose the Chestnut Gooseneck Barn Light as a replacement for the failed fixture.
"The Chestnut gooseneck style with the large shade fit the bill," Craig says. "Being American made is also very important to me." Craig customized his new exterior light with a 16" shade, Galvanized finish, and G15 gooseneck arm.
"The Galvanized finish goes well with the dark charcoal exterior of the pole barn plus it matches the galvanized roof," he notes.
Like all of our handcrafted barn lights, the Chestnut is hand spun from commercial grade materials. This RLM-inspired gooseneck can be customized with one of more than two dozen durable powder coat finish colors. Five natural finishes are also available. A wide variety of gooseneck arm styles offer the projection needed to suit most any space.
"We really like our new light. It's the signature piece for the front of our barn and it can be seen when driving down the road as you pass by our house," Craig says. "I just wish I had found your website first!"
Photos courtesy of Captured by Grant