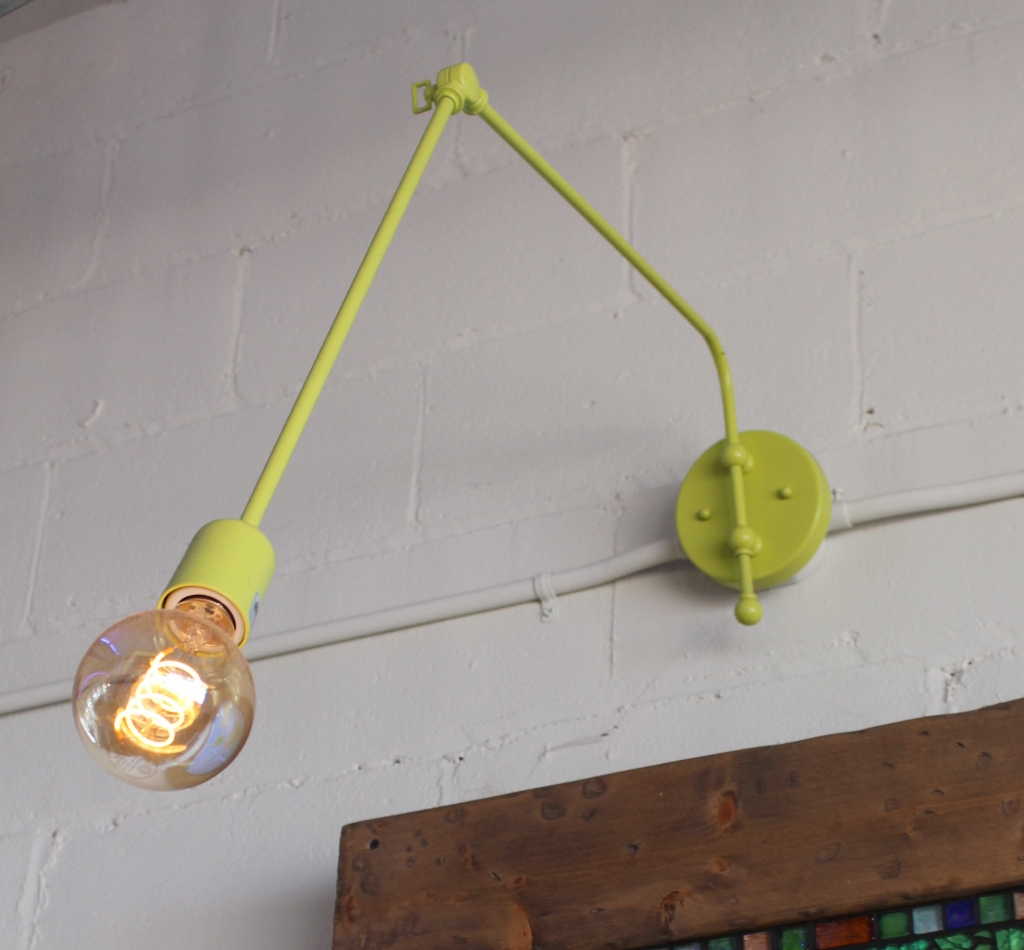 Minimalist Swing Arm Wall Sconces Offer Sleek Style, Colorful Design
If you thought the paths of simple style and stunning design would never cross, the newest offering in our Swing Arm Wall Sconce collection will change your mind. These slimmed-down wall sconces demonstrate that simple design does not have to be basic, boring, or, heaven forbid, ugly.
Introducing the new Downtown Swing Arm Sconce, an extension of our Downtown Minimalist Collection of lighting which embraces the bare bulb look in the form of pendants, chandeliers, and wall sconces. This newest swing arm sconce offers the very best in utilitarian lighting that is easy to customize for most any space and any décor.
The straightforward design, offered in both hard-wired and plug-in styles, features a round backing plate and an adjustable metal arm that swings horizontally 180 degrees. The bare bulb socket holds a standard bulb or you can change the look of the fixture simply by switching up the bulb style.
Try a nostalgic Edison style light bulb for a soft-glowing, vintage look or go for a half-chrome bulb for a more contemporary feel.
The Downtown Swing Arm Sconce is easy to customize in dozens of ways. Finish colors such as Black, White, and Galvanized appeal to traditional decors while more vibrant hues of Sunflower, Royal Blue, and Magenta pop in modern spaces. A Raw Brass finish gives this wall sconce an elegant touch.
Additional customizing options include two arm lengths — one brings the fixture 14″ away from the wall while the extended arm takes it 20″ away from the mounting surface. For even more flexibility of use, consider adding a swivel knuckle which provides a wider range of movement. This handy little piece of hardware creates a more adjustable arm letting the light be maneuvered exactly to the spot you need.
Add this beautiful sconce by the bed to save space on the nightstand, by the end table in the living room, or over a craft table or workbench to create ample task lighting. Rugged enough for commercial settings, this stylish fixture adds a touch of light to table tops, retail displays, and office work spaces. For apartments and rental properties, choose the plug-in option!