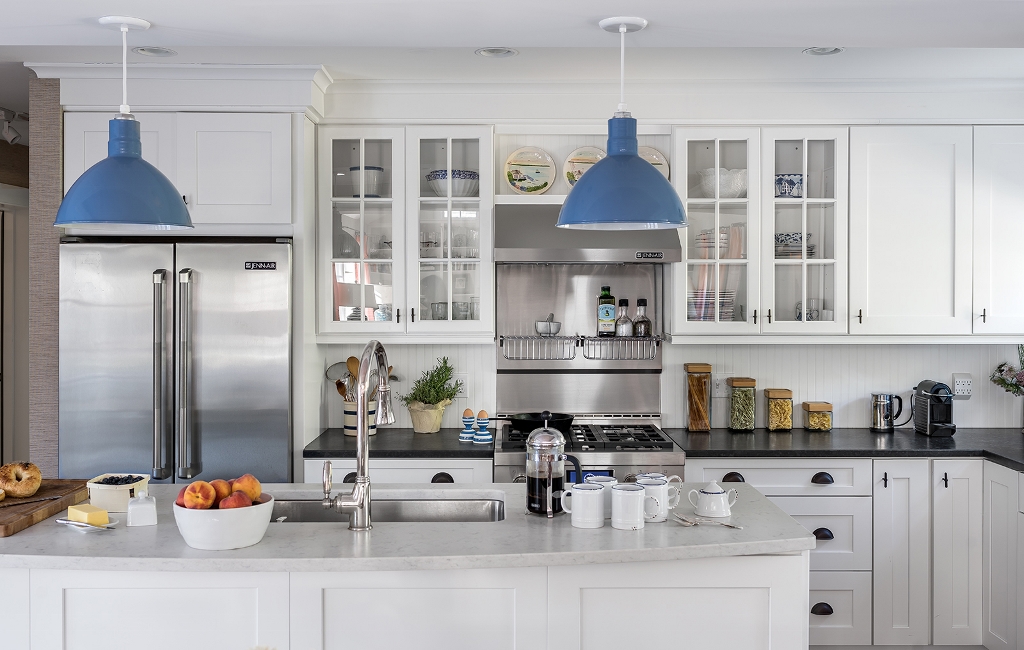 Custom Blue Finish Adds Coastal Feel to Kitchen Pendants
Shopping online can be daunting especially when you're researching items like furniture and lighting. Questions always come up. Unlike some companies, we won't leave you hanging as our award-winning sales team, located right within our manufacturing facility, stands ready to field customer questions.
What size of shade should I order? What's so special about porcelain enamel lighting? And our favorite… do you really hand craft your barn lights?
Why yes, yes we do! And thanks to the dozens of customizing options available, you can create a light fixture that is perfectly tailored to your style and space.
But what if we don't offer the exact shade of blue you need to bring your new kitchen to perfection? Just ask the sales team! That's exactly what interior designer Chauncey Boothby did when she tackled a kitchen project in Prouts Neck, Maine.
"This was a remodel to winterize a wing of a summer cottage," Chauncey explains. "The cottage was built in the early to mid 1900s and is used during the spring, summer, and fall. My goal was to create an atmosphere that felt both cozy in the winter and casual in the summer." Chauncey chose contemporary hues and fabrics juxtaposed with coastal antiques to liven up a timeless room.
When she chose some deep bowl barn pendants for the kitchen island, Chauncey had a special shade of blue in mind. A quick call to our sales team and a custom Pigeon Blue color was ordered up for her.
"The palette for this project was blues, browns, and corals," she says. "I chose the Wilcox Deep Bowl Pendant Light because it best suited the casual cottage feel we were looking for. And the blue added a pop of color in the otherwise white kitchen space." Chauncey customized these American-made, deep bowl pendants with 14″ shades plus white cords and canopies.
"The blue matched perfectly with our scheme," she notes. "It adds the bright pop of blue over the white-and-gray island. The white cord blends in with the cabinets and allows the fixtures themselves to really stand out."
Chauncey, who launched her own design firm last year after working for high-end residential firms in New York City for 10 years, is pleased with the results.
"They pull in the colors of the adjacent family and breakfast room," she says. "The shape is a classic and the pendants really are the highlight of the kitchen."
Photos courtesy of Chauncey Boothby and François Gagné