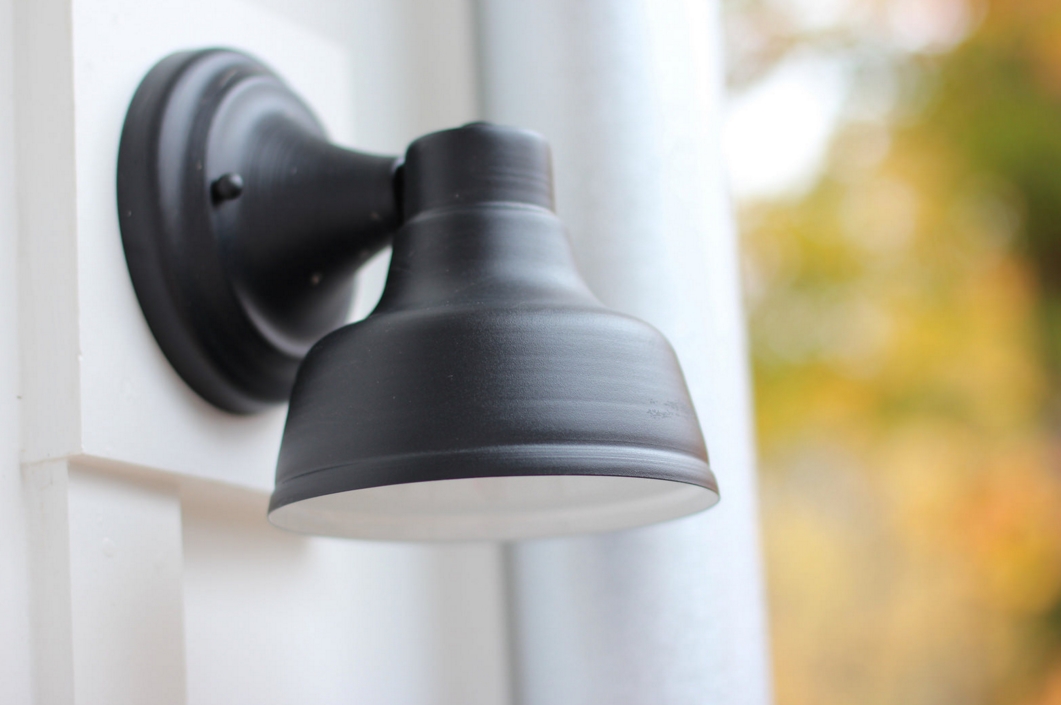 Barn Lighting Offers Authentic Feel in Modern Farmhouse
It's funny sometimes how a whim can change your life. On a beautiful spring day back in 2013, Caroline and her family decided to take a drive along a no-outlet road just a few miles from their home in Columbus, Ohio. Amongst the houses, they spotted an empty lot.
"A periodic wish of ours had been to build a home from scratch," Caroline says. "We sourced the owner information from the county tax records and sent a letter without expecting to hear back." Turns out, the owner of the property was thinking of abandoning plans to build on the lot. After much family debate, their whim for a drive turned into a once-in-a-lifetime opportunity.
"Our goal was to design and build a comfortable family home in a 'modern' or 'fresh' farmhouse style," Caroline explains. The property features a river, waterfall, ravine, and 17-acre bird sanctuary. The family wanted to embrace the rustic surroundings while creating their forever home. They began working with Tom Nau of Nau & Bullock Architects several months before they closed on the property. This early investment proved to be one of their wisest decisions in their two-plus-year experience of building.
"Tom was as inspired by the property as we were, and he created a true vision for the home using our desires and dreams as well as our constraints," Caroline says. "By the end of the project, our mantra became 'in Tom we trust.'" It was Tom who suggested that Caroline consider Barn Light Electric for her lighting needs.
"We wanted lighting with simple, clean lines," Caroline notes. "Lights that had an authentic feeling and that were visually interesting without dominating." Starting with the exterior, Caroline chose classic porcelain enamel lighting for the garage. Three Original™ Warehouse Gooseneck Lights highlight the three bay doors. These American-made wall lights are customized with 16″ shades, Black finish, and G34 gooseneck arms in a Galvanized finish.
"I chose the Black finish to coordinate with the roof shingles," she says. "And I chose the porcelain enamel finish for its durability."
On the back side of the house, the compact Bowie Wall Sconce lent itself nicely to brighten the back doors. These hand-spun barn lights feature six-inch shades and a Textured Black finish.
This industrial wall sconce may be smaller than its gooseneck cousins, but it's just as rugged and it packs a punch on the style sheet.
Over the walkout door leading from the basement, Caroline chose our signature Original™ Warehouse Gooseneck Light. She customized this handcrafted fixture with a 16″ shade, Galvanized finish, and a G24 gooseneck arm.
"I chose the Galvanized finish on this light to coordinate with our galvalume accent roof," Caroline says. "I spent a lot of time comparing fixtures online especially on Houzz and the Barn Light Electric website. Our lights are gorgeous and durable. And they add to the story of our house."
Be sure to check back on Wednesday when we will continue our tour of Caroline's beautiful new home and see what lighting selections she made for the interior!
Photos courtesy of the homeowner