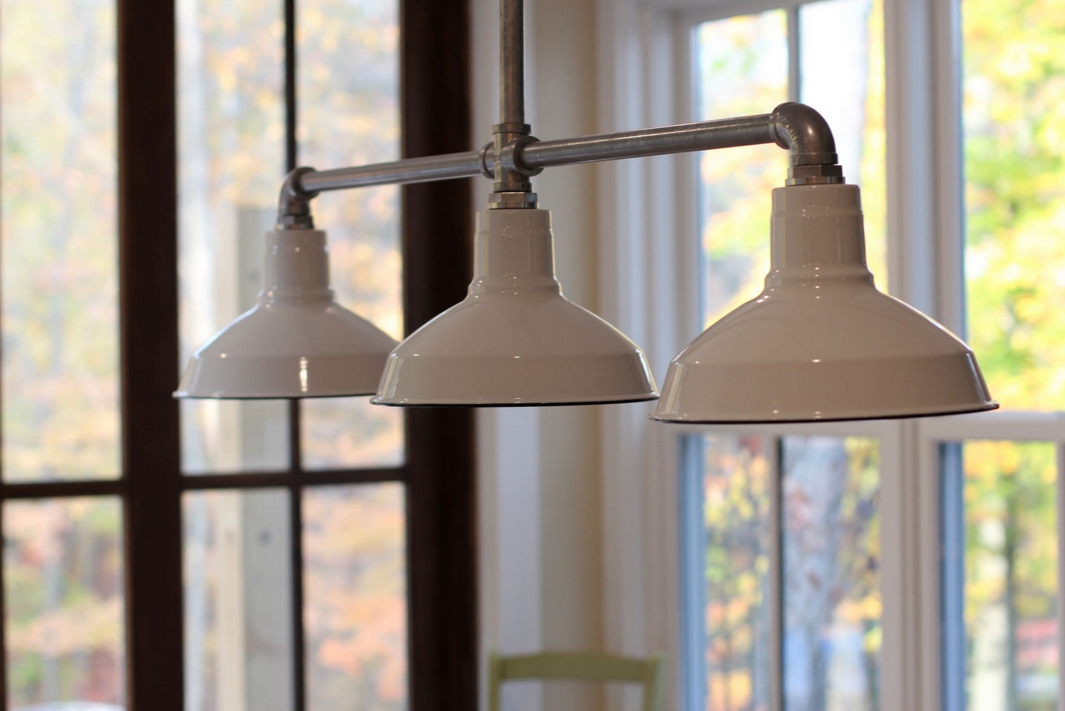 Barn Wall Sconces, Chandelier Add to Fresh Farmhouse Feel
In Monday's post, we started a tour of a gorgeous new build in Columbus, Ohio. And while we're absolutely in love with the classic barn lighting homeowner Caroline chose for the exterior, the surrounding land is worth another look before we head inside to see the kitchen.
Caroline found this idyllic lot on a chance drive down a dead-end street near her home. She and her family fell in love with the location which has a river, waterfall, ravine, and 17-acre bird sanctuary.
"By the end of 2013, we were the new owners of a piece of the country within the city," Caroline says. "We broke ground in June 2014 and moved into the not-quite-finished home last September."
Caroline's goal was to create a fresh farmhouse style with the materials, finishes, and lighting choices throughout the home. Warehouse lighting fit the bill with its clean lines and authentic feel.
In the kitchen, Caroline chose the Barn Light Mini Artesia Wall Sconce to highlight the kitchen sink windows.
"I wanted small-scale fixtures that would not compete with the pendants over the island or dining table," she explains. Caroline customized these American-made wall sconces with a Galvanized finish and G38 mini gooseneck arm. The Mini Artesia is one of our most compact RLM-inspired warehouse shades measuring six inches in diameter. It's perfect not only for kitchens but for hallways, bathrooms, or other spaces that need stylish yet smaller scale lights.
For the nearby dining area, Caroline browsed our collection of Porcelain Enamel Lighting and discovered the Dino 3-Light Porcelain Stem Mount Pendant. This barn chandelier features three handcrafted steel shades that are finished with three layers of porcelain enamel glass. This porcelain finish is baked to a glossy, hard-as-nails finish that will never fade and requires minimal maintenance.
Caroline customized her new chandelier with a White finish color, a Galvanized 36″ stem and two 18″ mounting arms.
The Dino can also be customized with a wire cage or cast guard and glass for a more vintage feel. Thanks to its rugged stem mounting, this pendant light can be installed indoors or out and is perfectly suited for commercial spaces as well.
Caroline worked with Tom Nau of Nau & Bullock Architects — an "awesome architect" as she says — and her mother, a retired interior designer, was helpful as Caroline debated lighting, color, and material choices for the new home.
Although Caroline and her family had experience renovating two older homes, a build from scratch was a new experience. One that was not without its challenges.
"If we had to do it over again, we'd conduct more due diligence on the builder. Quality and craftsmanship are only part of the equation. The ability to accurately estimate and manage a budget are also critical," she says. "My advice would be to get to know the subs. Communicate clearly, honestly, and frequently, and maintain a record of conversations and decisions."
Photos courtesy of the homeowner