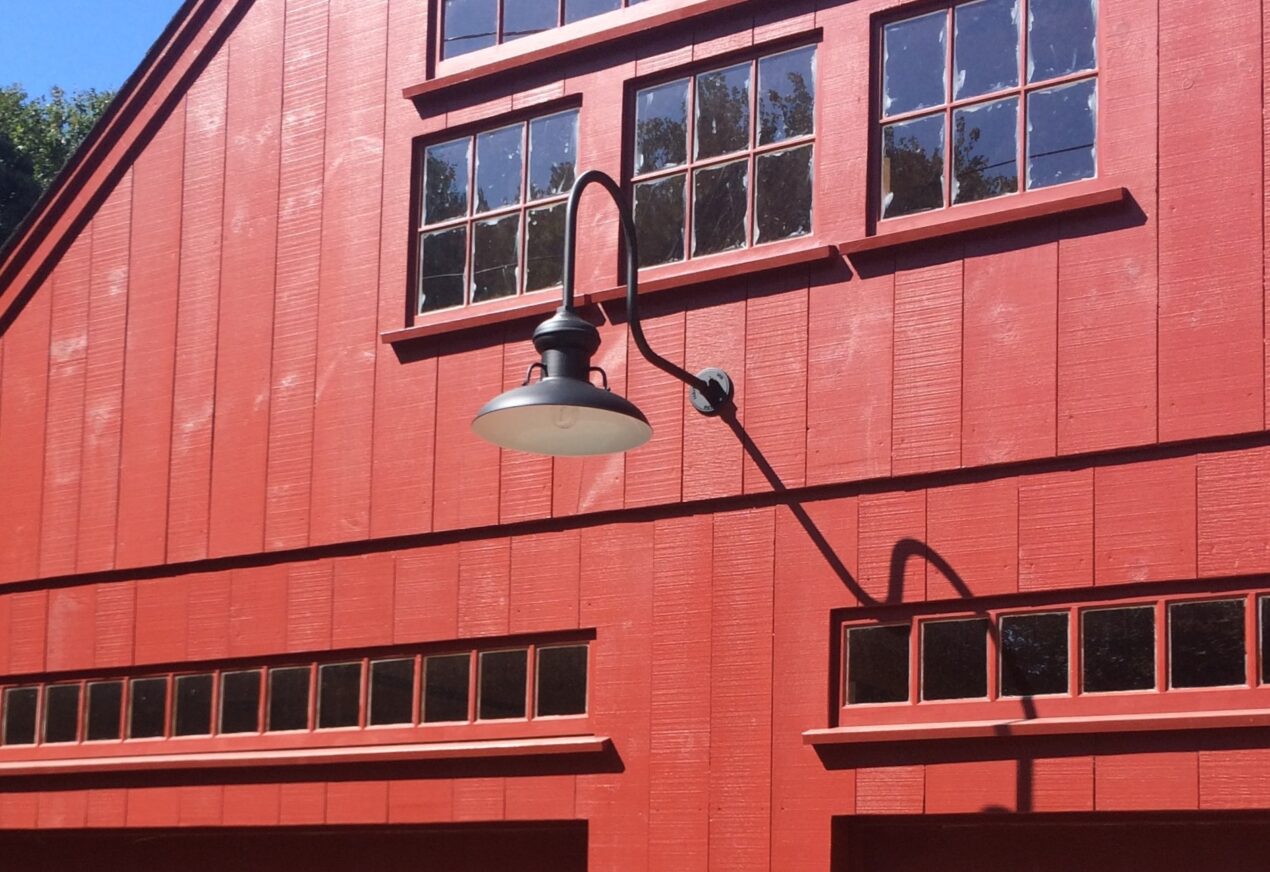 Goosenecks, Pendants Add Rustic Touch to New Space
When building a new space, you can look at all the drawings, plans, and photos you want, but you just never know until the dust has settled how it will all come together. When Traci of Pawcatuck, Connecticut, began working with Country Carpenters, Inc. on a new barn for her property, the structure was meant to be a simple two-car garage with storage space upstairs. But when all was said and done, she decided it was too beautiful for storage.
"It has exceeded my expectations! The upstairs is so lovely that I have opted to keep that space open for parties," Traci says. "We are having our first event Thanksgiving Day!"
The Pawcatuck area is quite beautiful with many farms and old construction. Traci didn't want the barn to look brand new but instead blend in with the area's architecture and look like it had been there forever. She chose lighting that would keep with the classic barn feel she was trying to achieve.
Traci chose Barn Light's handcrafted Laramie Gooseneck Light with a 16″ shade and Textured Black finish to install above the garage doors. A G6 gooseneck arm, also crafted in Barn Light's Florida manufacturing facility, brings the shade 28″ away from the facade.
Inside, Traci opted for American-made barn style lighting with wall sconces and stem mount pendants.
"I started to realize the beauty in the building and I decided to keep that going with the light fixtures inside," she says. "The six Bantam Laramie Wall Sconces had just the look I wanted. I knew in my head what I was looking for and just needed to find it." Her contacts at Country Carpenters recommended Barn Light Electric and Traci found exactly what she needed. Traci customized the barn wall sconces with an 8″ shade and a Textured Black finish.
"I chose the Textured Black to create the illusion of older lights," Traci says. "Brand new was not the look I was going for!"
To complement the wall sconces, Traci chose Laramie Stem Mount Pendant Lights also finished in Textured Black but with a Barn Red Guard and clear glass. These are installed down the center beam and were the perfect combination of form and function Traci wanted. She also chose a Sydney Stem Mount Pendant Light for the top of the stairs.
"The Sydney is the icing on the cake to complete the look," she notes. "It can be used without the other lights to add a warm glow when needed without too much brightness." The Sydney sports a 16″ shade with the same Barn Red guard and clear glass as the Laramie Pendants.
"When I opened the lights, I was so excited! It is a nice feeling when you have chosen a product and it does everything you need it to," Traci says. "I couldn't be happier. They have completed the vision I had in my head so many months before I even started this project!"
Photos courtesy of the homeowner