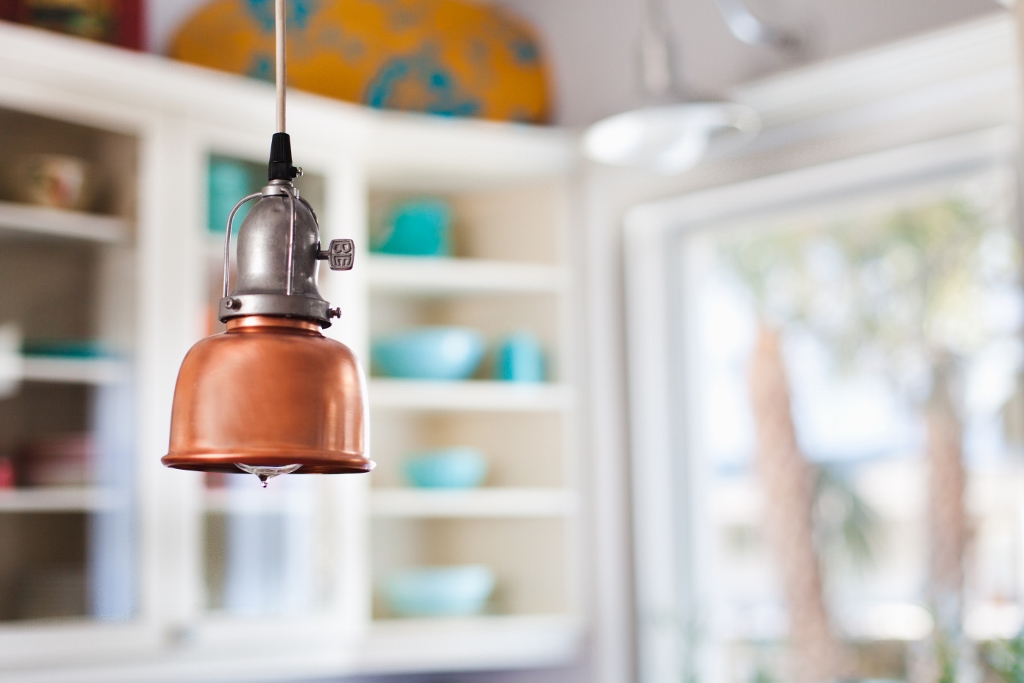 Brass, Copper Lighting Bring Warmth to Home During Autumn
It's cooling off just about everywhere here in the U.S. and we even enjoyed a dip in temps this weekend thanks to the season's first cold front pushing through. We relished the 79-degree high on Sunday, and lows in the 60s had some people hunting for sweaters and boots!
Fall is a great time to cozy up at home and enjoy the longer evenings once we "fall back" in time. It's also a great time to infuse warmer colors into your home décor palette. Curl up by the fire with a good book next to the Lovell Task Lamp, an American-made table lamp that exudes mid-century style. The conical cup shade is crafted from steel and coated with porcelain enamel glass to create a high-gloss finish.
A cast-iron base provides stability and precision joints at the neck of the stem allow you to swivel the shade so you can angle the light exactly where you need it. The throwback look of this retro task lamp is completed with a vintage on/off switch for convenience.
To add warmth to your kitchen island, consider the Fargo Pendant Light. This mini barn pendant is hand spun from solid, raw copper which ages gracefully over time to a natural patina or, if you love the shiny look of copper, you can keep it fresh with a gentle polishing.
The five-inch shade of this mini pendant adds a touch of elegance to counter spaces, hallways, or powder rooms. Hung in groups with different cord and cup options, the Fargo Copper Pendant can bring even more visual interest.
And even though we haven't even gone trick or treating yet, we're already thinking ahead to the big dinner in November when family and friends gather round the table to celebrate and give thanks for food and football! Give your holiday table a warm glow with the Maven Rope Chandelier, a rustic industrial fixture that resembles the ring chandeliers of Medieval times.
American made from commercial-grade materials, the Maven is updated with 30 different finish colors to choose from and is suspended from your choice of brown jute or white nautical rope. Eight sockets are affixed to the rugged industrial ring for plenty of light so you won't miss the sweet potato stuffing or the pumpkin pie!