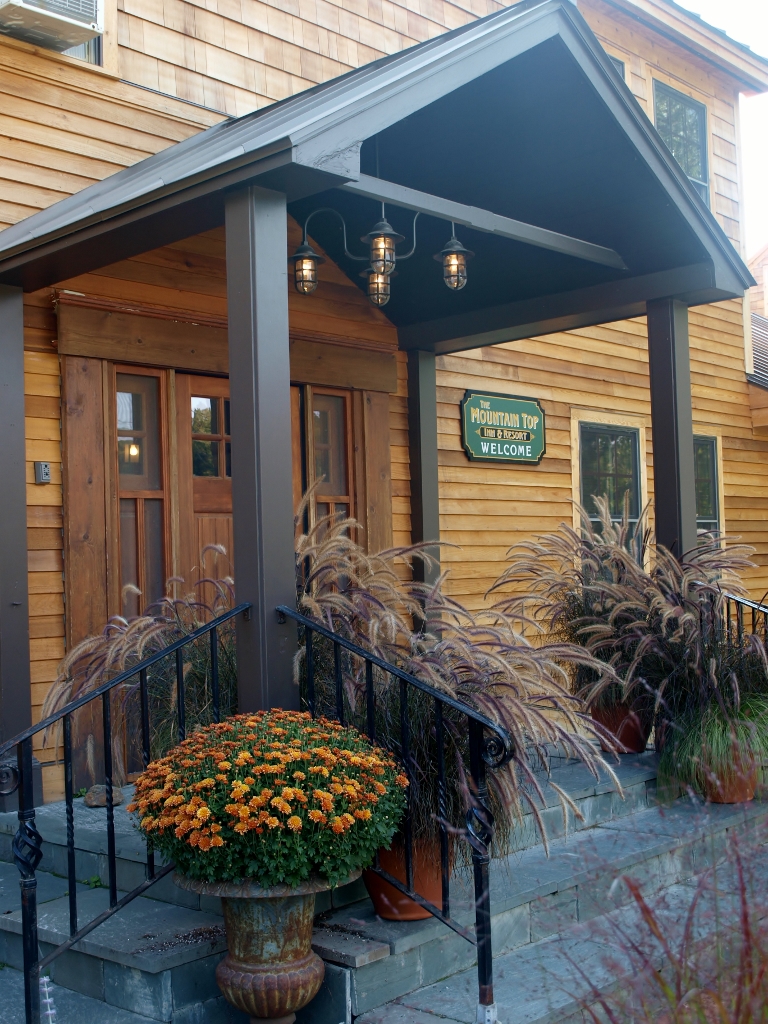 Rustic Vermont Inn Gets Makeover with Chandelier, Post Mount Lights
Mid October is peak foliage season in Chittenden, Vermont, which means The Mountain Top Inn & Resort is hopping these days with leaf peepers. This four-season resort recently underwent a major remodel which included re-siding the main building and updating the lighting.
"We were going for a rustic feel," says front desk manager Eryn Rowe, "and we just love your products!" Welcoming guests at the front door is a Polaris 4-Light Chandelier which brings an industrial farmhouse vibe to the setting. This rustic chandelier combines guard-and-glass fixtures topped with mini RLM-style warehouse shades to provide plenty of light.
"I wanted to find a chandelier with multiple bulbs that could provide up to 100 watts. The pendant we had in the past didn't put out enough light for the space," Eryn explains. "We also built a new event barn on the property last year where we host lots of weddings, and we wanted to choose a light that went with the modern barn look."
Eryn customized the Polaris with a Bronze finish, heavy duty cast guards, and clear glass for maximum light. The fixture is suspended from a 12″ stem and standard canopy.
The renovations also included the addition of some Post Mount Lighting on the walkway that leads from the inn to the heated outdoor swimming pool. The addition of four Aero Industrial Guard Post Mount Lights helps brighten up the path and, with its sleek shallow bowl shade, brings a touch of modern style to the property.
"We installed these mostly for safety but also for the aesthetics," Eryn says. "We love how they look with our event barn in the background." The post mount lights are customized with a 12″ shade in a Bronze finish with clear glass. Complementary fixtures include the Aero Pendant Light which is available in Copper, LED, and Vented styles, as well as the Aero Gooseneck Light. All hand spun and crafted from commercial grade materials right here in America!
Photos courtesy of The Mountain Top Inn & Resort