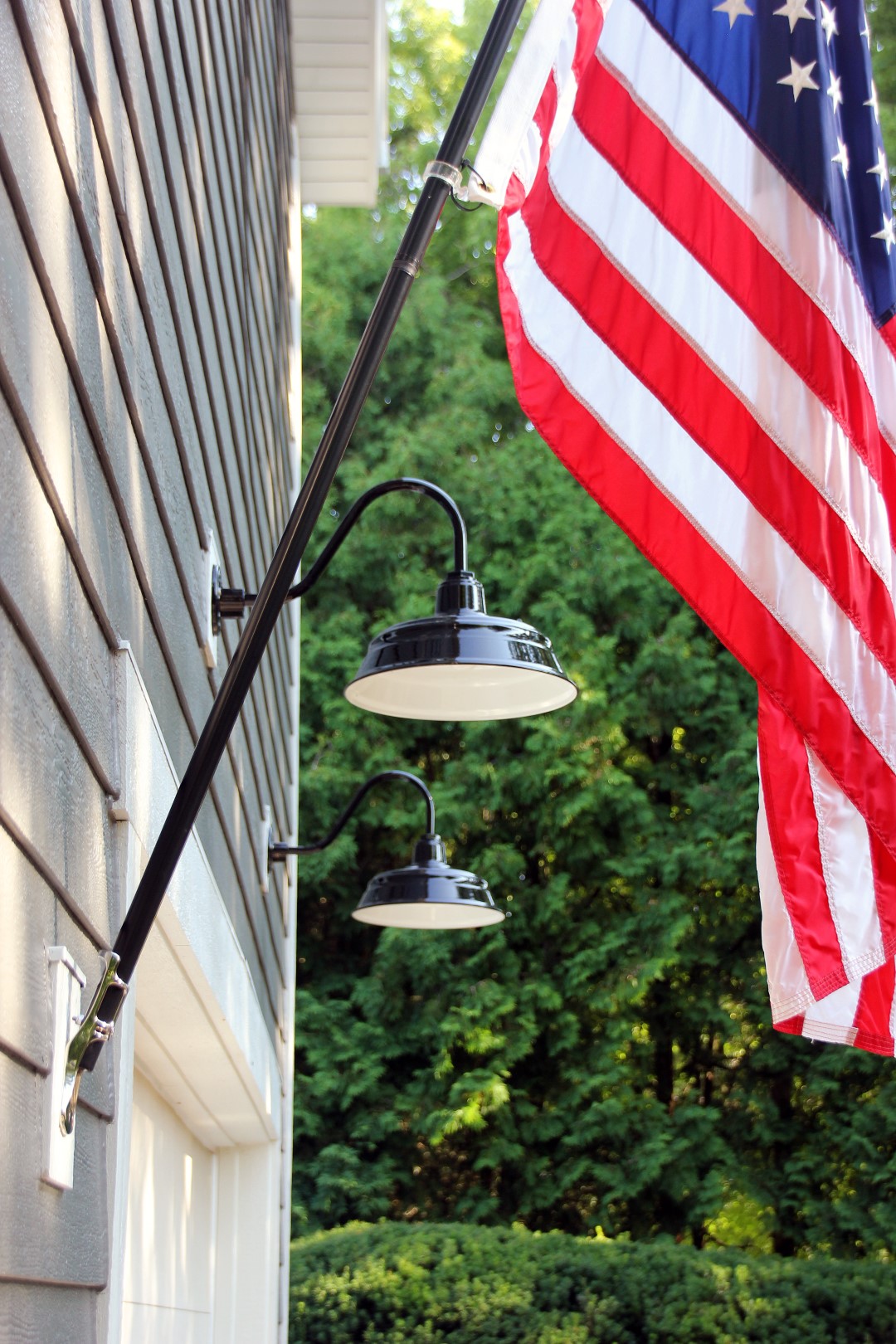 American-Made Exterior Lighting Adds Final Touch
New siding and windows are a sure-fire way to spruce up a 20+ year-old home. Matt raised the bar, however, with the addition of American-made lighting.
"We wanted something American made and solidly built overall," Matt says. "Not something you get at a big box store. I didn't want to be replacing lights anytime soon."
Matt started with his garage where he chose two Bomber Gooseneck Lights. He customized these porcelain enamel lights with 15″ shades, Black finish, and G11 gooseneck arms.
"Our house is fairly traditional and we were looking for a somewhat timeless design," he explains. "A Restoration Hardware type of look with lots of gray, white, and black." Matt used LED bulbs in his new gooseneck lighting which offer great illumination on the driveway at night.
"We wanted the Black finish to contrast with the dark gray siding and white trim," he adds. "We really love the look and get tons of compliments on them."
On the nearby porch, Matt chose the matching Bomber Stem Mount Lights to replace some nondescript can lighting. These rugged ceiling pendants are handspun from commercial grade steel then coated with multiple layers of porcelain enamel glass. The sturdy stem mounting is wet rated for both indoor and outdoor locations.
Matt customized his new porch lights with 11″ shades and a Black finish to match his garage lights.
"These pendants have more of a presence and hang down just enough," he notes. "They look fantastic lit up at night."
When Matt started looking for one more light for his home, he knew where to turn.
"We were looking for something that would match the others and really, the best looking ones were from the same place we got the others!" he says. A handcrafted Bomber Industrial Guard Post Mount Light offers a welcome to visitors atop a black post. This exterior light is customized with a 13″ shade, Black powder coat finish, and clear glass.
"We like the quality, durability, and finish on these lights. We wipe them down maybe once a year," Matt says. "The finish was perfect out of the box on all five of them."
Matt found Barn Light Electric during an online search for lighting as he wanted something better than he could find locally.
"Many of the goosenecks we found locally just felt cheaply made, nothing like the solid feel of the Barn Light Electric fixtures," he notes. "They are worth the price."
Photos courtesy of the homeowner