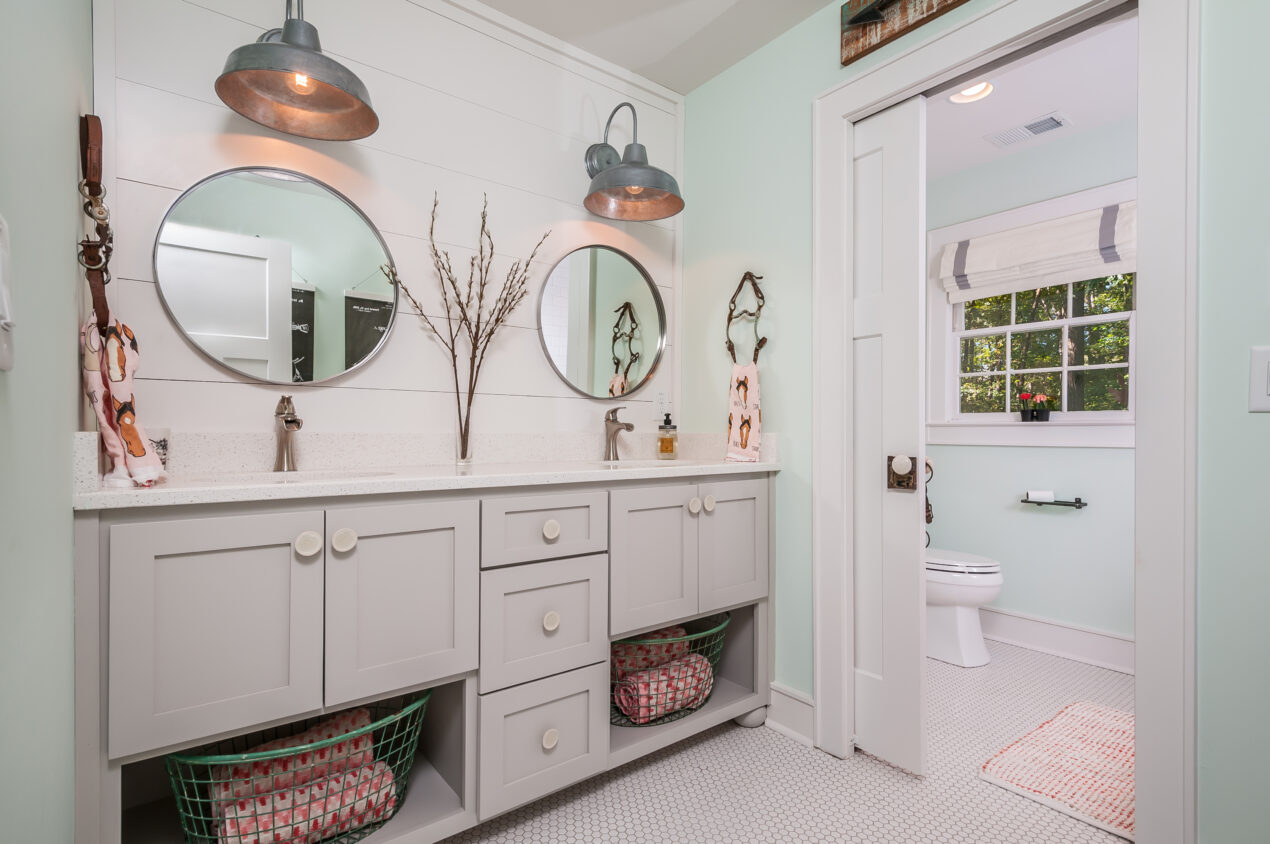 Whoa! Barn Lights for an Equestrian-Theme Bath
Ask any designer about the most important element of any project and I'm pretty sure "know your client" is right near the top of the list.
For Katie DeRario of Hart & Lock Design, knowing her client was a young girl with a love for horses played into the design of an extensive bathroom remodel.
"The home is located in an equestrian suburb of Atlanta," Katie explains. "The little girl who lives here loves horses so we decided to incorporate some fun equestrian details into the space." The bath was once the master bathroom which was moved to another part of the house, and Katie guided the complete remodel to accommodate the little lady.
Details include bridles that serve as towel holders and classic barn lights above the vanity.
"I kept the tile white with a fun pop of mint paint color on the walls," Katie says. "The horse bits were a farm find to add some character, and the barn lights were the perfect touch to bring it all together."
Katie chose the Avalon Wall Sconce to highlight the vanity. She customized these American-made sconces with a Galvanized finish on 14″ shades. She notes that when the pocket door is closed, there is no natural light, but with the sconces positioned directly above the mirrors, there is plenty of lighting.
"I hate when I see a light that is too small for a space. I love that Barn Light Electric has so many size options," Katie says. "Also, finding a quality galvanized light can pose a challenge. Others seem to be thin and cheap, but Barn Light Electric's are true quality."
The Avalon has roots in the classic RLM style but is updated with a variety of finish colors and customizing options. Katie loves the classic lines with just enough masculinity in case the little girl ever shares a bathroom with a little brother!
"These lights are unexpected inside a girl's bathroom, but at the same time, are so elegant to the design," Katie notes. "The clients always get wonderful comments on these lights. The character speaks for itself!"
Katie started Hart & Lock Design four years ago and has been serving residential customers along with some small boutique shops in the Atlanta area. She taps Barn Light Electric whenever she needs quality, easy-to-customize lighting for her projects.
"Any time I can support an American-made company is always a plus in my book," she says.
Photos courtesy of Hart & Lock Design