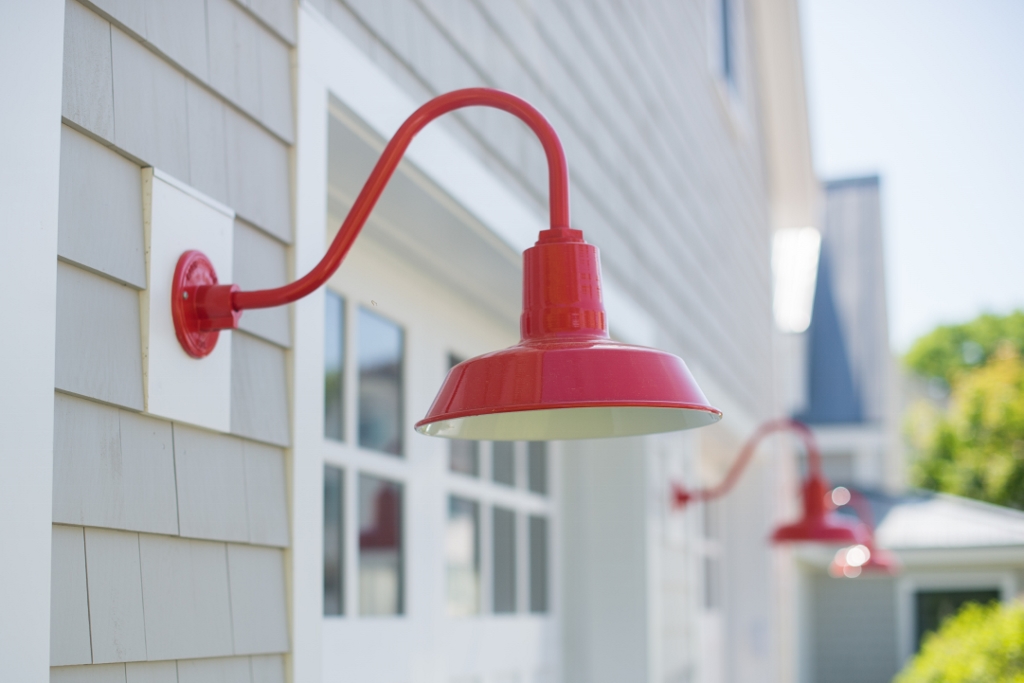 Instagram-spiration! Outdoor Lighting To Envy
Although the dog days of August are upon us, there's plenty of summer left to enjoy. From the looks of our Instagram feed, many of our customers are still spending time on their porches and patios. We've been tagged in so many great photos lately, we thought we'd share some of our favorite outdoor lighting shots. If you're still thinking about adding exterior lighting to your home this summer, be inspired!
Lauren McBride's dog Ammo knows how to chill on a hot summer day! On the porch beneath a beautiful Original™ Warehouse Flush Mount Pendant. This rugged, ceiling-hugging light casts gentle downlight in the evenings without hanging too low. So much more character than a can!
On the nearby garage, Lauren chose the complementary Avalon Wall Sconce. This handcrafted exterior wall light offers classic barn style and a nice pop of color against the white façade. Be sure to check out @laurmcbrideblog for more of Lauren's gorgeous photos of her home!
Nothing says welcome at the front door more than proper lighting. This entryway is not only well lit by the All Weather Farm Light Stem Mount but the handcrafted fixture adds plenty of character too. This is the latest project that our friend @jennifer_lavelle has shared about the renovation of her fixer-upper colonial home.
Looking for color inspiration? Our customer @alicenadbirdinteriors has it covered with colorful foliage, turquoise planters, and a happy Orange gooseneck barn light!
Or how about a nautical wall sconce to tie these doors together? The Industrial Guard Sconce in Cobalt Blue is a perfect match. Our favorite hashtag from @whitefurrycat –#dontbeafraidofcolor — we couldn't agree more!
For smaller spaces, consider the diminutive Bowie Wall Sconce. This cozy porch off room #9 at the Nomadic Hotel in Nosara, Costa Rica looks like the perfect place for a late-summer getaway!
A self-proclaimed farmhouse renovator and design fanatic, Anne Marie @chouxdesigns chose the deep bowl look of the Bantam Wilcox Wall Sconce for her exterior lighting. This American-made wall sconce can be customized with a variety of shade sizes, finish colors, and accessories like a wire cage, cast guard and glass, and even a plug-in option.
And what's a summer party without some string lights offering a soft glow over the festivities? Erin's lovely back yard includes not only string lighting but a Union Gooseneck Light which makes for one happy summer space. Check out more of her 1930s Tudor duplex here!