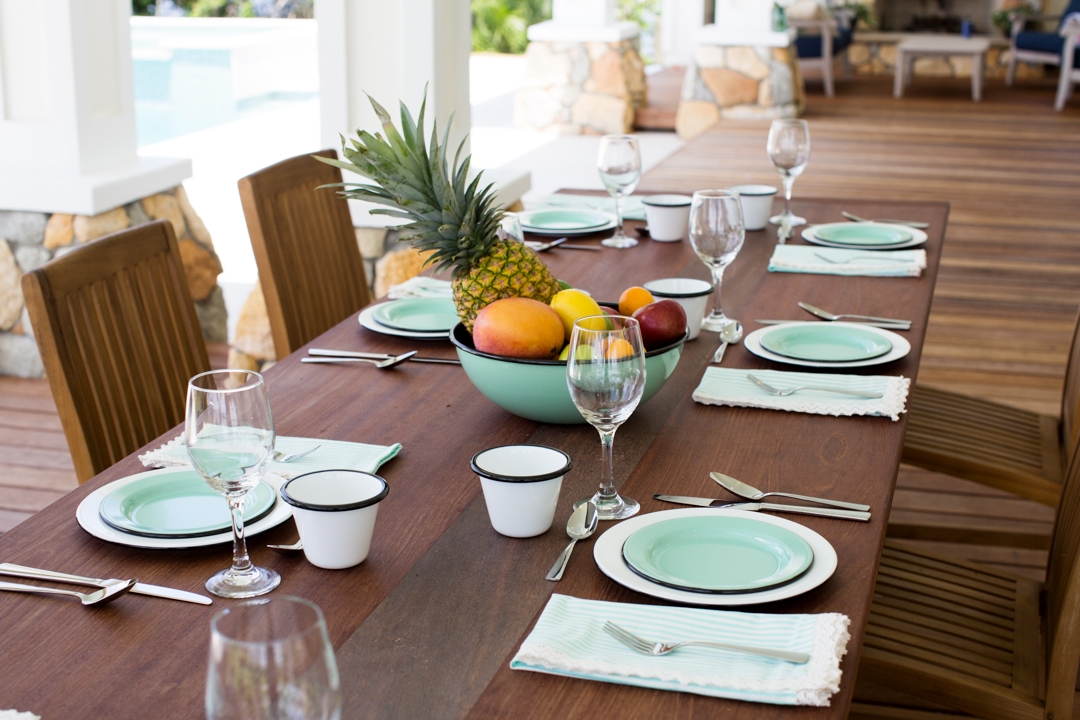 Guest Blogger | Top Ten Elements of Farmhouse Style
There's nothing more quintessentially cozy than a perfectly appointed farmhouse during the holiday season (or any season, for that matter!). This rustic, comforting aesthetic just begs for friends and family to gather, for fireplaces to be lit, and for long nights spent curled up on the couch with a good book. But you don't have to live on a farm to get the farmhouse look. With a few key elements, you can bring farmhouse style to your home, wherever your home is.
Beadboard: Whether it's an entire room of walls or just a kitchen island, beadboard is a farmhouse staple. Versatile and easy to install, this classic element adds tons of interest and charm to any home.
Open shelves: Open shelving has made a comeback in kitchens and homes of every style, but it's the farmhouse that kept it alive and kicking for all these years. Bonus: Open shelves are the perfect place to add color with an eclectic mix of dinnerware.
Wood countertops: Wood butcher block counters provide a warm contrast to the typically white or light-colored cabinets in farmhouse kitchens. They also provide tons of functional, low-maintenance work space that complements the farmhouse style's laid-back appeal.
Barn-style light fixtures: From gooseneck lights to lanterns, barn pendants and even a chicken wire basket light, there is an endless array of barn-style lighting out there to choose from. The best spaces – farmhouse or not – use a variety of lighting types, styles, and materials for a layered look that's also functional.
Farmhouse or apron-front sink: This spacious vessel is another farmhouse element that has seen a renaissance in recent years. It is now available in everything from copper and stainless steel to soapstone. For the traditional farmhouse look, opt for white porcelain.
Farm-inspired textiles: When choosing textiles, think casual, repurposed, and unfussy. Gingham, ticking, plaid, burlap, linen, and buffalo check are a few farmhouse favorites that never go out of style.
Hints of industrial: From metal stools to enamel signs to vintage clocks to galvanized metals, every farmhouse worth its salt incorporates a wink and a nod to the industrial. Tempered with farmhouse style's warm notes, this cool addition strikes the perfect balance between casual comfort and utilitarianism.
Mason jars: Mason jars and farmhouse style go together like American and apple pie! Use them for storing food, drinking, storing household items, decorating, or even as lighting.
Farmhouse table: If there's one element that truly encapsulates everything there is to love about farmhouse style, it's the farmhouse table. Whether simple and rustic or ornate and refined, this classic investment piece is always wood and always the centerpiece of any farmhouse dining area. TIP: Style it with porcelain enamel dinnerware to capture the ease and simplicity of this style and evoke feelings of nights spent around a campfire.
Interior barn door: An interior barn door is a simple, cost-effective home addition that packs major wow factor. And not only does it look good, but it also has a smaller footprint than a regular interior door. Beautiful and functional? Now THAT is what farmhouse style is all about.
Guest blogger Melissa Andersen is a writer, editor, blogger, and social media manager/consultant for clients such as And North, Kaufmann Mercantile, and The Cousins from HGTV