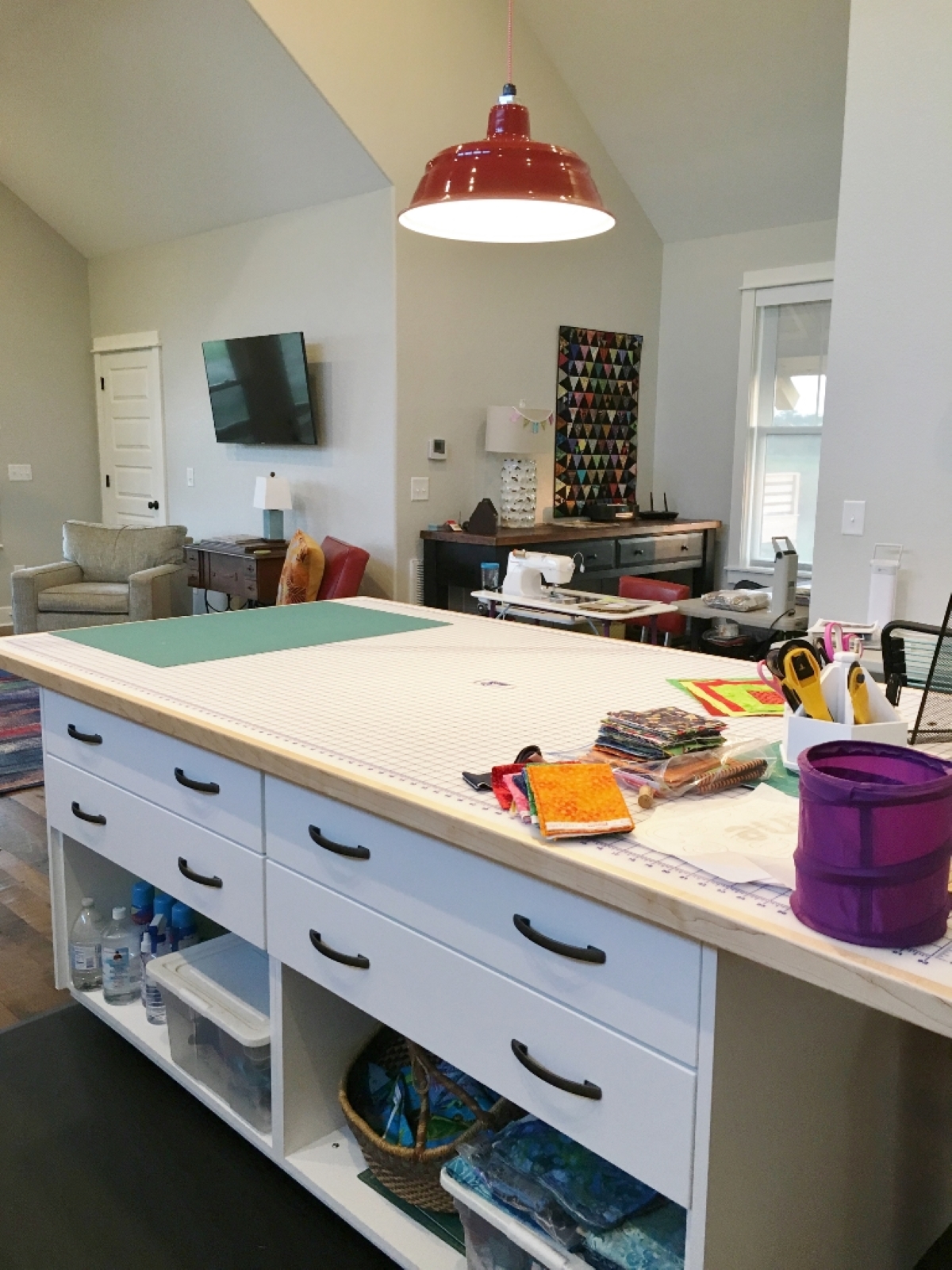 Task Lighting Both Functional & Stylish for Quilt Studio
The older I get, the more I appreciate good task lighting. And the smaller the task, the more focused the lighting needs to be! Debbie, an obsessed quilter, (her words, not mine) built a studio next to her Outer Banks home where she and her friends could quilt. Bright, direct lighting was imperative to the space.
"Our house is an Old Nags Head-style shingle house, and we designed the studio to look like a logical addition," Debbie says. "We wanted an old-style building with bright colors, especially red. I wanted lighting that would work with the old-school exterior and the reclaimed wood floors."
Debbie searched for lights online and, in particular, American-made lights.
"I love the variety of old-fashioned reproduction lights you make and the nostalgia of the old gas station and sign lighting," she notes. "And I was attracted to the fact that your lights could accommodate bulbs brighter than 60 watts."
When Debbie found the Bomber Pendant Light, she "fell completely in love." She chose the 17″ shade and customized it with a Barn Red finish. She also added a Red-and-White cloth cord for an added splash of color.
She also chose a matching Bomber Pendant, this one in White, for the adjacent kitchenette. This handcrafted fixture sports a smaller, 11″ shade and the same Red-and-white cloth cord.
"I needed a light over the sink but I didn't want anything too big," she explains. "That red-and-white cord makes me smile and the light is perfect for the work space."
Debbie's biggest concern in her search for good task lighting was for her design wall. She factored in space below the upper windows for fixtures to highlight the 8 x 12 foot wall. Track lighting didn't work and pendants would block the view of the designs pinned to the wall.
"When I found the Aero Gooseneck Lights and saw I could get them in that lovely Jadite color, I was done looking," she says. Debbie customized her new wall lights with 14″ shades, the Jadite finish, and G15 gooseneck arms.
Debbie liked the Jadite color so much she chose an Sinclair Industrial Pendant Light, also in Jadite, for her cozy window seat. This handspun pendant is crafted from steel and features a 12″ shade and a Putty cotton twist cord.
"The lights are so well made. There are no flaws on them and I know I will never have to replace them," Debbie notes. "I like the colors, the different styles, and the fun punch they add to the studio's decor. We've got LED bulbs in all of them and the light is incredible."
Four Austin Wall Sconces, installed around the room, provide additional task lighting. Debbie customized these barn wall sconces with 10″ shades and a White powder coat finish. During her shopping, Debbie was overwhelmed by the choices so she called for help.
"I talked to your customer service team who were awesome and they helped me choose just the right lights," she says. "I've had quilters from Maine to Iowa in the studio and we've all had good light for our work. The floors and the lights are the first things people comment on when they come into the space."
Debbie started quilting about 16 years ago when she took a class at a local community college.
"I mostly quilt for my friends, family, and charities, and I share my studio with my friends," she says. "It's a wonderful space for us to sew and solve the problems of the world. Or at least our little part of it."
Photos courtesy of the homeowner
Architect, Beacon Architecture
Builder, Todd Coyle Construction