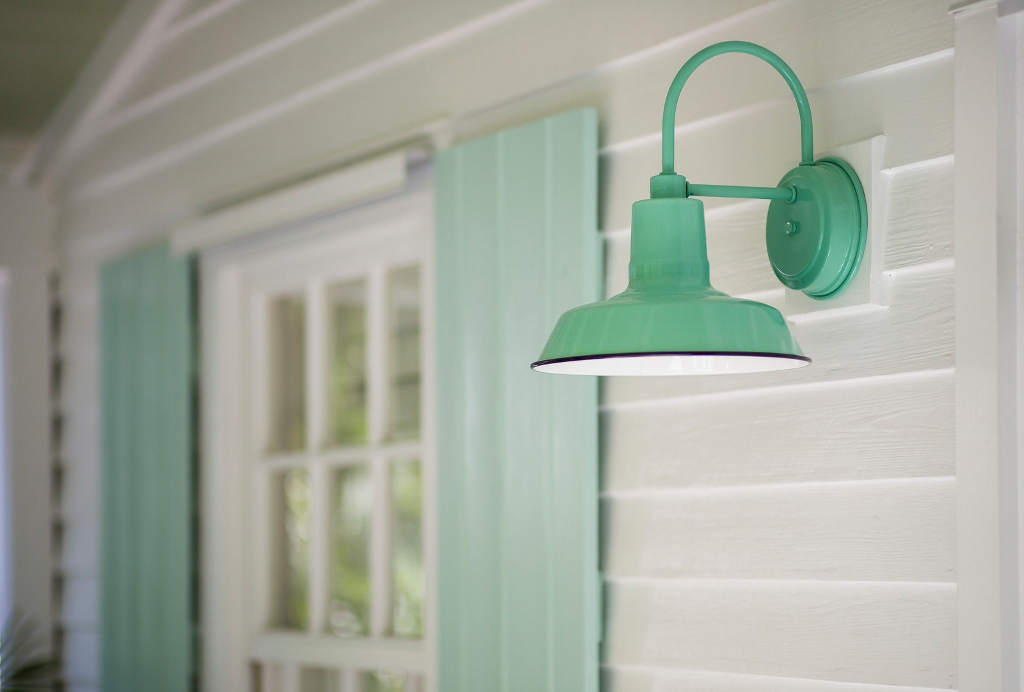 Porcelain Wall Sconces Provide Finishing Touch to Cottage
Many renovation projects start with a simple idea. Let's try a different color paint. How about new wall sconces in the hallway? We need a new dishwasher.
And like a stack of dominoes, perched precariously close together, once one item is knocked off the list, a second one suddenly needs attention.
And so it was for Diane Kaufman, our good friend and head mermaid at Mermaid Cottages. A frequent visitor to Key West, Diane fell in love with a rental cottage there and snapped it up. The cottage was in good shape but once she started freshening the place up, things started to snowball.
"The inside was painted, but then I realized the outside needed painting too. Then because the outside looked so good, we added decorative shutters," Diane explains. "Then because the fresh paint and shutters looked so good, we tore out the decking and put new decking in. And because the decking looked so good, I went crazy buying flowering tropical plants!"
Get the picture?
The result is an adorable cottage full of Key West charm. Lemonade Mermaid, as the cottage is called, will serve as a vacation rental. The renovation efforts for this comfortable and cozy two-bedroom cottage were led by Elizabeth Demos, a Savannah-based interior designer.
"I focused on a soft palette and textures for the furnishings and materials," Liz says, "leaning towards a West Indies style that is timeless and tasteful." For the freshly painted exterior, Liz wanted wall sconces that looked original to the cottage but with a fresh look too.
She and Diane chose the The Original™ Wall Sconce to accent the freshly painted exterior and new shutters. These American-made porcelain enamel wall sconces are customized with 12″ shades and a soft Jadite finish. Two wall sconces are on the front porch, two highlight the entrance, and three more are installed on the back of the cottage near the pool and outdoor seating.
"Key West is a colorful place and we thought the outside could use a bit of flair," Liz notes. "We had the shutters painted to match. Overall, it's a classic shape with a fairly low profile and a good look for a Key West home." These porcelain wall sconces are handcrafted from steel and finished with multiple layers of porcelain enamel glass. They will never fade even under the abundant Key West sunshine.
Diane was familiar with Barn Light Electric products as she uses them in her own home on Tybee Island.
"American-made products are extremely important to me, and I wanted to support a small business," she says. "I love these lights! I love the color and the style. They are the finishing touch on a cottage that is truly perfection!"
Photos courtesy of the homeowner