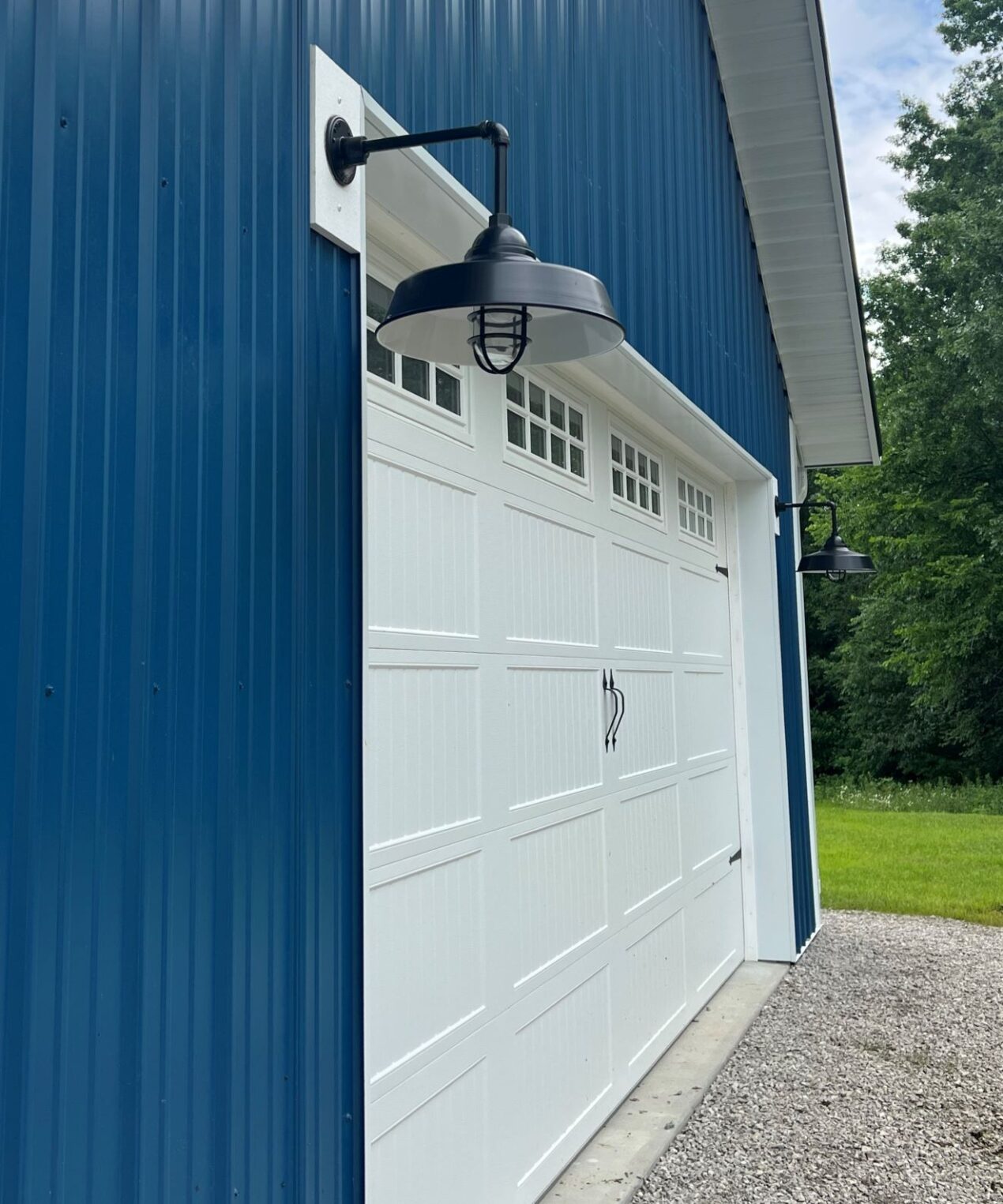 Farmhouse & Industrial Styles Unite in New Home Construction
When Bill and Molly started planning their dream home in Centerville, Iowa, they relied on family to get it done right. Molly's father, owner of Pierson Building, served as general contractor, and when it came time to choose lights, Molly's mother, Janna, recommended the couple check out Barn Light Electric.
"My in-laws used Barn Light fixtures in their home so they recommended we look at the website," Bill says. "We needed fixtures that met our style and color scheme. The barn style fit that perfectly." The new home and garage sport a modern farmhouse look with an industrial vibe. The garage is a metal, barndominium-style building with a crisp palette of blue siding and white trim,
The couple chose the Rochester Vintage Industrial Gooseneck Light to accent the garage exterior. They customized these two handcrafted fixtures with 16″ shades, a powder coat Black finish, and G35 gooseneck arms. They also opted for a standard cast guard and clear glass for optimum illumination.
"The 16″ shades balance out the large, single garage door," Bill explains. "The G35 arm drives home that industrial look and matches the steel pipe accessories we incorporated throughout the home. And the black finish contrasts well against the blue siding and white trim."
The Rochester Vintage Industrial Gooseneck Light is handspun from commercial-grade aluminum then finished by hand in Barn Light's Florida manufacturing facility. Four shade sizes and more than 30 finish colors are available along with additional customizing options.
"Color selection and style were most important as we looked for lights," Bill notes. "This light fixture combined both the modern farmhouse and industrial looks we were going for."
In their new kitchen, Bill and Molly chose Ball Jar Pendants to accent the island. These three pendant lights feature Galvanized lids and grey cloth cords for a hint of texture.
"We thought these were unique looking, and we tend to gravitate towards an eclectic style," Bill says. "The lids and cords are similar in color to our faucet and appliance handles, and they contrast well against the blue, gray, and white color scheme."
The artisans and engineers at Barn Light Electric are constantly finding new ways to infuse lighting with hints of vintage style but with modern options. Dozens of hands touch each fixture from start to finish with the desire to build a light that will stand the test of time.
"The lights look fantastic and are well made," Bill says. "We love the combination of rustic and modern appearance, especially of the pendant lights. These fixtures fit our design style perfectly."
Photos courtesy of the homeowner