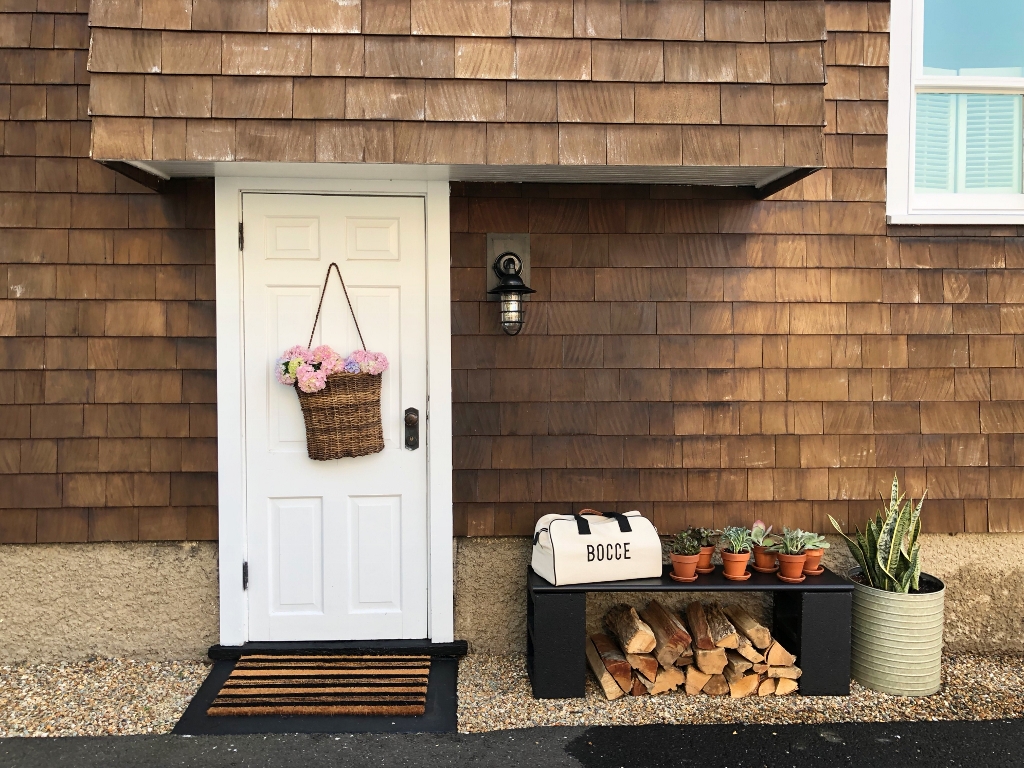 Exterior Wall Sconces Add Industrial Flair to Traditional Beach Cottage
If you're a fan of our industrial-style, guard-and-glass fixtures, you may remember this blog post. Annie transformed her old garage into a stunning, cottage-style building and capped off the renovation with an Industrial Guard Sconce.
Fast forward one year. Annie, who dishes on home design on her blog Most Lovely Things, found herself with an offer she couldn't refuse from a buyer even though her home wasn't on the market. So she packed up her family and moved to a rental home she owned in a small beach community in Connecticut.
"The home was built in 1922 and was renovated about 10 years ago with all new systems and windows," Annie says. "Most of the updates we made after moving in were cosmetic." These changes included new exterior doors painted a fresh white and two new Industrial Guard Sconces like the ones Annie left behind at her previous home.
The traditional beach cottage, with cedar shake shingles and white trim, offers the perfect palette for the rugged wall sconces Annie loves. She customized her new fixtures with a Black finish, flared shade, and clear glass. She also added the dusk-to-dawn photocell option to turn the lights on and off automatically.
"I love the color options but will always be drawn to the Black or to the Galvanized like we used on our previous home," Annie explains. "We love that each is customizable with glass options and color. And the dusk-to-dawn photocell is a great feature that I will always use now that I've experienced the convenience for safety."
Available in 30 different finish colors plus guard, glass, and other options, the Industrial Guard Sconce can be crafted to complement most any residential or commercial space.
"We love the look and quality of Barn Light Electric fixtures. We appreciate the craftsmanship that goes into each custom-made fixture and that they are made in America," Annie says. "Our neighbors are always commenting on how changing out the exterior lighting made such a difference. Lighting adds so much to a house in terms of curb appeal!"
Photos courtesy of Most Lovely Things