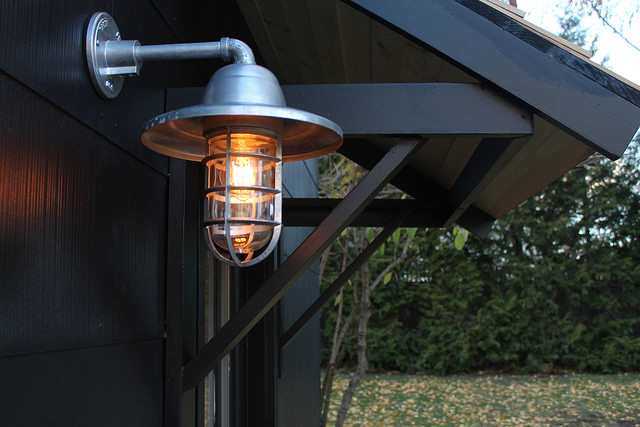 Galvanized Wall Sconce Pops Against Black Garage
Annie isn't quite sure when the 2-car garage was added to their southwestern Connecticut home. The home was built in 1900 and the detached garage sits at the rear of the property taking up valuable play space for her kids.
"It's basically part of the back yard and would never be allowed now with planning and zoning," Annie says. "We see it from the dining room and kitchen so we wanted it to look less like a garage and more like a cottage."
Annie, who writes about home design and décor on her blog Most Lovely Things, wanted to transform the look of the building along with the overgrown yard. Although she had always wanted to paint a house black, but couldn't quite convince her husband. They compromised on the garage.
"Painting the building black was a quick fix, but it made such a huge difference," Annie notes. "And my husband loves it." The couple keep their cars in the garage during winter months, but in the summer, the space has become a hangout for the kids with a ping pong table, TV, and refrigerator. They also added a portico over the side door to add a cottage feel. Annie chose the Industrial Guard Sconce to highlight the improved entryway.
"I wanted a well-made industrial sconce because I think the style goes well with our house and really makes a statement," Annie notes. "I love that Barn Light Electric fixtures are made in the USA and that there are so many customizing options." Annie chose a Galvanized finish for her new wall sconce and clear glass for bright light.
"I chose the Galvanized finish because of the way it looks against the black but, seeing it now, I know it will look amazing on our white house too," she says. "As soon as I saw the quality and craftsmanship of the light, I knew the lights on our house would soon be replaced with two more of the Atomic Industrial Guard Sconces."
As part of our Wall Sconce Collection, this fixture is handcrafted from commercial grade materials in our Florida manufacturing facility. Complementary fixtures include the Industrial Guard Pendant and the Merger Two-Light Chandelier.
"The wall sconce is just the right amount of industrial," Annie says. "The word industrial has become so trendy, but I know this light will stand the test of time!"
Photos courtesy of Most Lovely Things