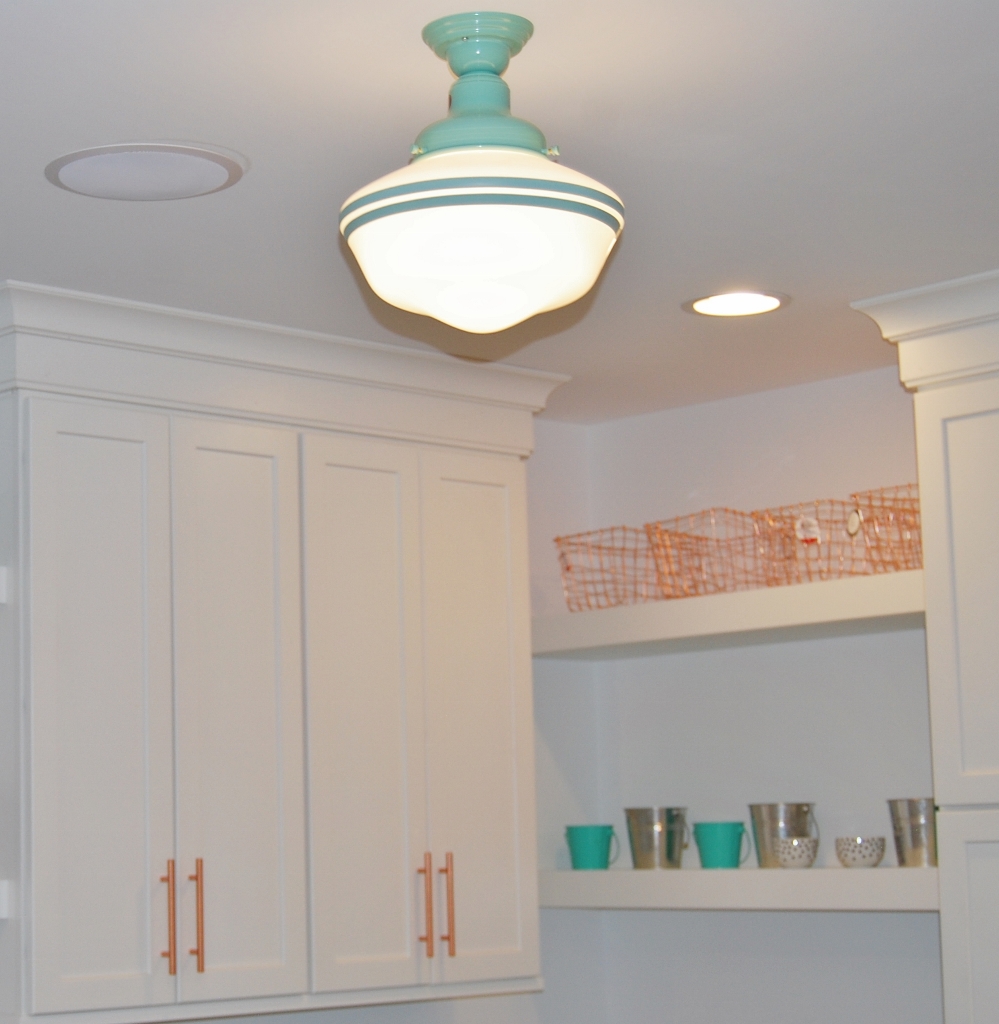 Industrial Lighting Highlights Renovated Basement
With the final ring of the school bell, countless kids are rushing home, tossing backpacks and lunchboxes in their wake, ready to enjoy newfound freedom. Moms, on the other hand, wonder how long it will be until they hear "I'm bored. There's nothing to do!"
We're taking a look at kids' play spaces on the blog this week to inspire you to create fun and functional places for your kids to hang out this summer. Today we drop in on Jocelyn in Lake Geneva, Wisconsin, where her lovely home is filled with Barn Light Electric fixtures.
"We have 12 of your barn lights both inside and outside of our home," Jocelyn says. "We just love your lighting!" Jocelyn was featured back in 2015 in this blog post when the family added a screened-in porch. Today, Jocelyn takes us on a tour of her newly renovated basement where her four kids plan to spread out and relax this summer.
"Our kids are getting to the age that they need more space," Jocelyn notes. "We are a family of six so the kids need a place to be that isn't on top of one another." The basement was insulated but unfinished when they built the home six years ago and served as a storage space. The remodel added a bedroom, bathroom, family area, and a craft/homework room. Shh, don't tell the kids about that "h" word!
Jocelyn wanted to make the area a fun and functional space. With a love for picking out the details, Jocelyn looked for something industrial and modern to showcase the barn wood wall they installed in the new entryway.
"I wanted the initial entry into this new space to be jaw dropping," Jocelyn explains. "I wanted something industrial, yet classic enough that it won't go out of style." She chose the Foundry 4-Light Chandelier to add the pop of style and color she wanted. This rustic chandelier features four cast guard-and-glass fixtures customized with a Buttery Yellow finish, standard cast guards, and clear glass.
"My favorite color is yellow and I knew that this would really stand out against the barn wood accent wall," she notes. In the craft room, Jocelyn wanted something more traditional and classic. She chose the Primary Schoolhouse Semi-Flush Mount Light customized with a large globe accented with Jadite color bands. The basement palette is subdued with grays and whites and the new schoolhouse pendant adds a soft touch of color to draw the eye up.
"I love the Jadite color," Jocelyn says. "I have known for some time looking at all of your fixtures that I wanted this particular color. It just says classic to me and I have waited patiently to find just the right space for it." Although homework is probably the furthest thing from her kids' minds right now, Jocelyn knows they will enjoy using the new space for both fun and studies. And as an avid crafter, she too is looking forward to more time in this well-organized space.
"Everyone who enters the basement notices the lights. They're not an afterthought," she says. "They really bring each space alive with their color and are the focal point in each room. This is my new favorite space in the house!"
Photos courtesy of the homeowner