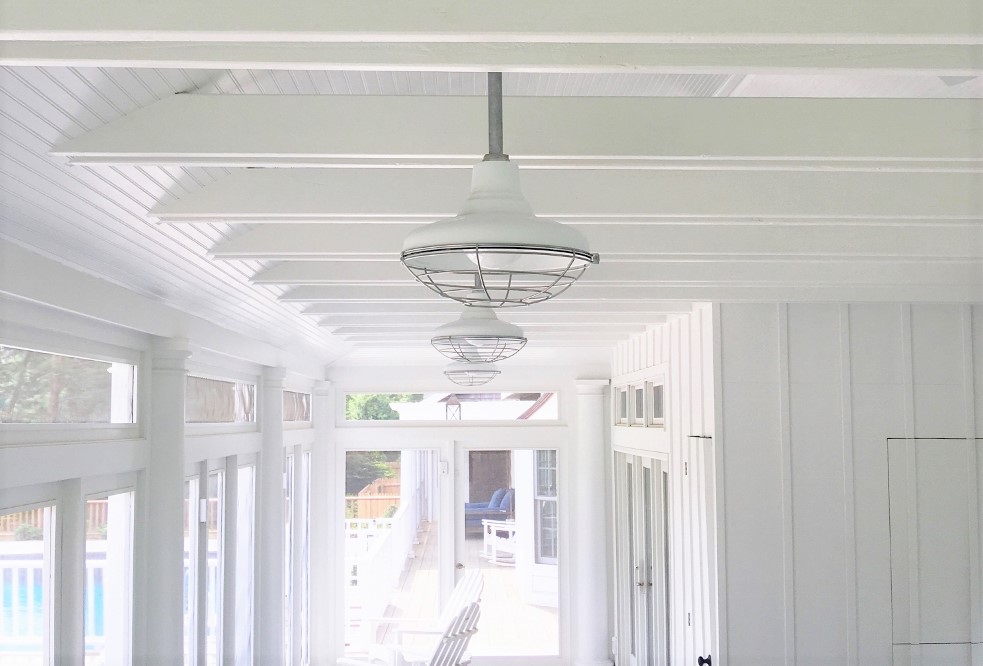 Porcelain Pendant Lighting Bridges Rustic, Refined Looks in Coastal Home
Although beachfront homes almost always have a relaxed vibe to them, the overall look can range from refined to rustic depending upon the colors, fixtures, and finishes chosen. When New York architect Don Cantillo began working on a home on the south shore of Long Island, he wanted a look that dipped toes in both waters.
"I was going for a look that tread the line between rustic and refined," Don says. "Both modern and classical at the same time."
The project included the addition of a new screened porch and the conversion of an unfinished space downstairs into a playroom. Working with interior designer Annette Tatum, Don chose white as the main color to bring a clean, bright, and beachy feel to each space.
In his search for lighting, high quality and practicality were important, but Don also envisioned a playful aesthetic. He discovered the Union Stem Mount Pendant which checked all the boxes.
"The shape and general aesthetic of the lights is graceful but it also has a utilitarian/industrial vibe," he explains. "This brought together the classic traditional look with the relaxed, rustic atmosphere I wanted for my clients."
On the porch, Don customized these porcelain enamel pendants with 14″ shades, a White finish, and Galvanized stems and wire cages. He also added hang-straight canopies to accommodate the sloped porch ceiling.
"These are elegant and practical," he notes. "The enameled metal makes me think of camping cookware which gives it that no-nonsense, rustic outdoorsy feel. Being able to customize them to work with the ceiling was a definite plus." For the playroom, Don chose the same options for the Union Pendant but with a flush mounting.
"The ceiling height downstairs is high, but because it is such a large space, I wanted to maximize the height by using flush mounts," he adds. The Union's stacked neck design curves out into a sleek warehouse shade embodying both vintage and modern details.
Handcrafted from steel and coated with multiple layers of porcelain enamel, the Union is a wet-rated, durable fixture with a high-gloss finish. Don opted for porcelain thanks to its quality, style, and ease of maintenance.
"I like the galvanized steel elements and the black rim of the shades. They add just the right touch of contrast. Otherwise, they would just blend into the sea of white on the surrounding architectural elements," Don says. "They give a soft intimate light at night and my clients love how they look."
Photos courtesy of Don Cantillo