Exterior Pendants That Add Old World Elegance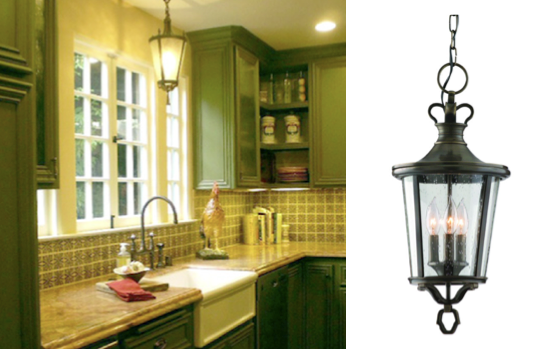 The brilliance of a Parisian street corner is mostly due to the beautiful Gothic iron lampposts. But how exactly does one bring that elegance into a home without putting an actual street lamp in the middle of your kitchen? This farmhouse style kitchen from Alex Rose Design has accomplished exactly that by combining two classic styles. Large, oversized lanterns seem to be popping up heavily on the design scene lately. Their iron-like appearance combined with delicate glass makes for the perfect pairing above elegant dining rooms, kitchens and entryways.

Complete with green cabinetry and a tiled backsplash, this kitchen is the epitome of what you would envision a rural, farmhouse kitchen to look like. The French casement windows provide plenty of daytime light, however the charming exterior pendant above the farmhouse sink contributes ample illumination during evening hours. Proper lighting is a necessity in the kitchen, especially when it comes to commonly used work areas, such as sinks and counter tops.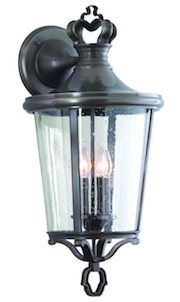 Typically used as an outdoor pendant, the Britannia Exterior Pendant can be brought inside the home in order to recreate this look. The Britannia Exterior Pendant is constructed from solid brass and is completed with an English Bronze finish and four feet of adjustable chain. It is also available in both medium and large sizes depending on your spacing needs. To continue this look throughout your kitchen, consider hanging two medium pendants over your island or dining table, with the larger size over your sink. The seeded glass adds to the historic, old-world style.
Should you be searching for a coordinating wall sconce, the Britannia Barn Lantern is the perfect wall light to compliment the matching exterior pendants. Consider placing these barn pendants within an adjacent dining room or around a nearby outdoor patio for a cohesive look.
Photo Courtesy of Alex Rose Design