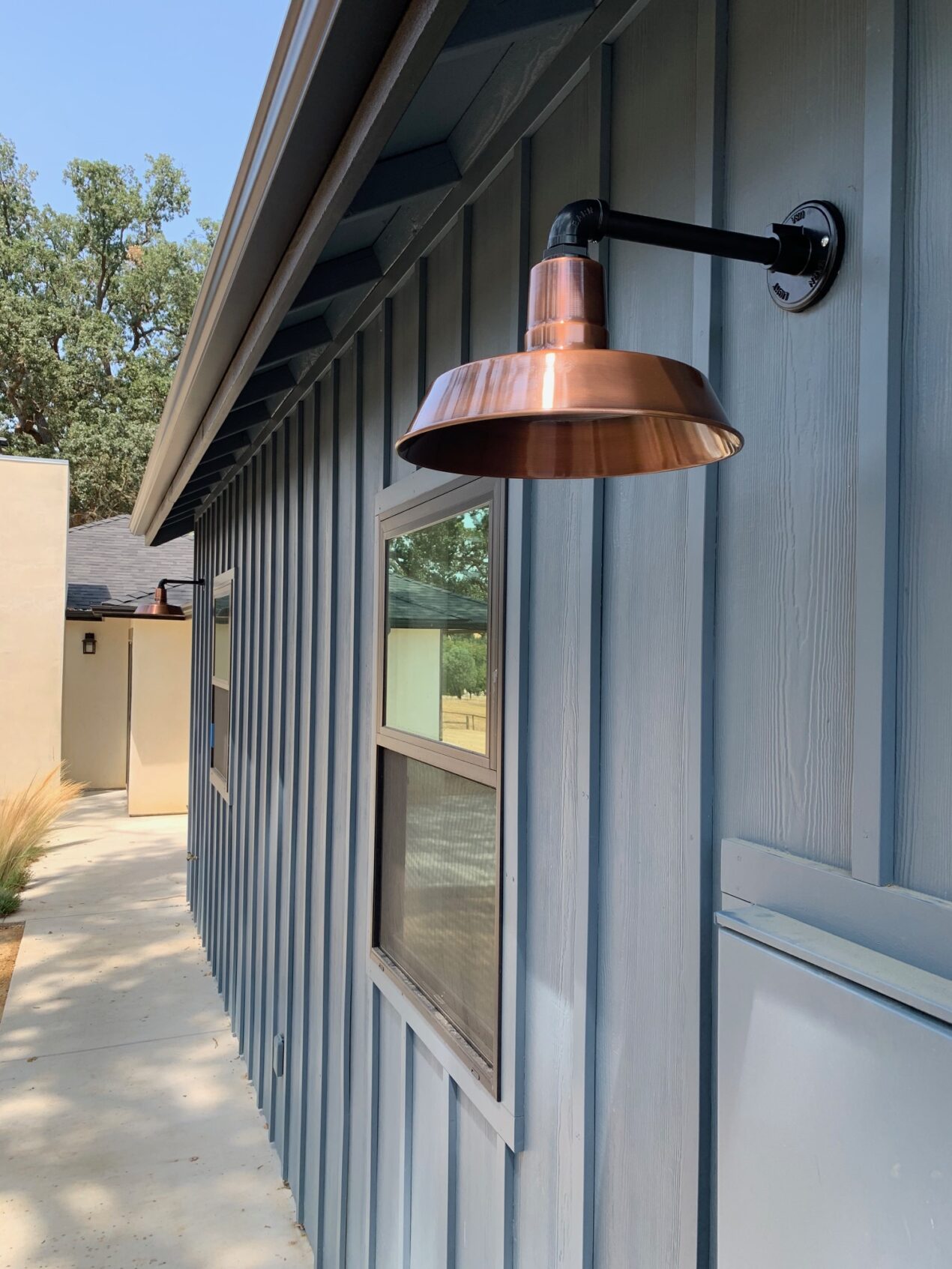 Copper Gooseneck Lights Exude Elegant Farmhouse Style on New Garage
When Jason remodeled his 70-year-old home on California's central coast, he envisioned a Spanish-style, farm-style combination with all the colors and textures from both. The remodel plan included a new garage which would boast the farmhouse style Jason desired.
He spent hours on the Internet looking for every piece of the project including new lighting for the garage.
"I was looking for something American made and handcrafted by a company that put as much detail and energy into their product as I was putting into my home," he says. "And I wanted to be able to customize the lights to fit my exact aesthetic and design needs."
Jason discovered Barn Light Electric and chose the classic style and timeless look of The Original™ Warehouse Gooseneck Light for his new garage. Over the large garage doors, Jason customized this gooseneck light with an 18″ shade, Weathered Copper finish, and G14 gooseneck arm in Black.
"I needed a bold statement piece as you enter my driveway as that is the first thing you see," he explains. "It sets the tone for the whole house, and I have 110 percent satisfaction every single time I come down my driveway. I like that the lights are handcrafted, and the color combination is amazing."
Along the sides of the garage, Jason went with the same Weathered Copper finish but on slightly smaller 14″ shades. These wall lights are mounted on G17 gooseneck arms offering an 11.5″ projection from the façade.
"I wanted this style on both walkways around the garage," he notes. "The color combination created a good transition from the Spanish-style, smooth cream stucco of the home." With the exhausting construction and remodel work behind him, Jason is thrilled with how everything turned out.
"These lights were the finishing touch and I cannot be more happy," Jason says. "I spent many hours and lots of energy looking for every single piece of my home and garage. Your barn-style lights were the cherry on top, the grand finale, and I could not be happier."
Photos courtesy of the homeowner