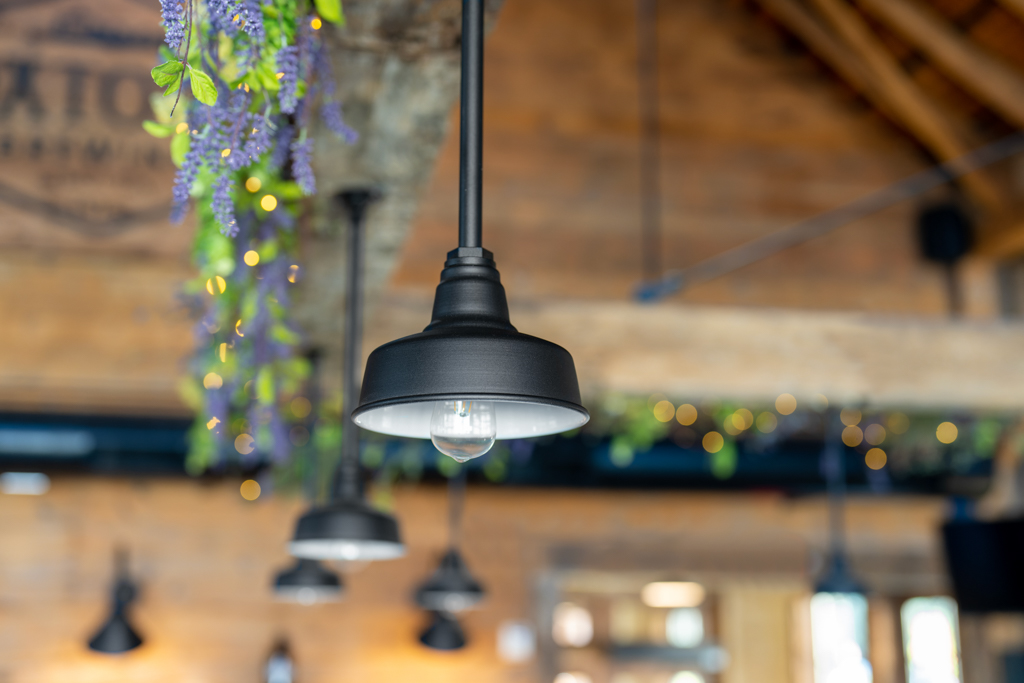 Cheers to Rugged Industrial Lighting at Wisconsin Brewery
Customers love the ease of shopping online with Barn Light Electric. With more than 1,000 products to choose from and countless customizing options, homeowners can easily create the perfect light, piece of furniture, or collection of dinnerware for their home with just a few clicks.
Barn Light's commercial customers, on the other hand, work with our network of sales reps and agencies located in every state across the country. These partners have years of experience in handling both small and large-volume commercial orders.
When the owners of Foxtown Brewing planned to open a restaurant and tap room, they turned to Barn Light's Wisconsin rep, Mlazgar Associates, to create the lighting plan. Foxtown Brewing is located in Mequon, Wisconsin, and is housed in a brewery built back in 1857.
"The owners wanted a cozy, industrial, farmhouse style," says Meghan Behn, a member of the Mlazgar applications team. "The lighting needed to create unpretentious, 'stay awhile' vibes in the space."
The lighting plan includes gooseneck-style lights to highlight the exterior signage as well as the interior feature walls. The team selected the Fire Chief Nautical LED Sign Light for the exterior walls. They customized these handcrafted sign lights with 12″ shades, a Textured Black finish, and G22 gooseneck arms. They also selected standard cast guards and frosted glass.
"The LED option offers longevity and less maintenance, plus there is a consistency in the color temperature," Meghan notes. "The cast guard and glass add extra interest and protection from the elements."
For the interior feature walls, the team chose the same Fire Chief LED Sign Light but without the cast guard and glass option.
For tighter spaces, such as this hallway, the wall-hugging Industrial Guard LED Sconce offers plenty of complementary style to the sign lights. These handcrafted wall sconces feature the Textured Black finish, standard cast guards, and clear glass.
Over the bar area, the team chose the Esso Stem Mount Pendant. These American-made, barn-style pendants feature handspun 8″ shades with a Textured Black finish and 18″ stems.
"These pendants were installed directly into the beams over the bar for an authentic feel," Meghan explains. "The soft sprigs of lavender wrapping around the beams contrast the crisp lines of these RLM fixtures." Throughout the rest of the restaurant, Original™ Warehouse Stem Mount Pendants provide illumination to the space. These classic pendants are customized with 12″ shades, the same Textured Black finish, and custom stem lengths.
"We chose the Original™ for design consistency between the interior and exterior. And the Textured Black finish on all the lights coordinates with the exposed hardware throughout the space," Meghan says. "The brewery owners love that the lights are sturdy, but beautiful. They are clean, consistent, and timeless."
Photos by Eric Zepezauer, Mlazgar Associates