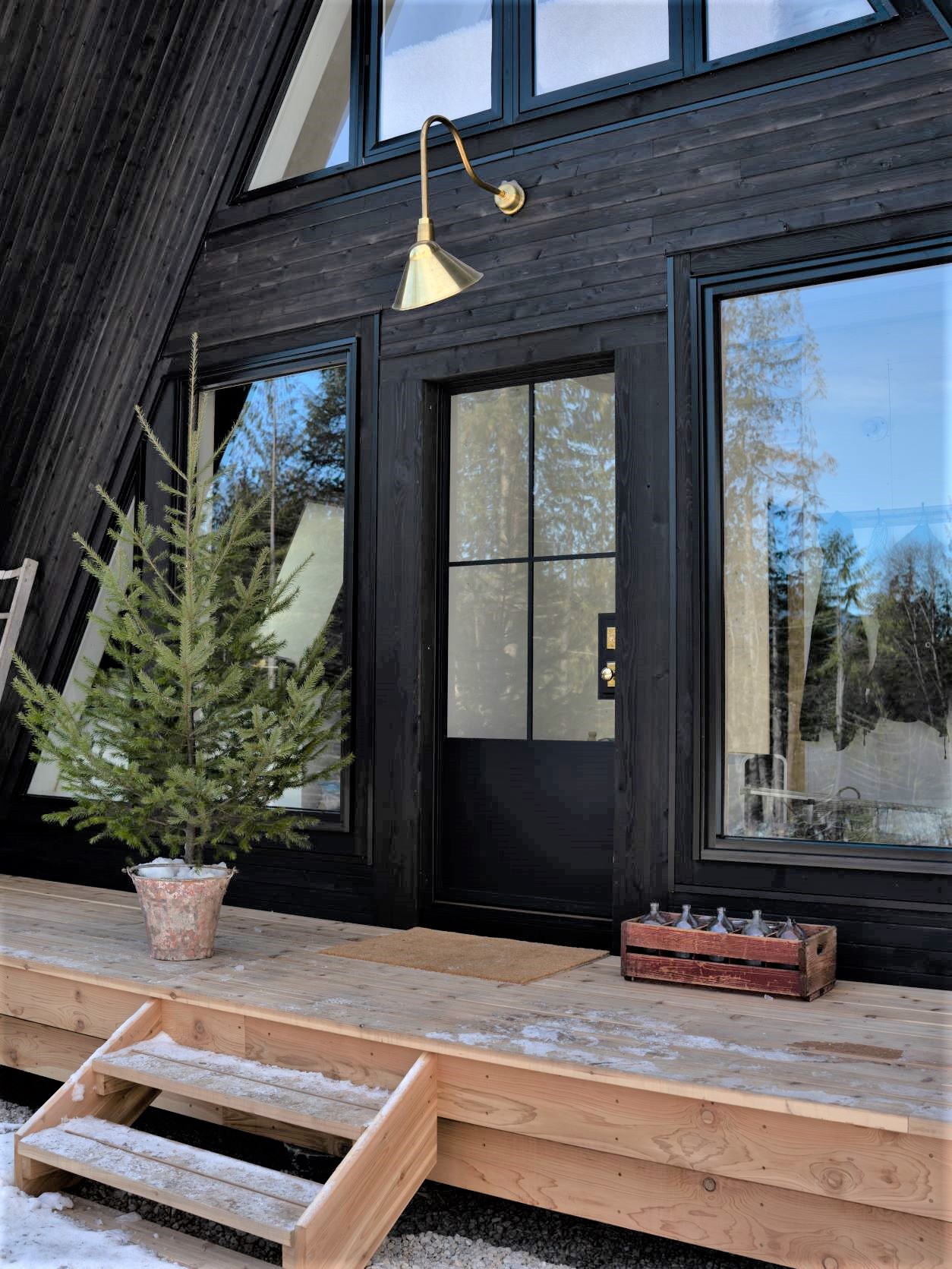 Brass Lighting Lends Pop of Color to New Canadian A-Frame
When we featured Brittany in this blog post almost two years ago, she was enjoying life in her beautiful farmhouse in Alberta, Canada. The exterior was adorned with bold, brass barn lights!
Later that year, Brittany and her family decided to downsize and move to Revelstoke, British Columbia, Canada, which, according to Brittany, has some of the best snow in the world!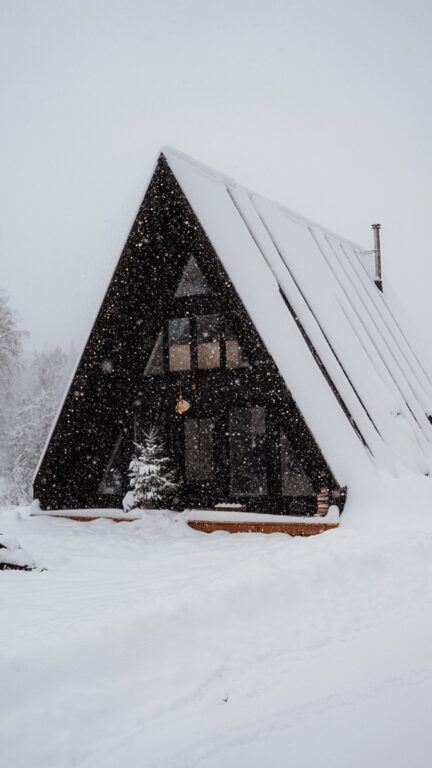 "Revelstoke is a 6-hour drive from our previous farmhouse," Brittany says. "But our family spent every spare moment we had there in the winter." They finally decided to leave the farmhouse life behind and live where they love.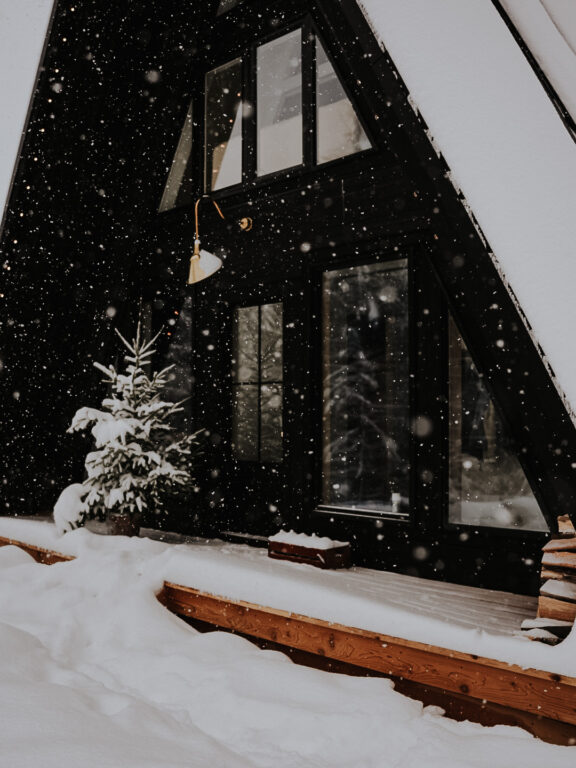 When designing their new home, Brittany's goal was a simple, monochromatic style. She chose a cedar exterior stained in black. The exterior siding and soffit are 1″ x 4″ tongue-and-groove planks. To provide a pop of interest, Brittany chose brass accents.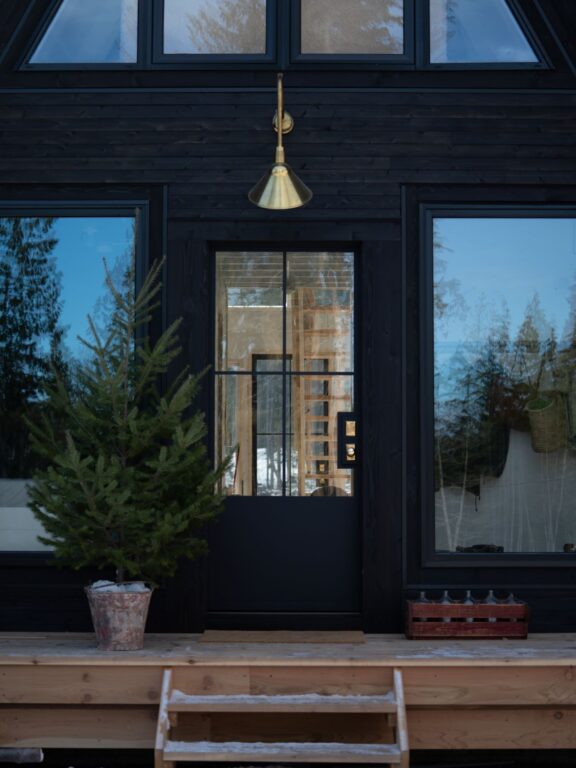 "The original plan was to place a transom window above the door the balance the asymmetrical windows," Brittany explains. "One day, I had the idea to balance the windows with a gooseneck light. And there is only one place to get the most amazing gooseneck light fixtures — Barn Light Electric!"
Brittany's former farmhouse had plenty of Barn Light goosenecks. She was excited to incorporate one of the fixtures on her new A-frame cabin.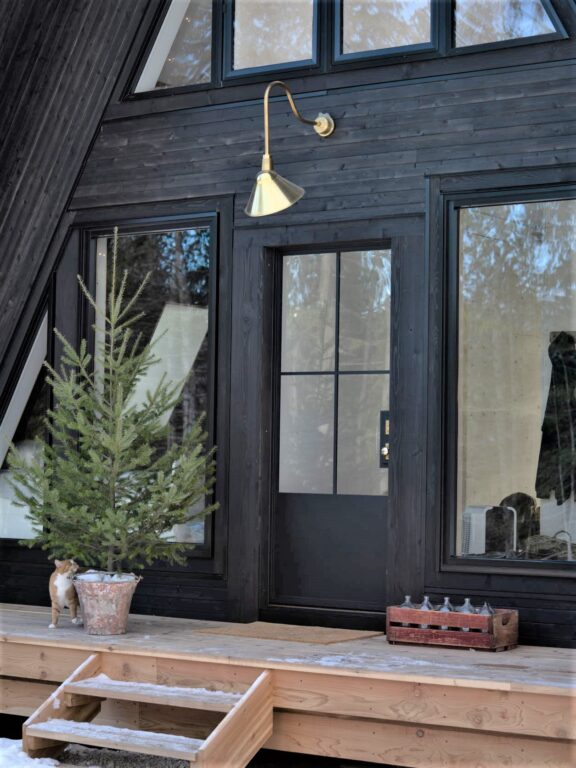 "Lighting can completely transform a space. It is one of the most important design elements, and I'm always willing to invest in high-quality lighting," she notes. "I wanted the new light to be a show stopper. And, most importantly, I need the light to be the perfect brass that would keep its beauty in our four-season climate."
Brittany chose the Fire Chief Sign Light to accent her front door. She customized this handcrafted, American-made light with a 14″ shade, Raw Brass finish, and G24 gooseneck arm.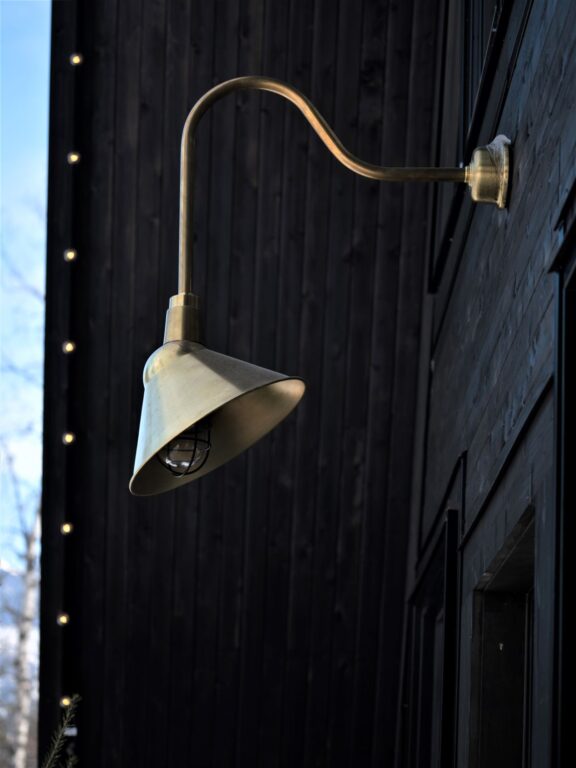 "This light fixture is oversized for the cabin but that's what I love," she explains. "I wanted it to feel grand and overstated. I am incorporating a lot of raw brass throughout the interior, so I wanted to carry bits of this design to the exterior."
Brittany admits that the hardest part of ordering from Barn Light is choosing the gooseneck arm. With so many options, she had a hard time choosing!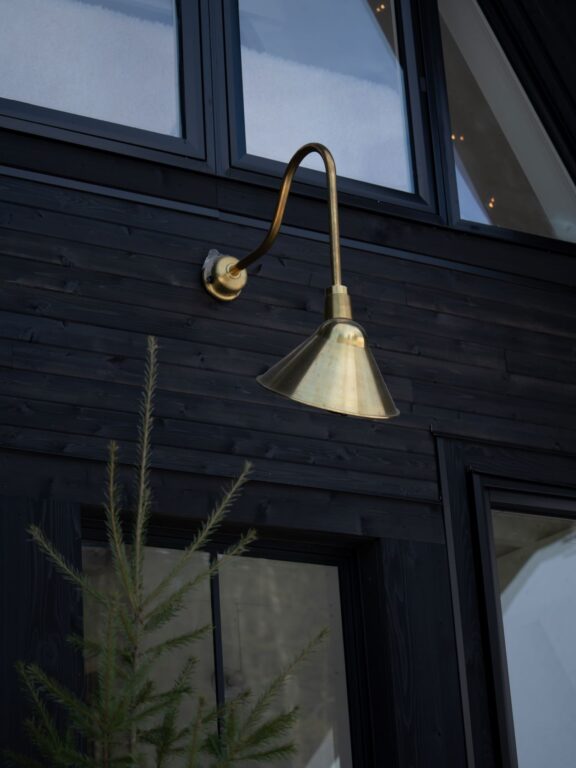 "There are so many options which is awesome when you have a space requiring very specific dimensions," she says. "I picked a larger bend in the arm because I wanted it to be noticeable, and that it didn't just project straight out from the wall."
Brittany also customized her new light with a Matte Black wire guard, clear glass, and a dusk-to-dawn photocell that turns the light on automatically at dusk and off at dawn.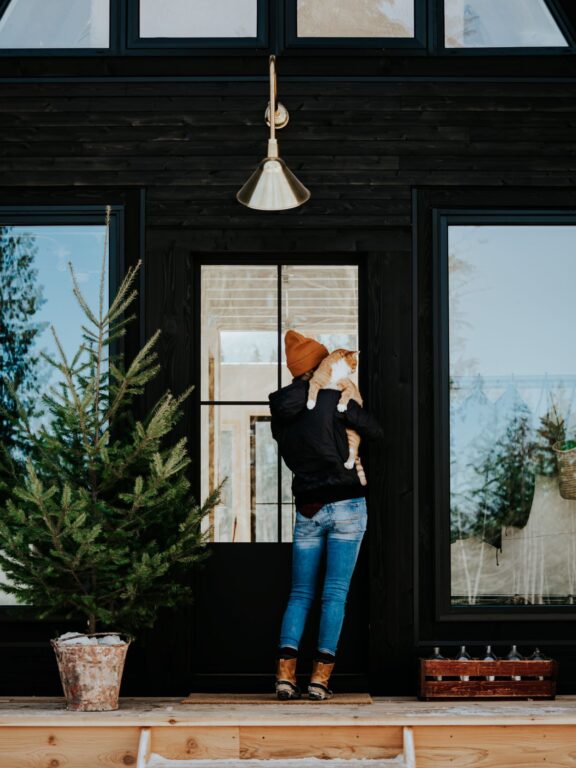 "I think adding the wire guard is not only aesthetically pleasing but, with three young boys, it also protects the light fixture!" Brittany notes. "I have never had a photocell light, but I love that I can leave the switch on and, if we come home after dark, there is always a light on for us." While the Fire Chief Sign Light offers plenty of light for the family after dark, it serves as a subtle accent piece during the daylight hours as well.
"I am beyond obsessed with this light!" Brittany says. "I wish there was one on the other side of the A-frame. It's just the right amount of 'bling' that the cabin needed!"
Photos courtesy of @BrittanyDawnLife