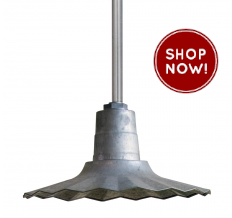 Year Round Lighting: Industrial Galvanized Pendants
As winter arrives, many New England and lakeside homeowners head indoors to gather around the fireplace and share family stories. Their rustic summer decor may be temporarily over taken by Christmas trees and garland, but the galvanized light fixtures installed over the summer, still appear to flawlessly blend in.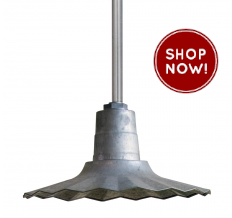 Galvanized Pendants are just as warm and inviting as a fire in the fireplace. A perfect example of this, is our Barn Light Radial Wave Pendant. This classic barn light features a stacked neck design and a fluted, wavy shade. Galvanized metal lights are a perfect choice to consider when designing your own industrial farmhouse inspired home. During the warmer months, galvanized items seem to represent relaxing moments enjoying the summer breeze, while during the winter months, the reflective galvanized finish is as crisp and cool as the fresh frost. Many industrial farmhouse style homes incorporate galvanized because it gives a home a fresh, clean feeling….just like that of a new snowfall.
Galvanized metal pendants blend perfectly with muted white and gray tones commonly seen in farmhouses – like at Lori G's White Flower Farmhouse. On Frugal Farmhouse Design, her blog, she offers simple and affordable ideas to improve and transform the look of home interiors with vintage inspired decorations and fixtures. She often refurbishes time worn furniture into unique and functional pieces for her shop.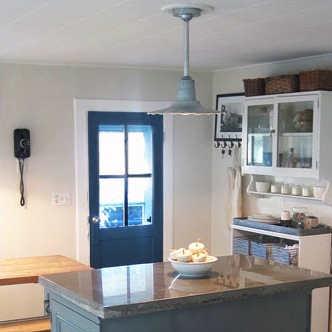 An additional example of industrial farmhouse style decor using galvanized barn pendants and porcelain enamel shades is pictured here, from Lori's redesign of her friend's kitchen. Lori installed several from Barn Light Electric Company – including a 16" Galvanized Radial Wave Shade. A larger Cobalt Blue Ivanhoe® Bomber Cord Hung Pendant, was draped over a newly constructed industrial farm table in the eating area. You can read more about this low budget kitchen renovation by clicking here.
To see more examples of pendant lights in winter homes and cabins, visit barnlightelectric.com or our main blog at blog.barnlightelectric.com.