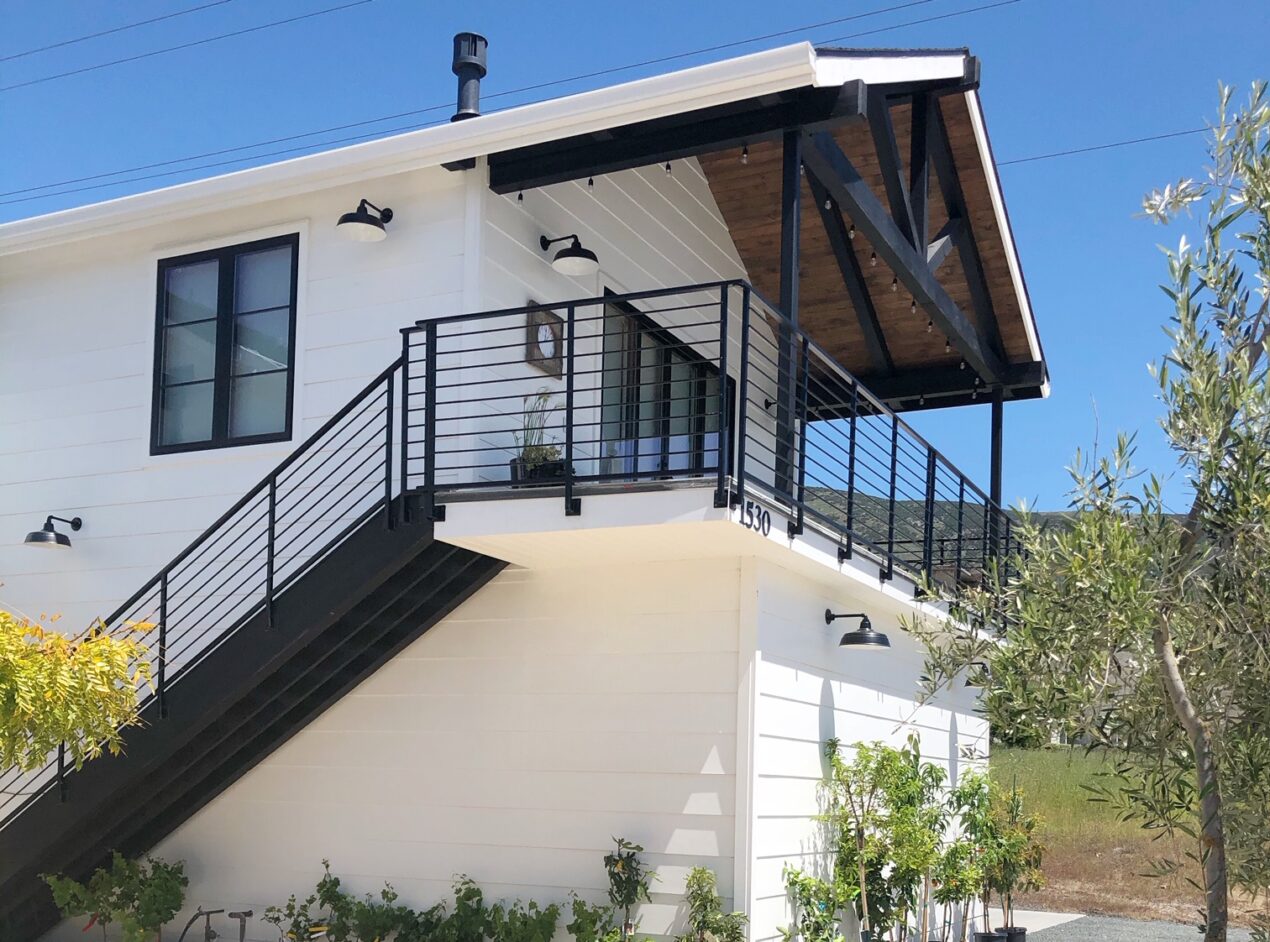 Barn Lights Bring Classic Style, Modern Options to New Construction
Our Instagram feed is chock full of building and remodeling projects, so if you need some serious inspiration, be sure to pop over and check it out!
One of our favorite builds to watch from foundation pouring to switching on the lights came from our friend Lindsey over at The Pleated Poppy. Lindsey and her husband purchased 2.5 acres in San Luis Obispo, a small town on the central coast of California, where they designed and built their dream home.
"We have vineyards and farmland a couple of miles away in one direction, and downtown is just a couple of miles the other way," Lindsey says. The ideal location prompted the couple to design a classic modern farmhouse with plenty of rustic charm accented by modern finishes.
The home consists of three structures: the main house, the barn, and the garage/loft where Lindsey's parents live part time. They opted for simple architecture with clean lines, a bright white palette contrasted with black accents, and warm details with stained wood.
When it came to choosing outdoor lighting, Lindsey relied on her decades-long experience of blogging.
"I've known about Barn Light Electric for years so I knew that was a source to look into first," she explains. "I looked on Instagram using the hashtag #barnlightelectric to find actual users of the products and asked them how their lights have held up. It's a great way to get honest reviews!"
While many aspects of the home's exterior lean more modern in style, Lindsey wanted classic barn-style lighting for both the barn and her new home.
"Lights are like jewelry for the home, and I knew these lights would be here for years," she notes. "I wanted something classic and very high quality that would last for generations. These lights are true barn style which blend nicely with the modern touches."
Lindsey chose the All Weather Gooseneck Farm Light for her home. She customized these American-made wall lights with 15″ shades, a Black finish, and G16 straight gooseneck arms.
"I really like the contrast of the glossy black finish with the white siding of the house," Lindsey says. "I chose the straight arm as there are a couple of spots that required a lower profile for the fixture and the straight arm fit better."
For the barn, Lindsey chose the same fixture but opted for a G31 gooseneck arm and a Galvanized finish to pop off the black façade.
"The Galvanized finish stands out from the black paint on the barn and this particular gooseneck arm felt more traditional," she adds. "It mixes well with the modern black finish of the building."
At the peak of the barn facing the courtyard, Lindsey needed a slightly larger fixture. She chose the Original™ LED Warehouse Gooseneck Light for its perfect combination of classic style and modern convenience. With the integrated LED module, this light will burn for 50,000 hours which saves Lindsey both time and money. This energy-saving gooseneck light sports a Galvanized finish, a G22 gooseneck arm, and a 3000 lumen LED with a 2700K color temperature.
"Given how high it is, I chose a larger fixture to give that area better balance in proportions," she notes. All of Lindsey's fixtures were handspun from commercial-grade materials then finished and assembled per her specifications.
"There's comfort in knowing the lights are well made and there's a strong company that stands behind their work" Lindsey says, "but my day-to-day appreciation is for how great they look!"
Photos courtesy of The Pleated Poppy