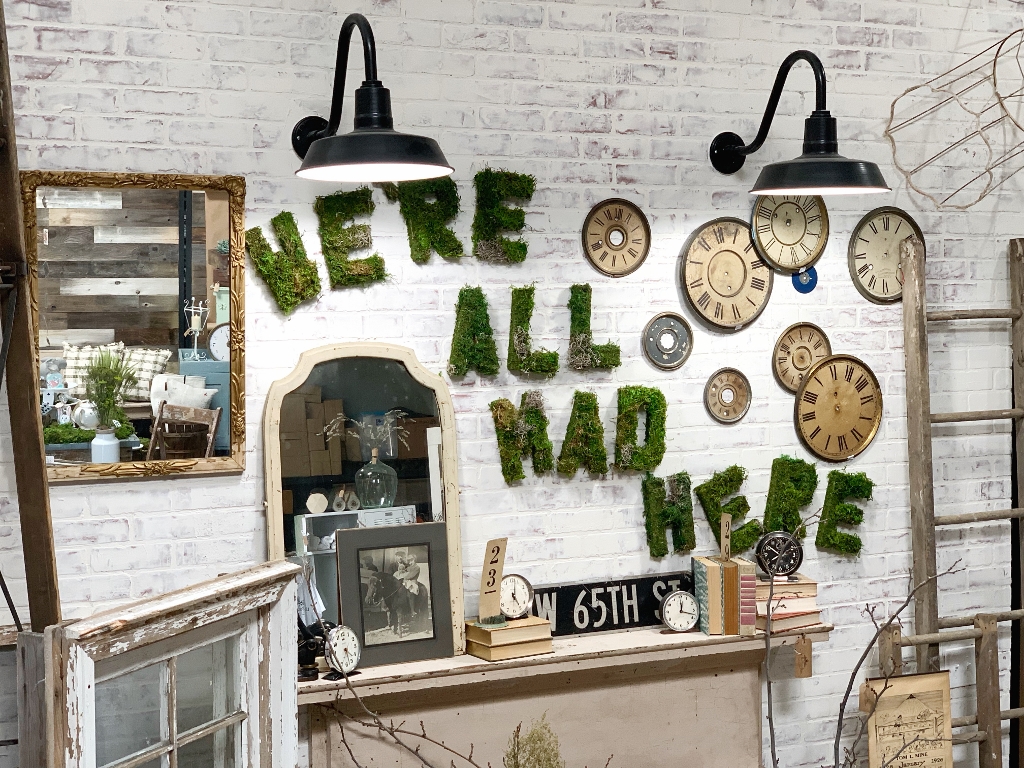 Barn Lights Add Farmhouse Vibe to Home Decor Shop
When Ashley purchased a 2,000-square-foot warehouse to house her new home décor shop in Murrieta, California, she was faced with a stark and voluminous industrial space. Her vision was to transform the warehouse into a comfortable, inviting, and inspiring shop without losing the industrial roots.
"Our goal was to bring our customers authentic, simple, and salvaged home décor that we pick throughout the country, all with that perfect vintage and farmhouse feel," Ashley says. And thus The Little Burlap Barn was born.
Starting with a neutral palette of gray, white, and black, Ashley added faux brick paneling with a whitewashed finish to add texture. The concrete floors were polished while handcrafted barn pendants and gooseneck lights added the timeless farmhouse feel she wanted.
"Barn-style lighting fits perfectly with our aesthetic and enhances the look of our unique furniture and home décor pieces," Ashley explains. "We wanted lighting that had customizable options, and we love supporting companies like Barn Light Electric that manufacture products in the USA!"
Ashley chose the classic Original™ Warehouse Gooseneck Light to highlight wall displays. She customized these handspun lights with 14″ shades, a Black finish, and G15 gooseneck arms.
"We wanted our goosneck lights to really pop off the whitewashed brick walls," she notes. "The 14″ shade was the perfect size to really make a statement but not feel overwhelming since we do have multiple lights. The goosenecks are timeless. The style is simple, pleasing to the eye, and perfect for that farmhouse feel."
With 25-foot ceilings in the warehouse, Ashley needed lighting that not only made a visual impact, but added plenty of light to the soaring space. She chose the matching Original™ Warehouse Pendant to complement the goosenecks.
"We needed a larger shade so the lights didn't get lost within our large space and the 18″ shade seemed perfect," she notes. "We chose a Galvanized finish so they would stand out against the white foil ceiling as well as against our concrete walls." The vintage-inspired warehouse shades make an impact without taking away from Ashley's unique treasures.
"We LOVE the look of our lights! The gooseneck lights truly complement our rustic and farmhouse-style aesthetic by being simple but also functional," Ashley says. "We love the classic black finish which is perfect no matter the season or change we make throughout our shop. We get compliments on them from customers all the time!"
Photos courtesy The Little Burlap Barn