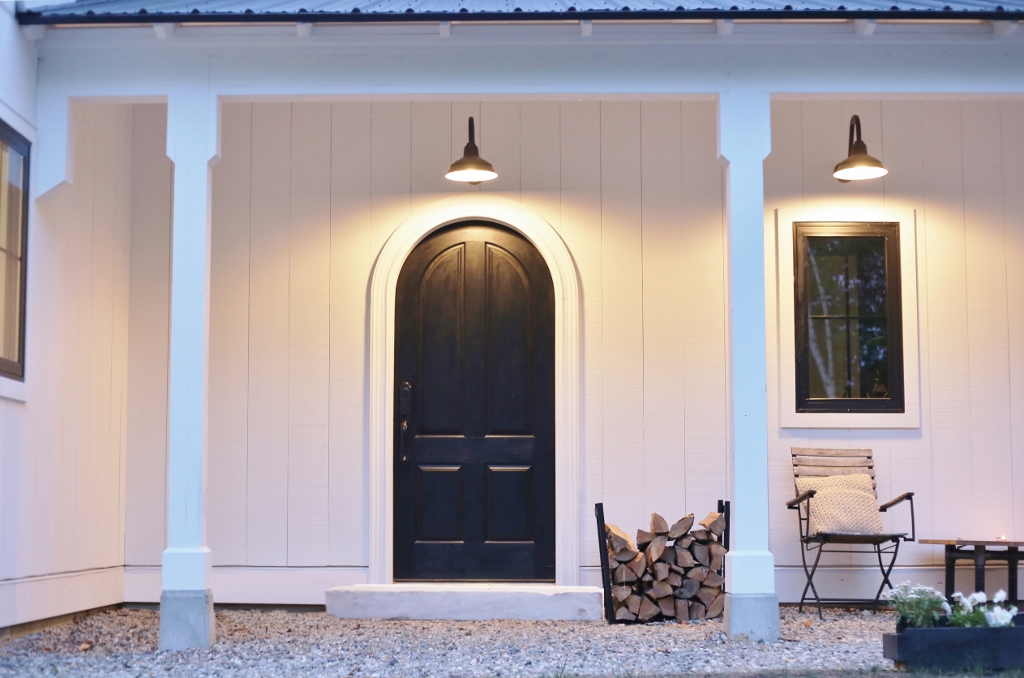 All You Need to Know | Light Spread Explained
When choosing new lighting, most people get completely absorbed by size, color, and other finish choices. We get it! With so many customizing options offered at Barn Light Electric, it's easy to get enamored with the details!
But don't lose sight of functionality as you consider colors, wire cages, glass choices, and dusk-to-dawn photocells. After all, as much as we want our lighting to be beautiful during the day, fixtures need to provide appropriate illumination when the sun goes down!
Today, we're talking about light spread — the term that describes the width of light when it hits a flat surface. The style and size of shade you choose directly affects the spread of light. Take this barn and garage, shown above, for example. These gooseneck lights are mounted to allow for a triangulated spread of light over the doorways.
These All Weather Gooseneck Farm Lights feature 14″ shades with a White finish and G31 gooseneck arms. An additional wash of light is also created onto the ground below thanks to this style of gooseneck arm which projects the shade almost 16″ outward from the building.
If you want more light spread on the door, you would choose a shorter arm style and perhaps a larger shade. If you want more light on the ground or walkway further out from the façade, choose a gooseneck arm with a longer projection. The graphic above shows a sampling of our styles.
And if you need a custom size or shape, Nate, our pipe bender, can take good care of you!
Our classic, RLM-style warehouse shade is also a dark-sky friendly fixture. The light bulb tucks up inside the shade and the light spread is focused downward. This blog post goes into more detail on everything you need to know about dark-sky friendly lighting! In the photo above, you can see how RLM shades throw the light down onto the windows and doorways without a lot of light trespass.
This beautiful entryway is illuminated by our Bomber Gooseneck Light. If you missed our Modern Farmhouse Journey series last year, take a peek at this post where Whitney explains how she and her husband chose their exterior lighting. These gooseneck lights were customized with 11″ shades, a Black finish, and G15 arms to provide the perfect amount of light spread over the door and window.
Some spaces don't need as much light thus smaller shades work just fine. These Bowie Wall Sconces, available in both 8″ and 10″ shades, offer a soft pop of light to flank this doorway. There is plenty of light to see the step, the lock, and the doorbell without a lot of glare.
To help navigate her exterior stairs safely at night, this homeowner chose a cast-guard-and-glass wall sconce. This style of fixture provides more overall light than a traditional warehouse shade, but thanks to glass and bulb options, the amount of light can be controlled. The compact profile of this wall sconce suited the space better than a larger warehouse shade.
The Streamline Industrial Guard Sconce can be customized with finish color, guard options, and one of six glass options. Clear glass, which is shown here, offers the most light spread while frosted or colored glass diffuse the spread.
For questions about light spread and shade styles, our customer service team stands ready to help! You can reach them at 800-407-8784 during business hours, via Live Chat from our home page, or drop them an email at sales@barnlight.com.