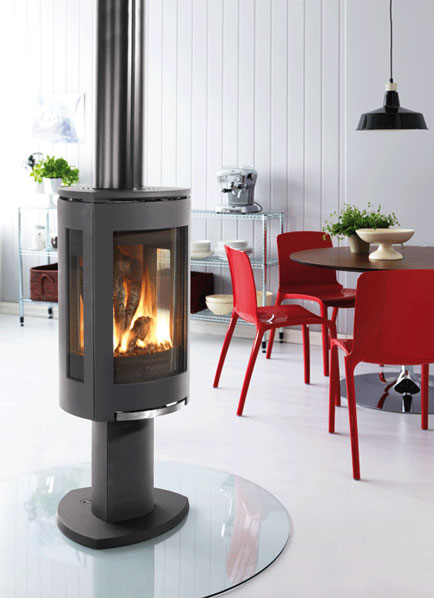 Barn Light Warehouse Shade Never Loses its Timeless Charm
When you're immersed day-to-day in the barn lighting business, you tend to notice vintage and industrial lighting in all sorts of places. At the new business around the corner that installed handsome gooseneck lights over the entryway or in a charming coastal cottage that boasts the perfect nautical lighting on the porch. Old, black-and-white movies are also a great place to spot vintage RLM warehouse designs. So recently when I was browsing an online catalog for gas fireplaces, I was immdiately distracted by the beautiful porcelain barn light hanging in the background of this picture.  What an excellent choice for this setting!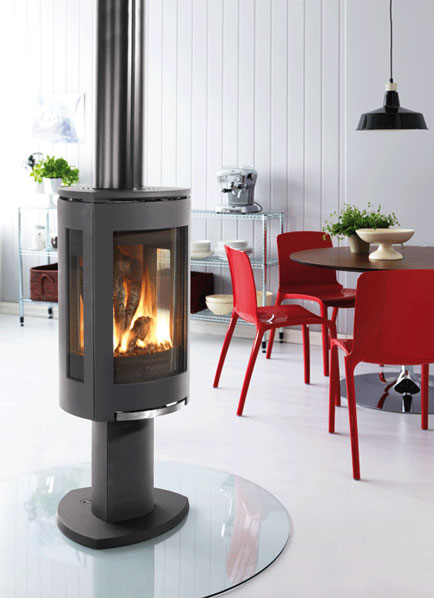 This pendant is much like our Ivanhoe® Union 14″ Warehouse Porcelain Pendant and the larger Ivanhoe® Sky Chief 16″ Warehouse Porcelain Pendant. Both of these fixtures take their design straight from the Original Warehouse Shade, a classic take on the RLM shade design of the 1930s. While porcelain enamel fixtures were first utilized outdoors because of their durable nature, the Ivanhoe® line of cord hung pendants brings this style of lighting indoors to every room of the house. You can choose not only from a variety of gorgeous finish colors for your shade, but get creative with the cord too! Stick with the standard black cord if that fits your décor, but be sure to check out the different colors of cotton twist cord that are available for these pendants.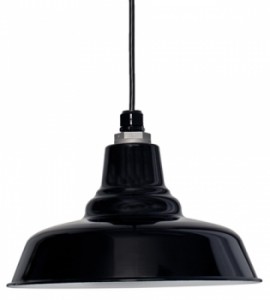 If you've never owned a porcelain light fixture you'll fall in love with the vivid color and outstanding durability of this style of lighting. Hand crafted in America by our Barn Light Electric craftsmen, these shades are spun from commercial grade steel, not the flimsy metal you'll find on fixtures machine stamped overseas. You'll appreciate the heft of this light the minute you pull it from the box! The baked-on glass enamel coating resists chipping and fading and will look as good a generation from now as it does today!
Top photo courtesy of Jotul