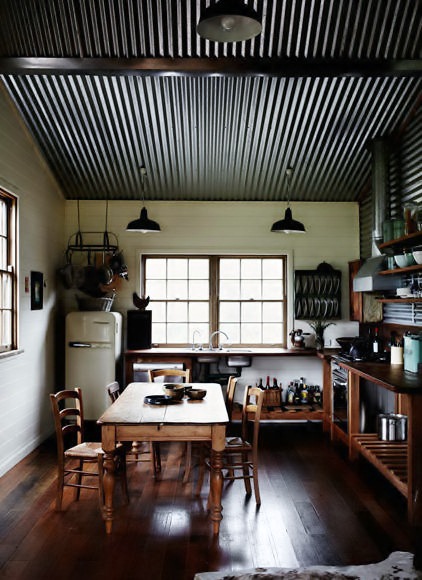 Barn Light Warehouse Pendants Suit Industrial Style Kitchen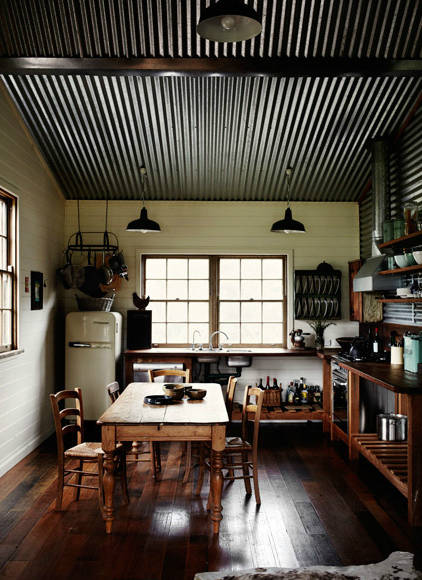 The industrial farmhouse rage continues to gather steam with interior designers, remodeling gurus, and DIYers all searching for the perfect vintage industrial pieces to complete the look of their kitchens, bathrooms, and other living spaces. Not confined to big city lofts or restaurants, the industrial look can be incorporated into almost any style home to give it a vintage feel yet with fresh, updated touches.
Take a look at this kitchen for example. The creamy walls and bright windows are sandwiched between the dark, textured ceiling and the warm wood flooring. Like most industrial farmhouse kitchens, open cabinetry is the norm to put everything within your grasp. This kitchen designer even left the cabinets open beneath the sink. And shining down on the long kitchen table that sits in the heart of the room are vintage ceiling lights very similar to our own Barn Light Warehouse Pendants. These fixtures are beautifully styled from designs created back in the 1930s and the high quality, American made RLM shades will provide years of use.
More than 50 finish options are available for this Warehouse Pendant with dozens of colors and metallic looks to choose from. Guard and glass options can also make the fixture more distinctive. Consider adding a colorful wire cage if you want your light to be a stronger focal point in the room. And don't forget to check out our selection of authentic, replica Edison-style light bulbs to complete the look of your vintage fixture. These nostalgic, low-watt bulbs fit right in with the rising industrial trend and give a glow of ambient light against darker wood tones.
Don't have the time or budget for a complete room renovation? You can significantly change the look of a space just by changing the lighting. New lighting is a great way to dress up a room and bring new life to your spaces without breaking the bank.
Top Photo Courtesy of Polern Par