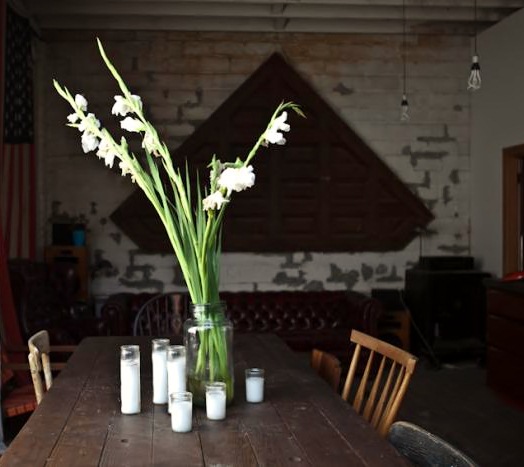 Bare Bulb Pendants Part of Passion for Industrial Style Living
There are so many things to love about the industrial décor craze that's taken over the design world — from the use of repurposed and recycled treasures, to humble materials with utilitarian qualities, and the minimal yet comfortable feel it can create in a space.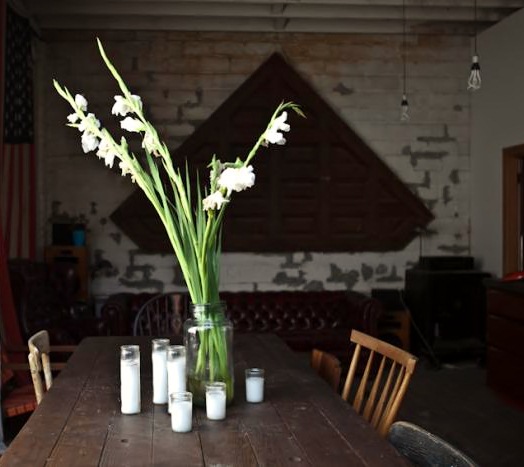 While our eyes were first drawn to this 100-year-old farm table that serves as a gathering space in this industrial building in North Portland, we couldn't help but notice the bare bulb pendants hanging in the background. Bare bulbs are also a popular feature of industrial styling,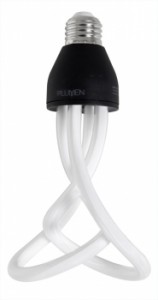 and in this space, which serves as an artists' studio and retail store, the artists opted for the Plumen Low Energy Light Bulb. You can find the Plumen Bulb in the Barn Light Electric collection of Compact Fluorescent (CFL) Light Bulbs.
These bulbs provide energy-efficient alternatives to the traditional standard incandescent bulbs. The Plumen is one of the first low-energy bulbs on the market with some personality! It offers the winning combination of high style, high savings, and low energy consumption. The dynamic form of this bulb provides plenty of illumination while using one third of the energy and lasting eight times longer than standard incandescent bulbs. The 80 watt, 680 Plumen bulb is equivalent to a standard 60 watt bulb and will last approximately 8,000 hours.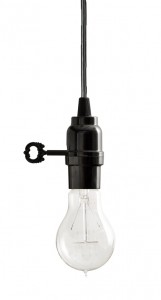 Pair the Plumen Light Bulb with our Barn Light Indy Industrial Pendant for a classic industrial look. This drop-cord fixture is based on vintage lighting yet follows a simple industrial style with a turn key on/off switch. The Indy has a modern, minimalist feel and comes in your choice of five cord colors.
The Indy also looks great with the addition of an authentic reproduction Edison Style Light Bulb which comes in a variety of shapes and sizes including hairpin, spiral, and thread lights. Any of the Edison light bulbs will add the perfect touch of vintage style to your space!
Top photo courtesy of Remodelista