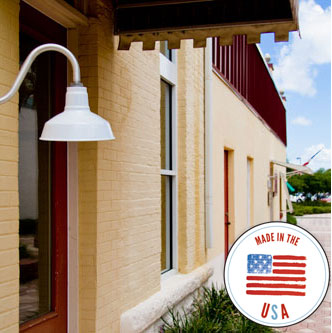 American Made Porcelain Enamel Lights
In recognition of National Made in America Month, Barn Light Electric® invites you to browse its selection of American made porcelain enamel barn lights. These vintage inspired lighting fixtures are manufactured utilizing raw steel and an exterior glass coating; two of the same top quality components which made the first RLM warehouse lights exceptionally durable.

The industrial look of the porcelain pendant is based on the original models from the early 1900's, when Goodrich® produced the original Gooseneck RLM Warehouse Shades for agricultural and industrial use. Today, these pendants are commonly used in living rooms and kitchens of homes across the country. Regardless of which fixture you choose, you'll find a variety of both modern and traditional porcelain enamel finishes to match your home. The most popular porcelain barn lights in our collection include the 12″ Goodrich® Dino Porcelain Gooseneck Light and the Ivanhoe® Sinclair Industrial Porcelain Pendant.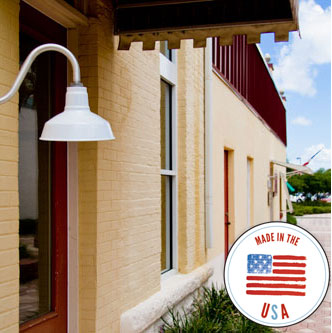 Versatility defines the Goodrich® Dino, which comes ready to install and ready to withstand years of use, just like the original Goodrich® Gooseneck Lights. The 12″ Dino shade comes in a variety of color options with your choice of three vintage style cotton twist cord options: Black, Brown or Putty. The shade comes standard with a round porcelain ceiling canopy and replica cotton twist cord (additional lengths available). Dino shades can be used alone or paired together for lighting larger areas, such as a kitchen island, or dining room table. Realsimple.com featured the Dino on a  blog post about a cluttered laundry room that was transformed into an organized work space.
As homeowners and business owners have discovered, porcelain pendants add a special touch the surrounding atmosphere that's truly one of a kind. A perfect example is at Dinosaur BBQ in Troy, New York, where a line of 10 Ivanhoe® Sinclair Industrial Porcelain Pendants hang above the bar in the center of the restaurant. The vintage green finish on the pendants blend with the thick reclaimed wood and local art relics lining the walls. Distinct features on this pendant – like solid brass sockets and vintage style paddle switches, add to the rustic roadhouse theme of the restaurant.
Our porcelain barn lights continue to gain popularity because they're easy to clean and they retain their value over time. Porcelain enamel is the one finish that will retain its original color, so you're investing in an American made product that is sustainable and reliable enough to withstand the test of time!