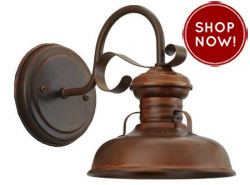 Mini Gooseneck Barn Lights for Home Interiors
Style should never be sacrificed for space, which is why Mini Gooseneck Barn Lights are ideal barn lights for tight spaces and cramped corners in homes and offices. With 6-inch shades, mini barn lights are both small and versatile vintage inspired lights that will restore historic charm to your home or office interior. They offer the versatility needed to accent artwork and showcase intimate dining areas.
Wit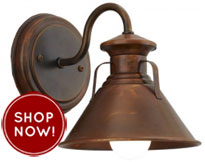 h almost every shade measuring in at 6 inches, this series of small RLM lights are perfect to showcase artwork or accent hallways. With a flared shade design and an elegantly curled arm extending from the backing plate, this wall sconce is a favorite among interior designers. The photo on the right features a rustic Rosewood finish and would be the perfect front porch accent to a log cabin, however, a softer Vanilla Cream or Galvanized metal finish could be chosen for cottages or industrial farmhouse style homes.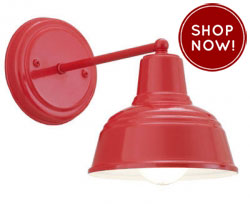 Other popular mini barn lights include the Mini Artesia Shade and the Mini Laramie Shade. The Mini Artesia has a distinct look that is based on the same shade design as the full size model. As with so many of our products, this Barn Light Electric Co.® exclusive is guaranteed to be American made and of top quality! In a spotlight of its own, this mini barn light has been featured on Design for Mankind – where it's being incorporated into a Scandaninavian inspired kitchen.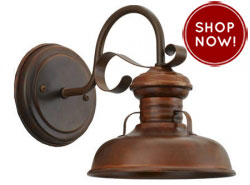 The Mini Laramie shade features a decorative center hub that borrows its appearance from hand carved wooden spindles, with groves etched into the lower metal portion and topped with a stylized tear drop end cap. It's reminiscent of the décor that adorned trading posts and frontier homes of the late 1800's. Select a patina finish to make the Mini Laramie a noticeable addition to a colorful beach home or flower filled sunroom!
These small barn lights mirror a selection of our most popular, larger RLM warehouse shades. Each fixture is made with the same American craftsmanship and care as our traditional gooseneck lights that commonly decorate the exterior of buildings – both rustic and modern.
For a seamless transition from exterior to interior lighting, mini gooseneck arms are available in 17 different lengths, with the same style and function of the full-scale versions. The condensed look of these lights make them universally attractive and adaptable for a variety of settings and styles.