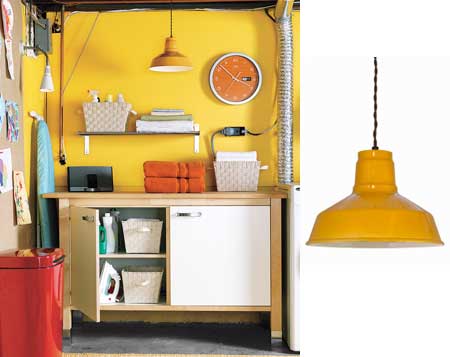 Ivanhoe® Dino Porcelain Pendant featured on Realsimple.com
Real Simple magazine is devoted to making life easier with creative and inspiring solutions to improve and organize home living spaces. Recently, the website posted a special series on converting cluttered areas into high-efficiency storage spaces for multitasking household chores.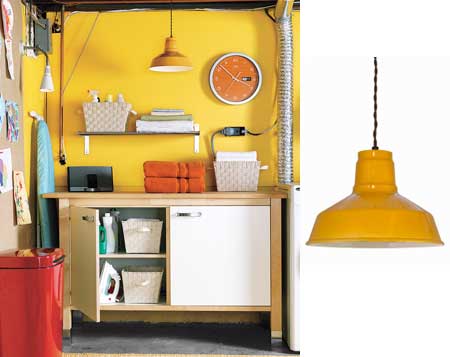 With the installation of accessories like the Ivanhoe® Dino Porcelain Cotton Twist Cord Pendant from Barn Light Electric, a cluttered laundry room was transformed into an organized workspace. As you can see in the picture above, the pendant lighting fixture coordinates with the yellow wall behind it. It's centered over a Värde birch cabinet and a Grundtal stainless-steel rail shelf, providing light over the cleaning supplies and work station.
The 8″ Ivanhoe® Dino Porcelain Twist Cord Pendant comes with a 5″ round porcelain ceiling canopy and 24″ of cotton twist cord (additional lengths available). Shades are available in eight unique different finishes that match both modern and traditional tastes. These popular warehouse shade designs were originally used around industrial areas such as factories, auto shops and gas stations.
Today, the Ivanhoe® Dino and the rest of our porcelain light fixtures are used for accenting tables, bars, counter tops and other areas around the average home. Thanks to its high quality construction, the Ivanhoe® Dino will withstand years of use wherever you decide to place them. To complete a nostalgic look, consider adding a Nostalgic Edison Style light bulb to your order.
To view more settings that incorporated the Ivanhoe® Dino Porcelain Twist Cord Pendant, see the following related blog posts:
RLM Porcelain Pendant Lighting For Eclectic Interior Spaces: Dropping in for an appearance is none other than a porcelain enamel 'Ivanhoe® Dino' look alike. This small warehouse shade is uniquely placed over a side chair to provide both over head lighting and style to an unused corner of the home.
Porcelain Enamel Pendants That Blend With Any Decor: Ivanhoe® Dino shades can be used alone or paired together for lighting larger areas, such as a kitchen island, or dining room table.