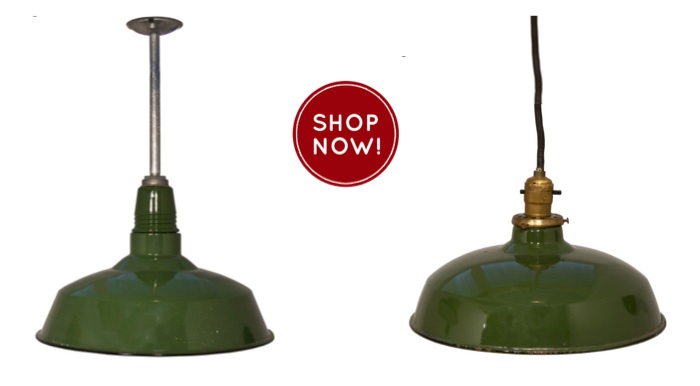 Vintage Barn Lighting From Barn Light Electric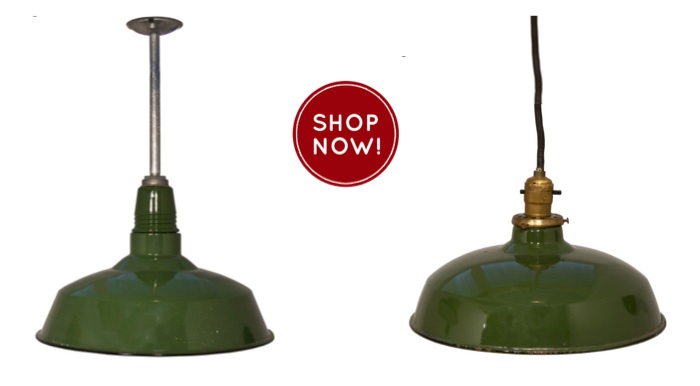 Barn Light Electric offers American-made vintage barn lights in a variety of classic shapes and sizes to bring functional style to your residential or commercial space.
During the 1920's and 30's, many of these Porcelain Enamel Lights, were commonplace in work related areas. Originally small in size, new RLM warehouse shades were designed to be much larger. These wide shade designs were able to produce a large amount of directed light over manufacturing areas and production tables. Companies such as Benjamin®, Crouse-Hinds, Appleton and The Miller Company created differing variations of shade styles. Thanks to their durable construction and large numbers initially created, Barn Light Electric has been able to salvage and restore many styles of these vintage barn lights.

Oftentimes warehouse shades with gooseneck arms were used in agricultural areas such as on exterior barns and storage sheds. The gooseneck arm allowed the shade to be extended away from the wall, ultimately providing an even larger amount of light to fan out across garage doors and outbuildings. Gooseneck Lights are still a popular lighting choice for homeowners today. Cord hung pendants, or stem mount pendants were often times used in industrial factories and warehouses as well. Cord heights could be easily adjusted to accommodate new work conditions, whereas stem mount pendants could be placed outside under loading docks and shipping departments. The hollow metal stem contains inner wiring and doesn't let in moisture from the outdoor elements.
Today, customers across the country are searching for these vintage barn lights to place within their homes and businesses. Since most original porcelain enamel manufacturers went out of business in the 1960's, these popular shade designs have not been produced in over 50 years. With an interest in vintage lighting, Barn Light Electric began discovering these vintage porcelain enamel barn lights that were still in great condition. Thanks to their durable construction and large numbers initially created, customers today can bring a piece of history into their home – still at an affordable price. With a collection unlike anywhere else, each of our vintage barn lights have been cleaned, rewired, and are ready to ship!
Like we noted above, since the early 1960's porcelain enamel production has sat idol within America – until 2010. Today, no other US manufacturer is producing porcelain enamel lights except Barn Light Electric Co. This makes the following popular shade designs exclusive to us: Goodrich® Gooseneck Lights, Benjamin® Stem Mount Lighting and Ivanhoe® Pendants. These fixtures are all made using an inner steel shade and an exterior coating of glass. Its this same process used almost 100 years ago that makes these lights the most durable lighting products still on the market today.