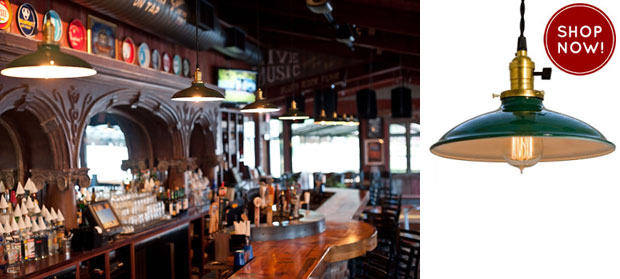 Porcelain Enamel Barn Lighting at Dinosaur BBQ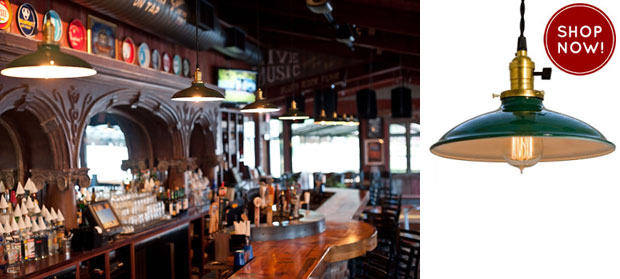 A New York favorite, Dinosaur BBQ, recently opened its fourth restaurant within the Empire State. The new establishment is located on the eastern bank of the Hudson River in Troy, New York. Above the full service liquor bar in the center of the restaurant, you'll see our very own Barn Light Electric Ivanhoe® Sinclair Industrial Porcelain Pendants.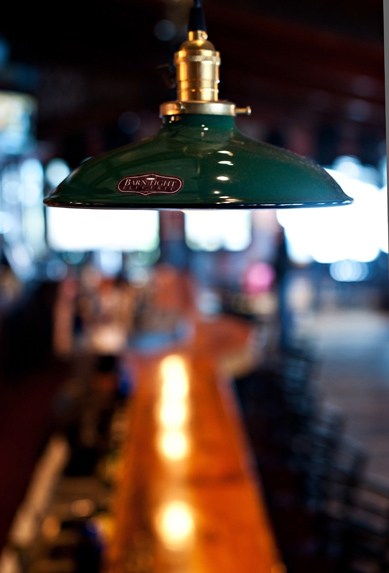 A solid brass socket and vintage style paddle switch are two of distinct features on the Ivanhoe® Sinclair Industrial Porcelain Pendant. The industrial look of the porcelain pendant is based on the original models from the early 1900's, and made a perfect match for Dinosaur BBQ's rustic saloon feel. The roadhouse-style layout features thick reclaimed wood lined with local art relics and rustic decorations.
These porcelain barn lights pay tribute to their original counterparts originally used as task lighting around the 1930's. Their vintage green finish brings out a pub-style atmosphere and welcomes guests for a great dining experience!
Dinosaur's nationally acclaimed food has received honors from Men's Health and Eating Well magazine. Dinosaur was rated the nation's No.1 BBQ restaurant by "Good Morning America" and was featured on the Food Network and Travel Channel. Their cookbook, Dinosaur Bar-B-Que: An American Roadhouse, was voted a best BBQ cookbook by the National Association of BBQ.
Dinosaur BBQ's founder, John Stage, began Dinosaur Bar-B-Que with two partners as a mobile concession unit in 1983 at a Harley Davidson biker event. Five years later, he opened the first Dinosaur restaurant in Syracuse, NY. It expanded to Rochester in 1998, Harlem in 2004 and the Troy location opened this November. Since day one, Stage and his staff have kept a strong commitment to delivering high quality food with great service in an entertaining and unique atmosphere.
Other restaurants that utilized these vintage inspired industrial pendants, include the Modern Coffee Shop in Oakland, California.
The tremendous photographs shown today were shot by Paul Grupp, a professional photographer at Upstate Photographers in Troy, New York.