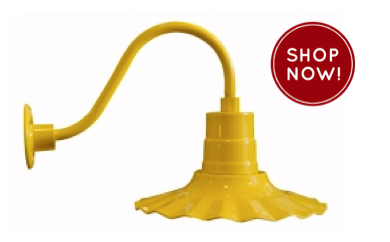 The Barn Light: Your Guide For Everything Lighting!
Welcome to TheBarnlight.com, your comprehensive guide to classic American barn light fixtures! Throughout our pages and blog posts, you'll find valuable information and examples of hundreds of lighting products – from Goosenecks to Porcelain Enamel Pendants to RLM Warehouse Shades and Vintage Industrial Furniture.
Whether you're renovating your home or starting a new business, this site will serve as your ultimate directory to the best barn lights for your home or business. In the early 1900′s most barn lights were found in industrial areas such as gas stations, auto shops and warehouses. Now, these fixtures are just as common on the walls and ceilings of modern homes, commercial spaces and retail stores. A great example of a vintage inspired barn light that has transcended into mainstream design is the Porcelain Enamel Warehouse Shade. Today, Porcelain Enamel Warehouse Shades are available in designs that are as diverse as the homes and businesses they illuminate. They can be found everywhere from home kitchens to laundry rooms and coffee shops.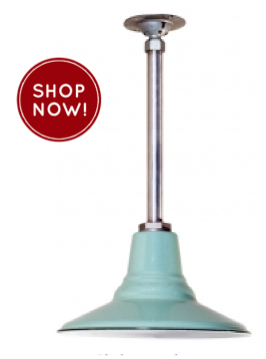 On this site, you'll find details on our popular porcelain barn lights made with raw steel with and an exterior glass coating. These include: Goodrich® Gooseneck Lights, Ivanhoe® Pendants and Benjamin® Stem Mounts – all American made using the highest quality materials and craftsmanship that are associated with the original vintage shades. Customers value these vintage inspired lights for the same reason the original models gained mass appeal in the 1930′s: their high quality and American manufactured components. The growing design styles of today have begun to utilize these fixtures for not only their classic look, but also because of their extreme durability and long lasting features.
Gooseneck barn lights have also regained popularity with homeowners and business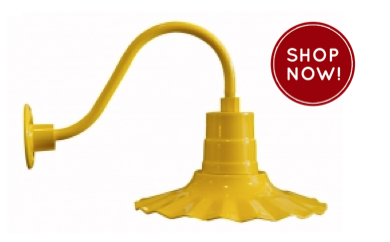 owners alike. Many restaurants and shops place gooseneck lights above their front entrance to highlight their signs or menus, while large, commercial buildings use gooseneck lights around the exterior of their buildings to illuminate walkways and loading zones. Gooseneck arms extend the shade away from the wall or building, allowing the shade to cast a larger, wider span of light onto the area. Barn Light Electric offers up to thirty different gooseneck arm sizes and styles to compliment any area of your home or business.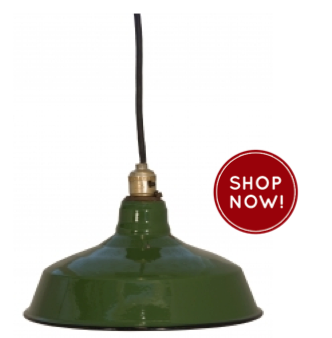 Antique junkies and true, American Pickers have started pursuing vintage barn lights such as Crouse-Hinds and Appleton. At the beginning of the 1930's, RLM warehouse lights replaced small industrial task lights. The term RLM lighting comes from the association titled Reflector and Lamp Manufacturers. This group set strict specifications for members within the lighting industry which ultimately later caused manufacturers to stop producing porcelain enamel lighting. On our blog, you'll learn about the history and parts behind these time-honored trophies of the past, while many styles of vintage pendants and goosenecks can be purchased on our online store. Each has been cleaned and rewired for immediate installation wherever you choose. By ordering one of our vintage barn lights, you will be bringing home a piece of exceptional craftsmanship that holds a piece of our American history.