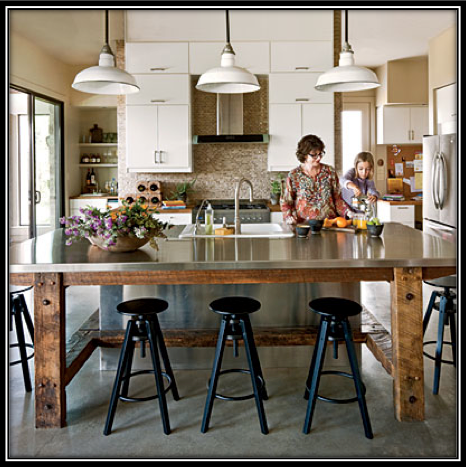 American Made Pendant Lighting for the Urban Texas Home
By now, you're taking note that porcelain barn lights can be used nearly anywhere. Whether an entryway pendant light, commercial sign light, or just a gooseneck vanity lamp, they're likely to earn compliments from anyone who takes note of them. Modern enamel lamps have been around for over a century, so owning one is almost like owning a piece of history.

We've viewed porcelain lights in country kitchens, coastal exteriors and inside unique businesses like craft beer bars. Did you ever think to find one in a Texas urban kitchen?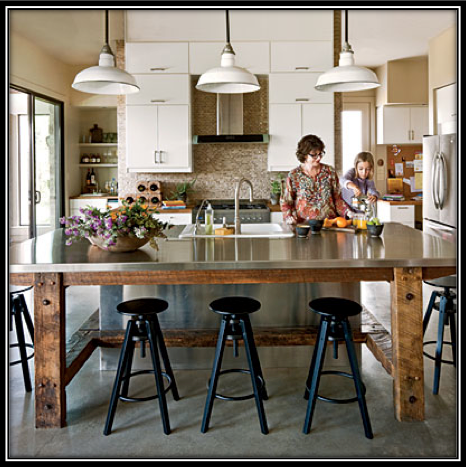 Texas urban you ask? It's a style that incorporates rustic elements alongside modern appliances and this kitchen is the perfect example. Featured in Southern Living for its impeccable style, the homeowner hit the nail on the head when it came to designing her dream kitchen. An oversized stainless steel island adds more than enough prep area, along with a breakfast bar fit for five. Repurposed wooden legs support the enormous counter top, while additional stainless steel appliances match. Lastly, modern cabinets extend to the ceiling for the perfect storage solution.
Curious about the warehouse pendants above? With lighting that takes center stage, there are a few ways to get similar pendants in your home. First, you can check out vintagebarnlighting.com and view first hand the selection of authentic porcelain enamel pendants. Packed with individual character, some still even have the original manufacturer's sticker. Prefer something brand new to meet commercial specifications?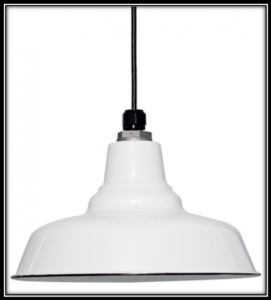 We've got you covered with our exclusive, American made enamel lighting. Ivanhoe® pendant lighting gives you that authentic look without always paying higher vintage pricing. The Ivanhoe® Union Warehouse Pendant is the perfect midsized pendant lamp for any room in your home, not just the kitchen. Because of its unusual design, the Union combines industrial and modern looks for an all around ceiling lamp. If you're looking to add a Texas urban atmosphere to your home, the Union may be the missing puzzle piece!
Top Photo Courtesy of Southern Living