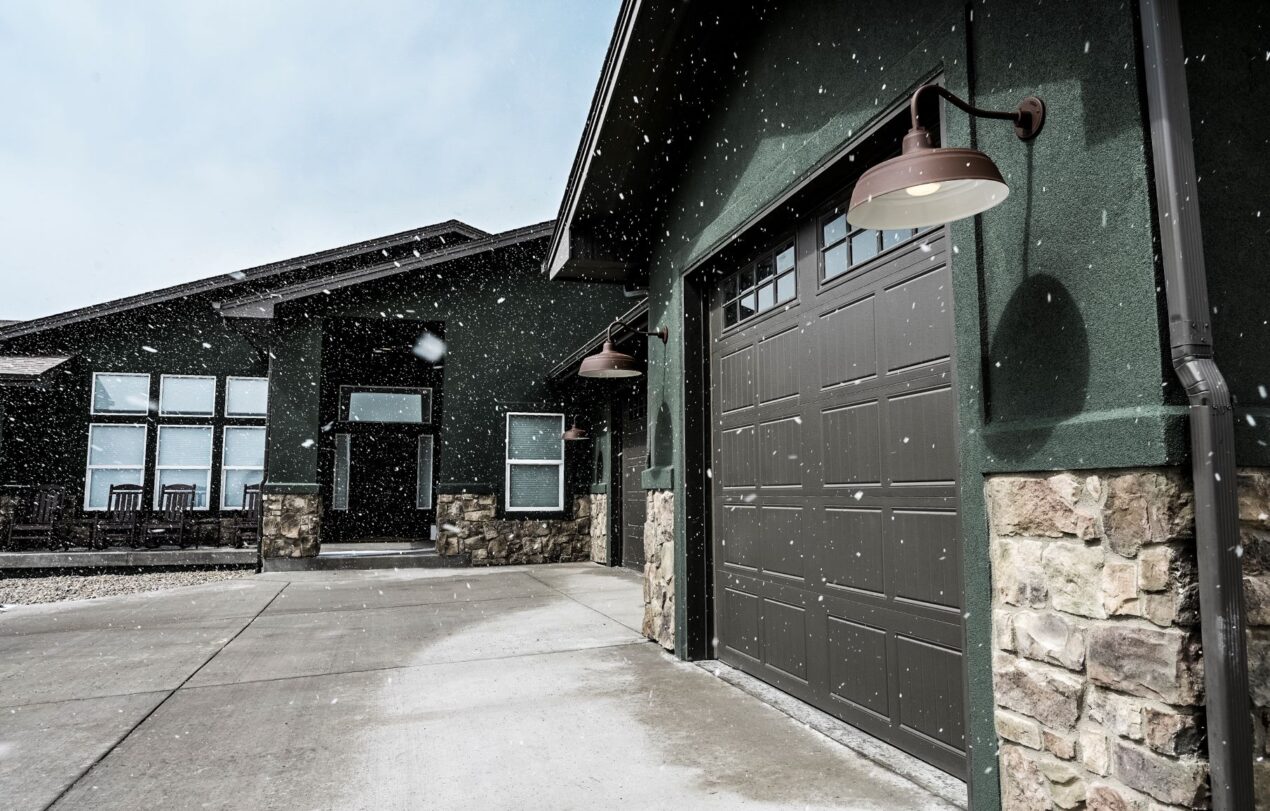 American-Made Gooseneck Lights Stand Up to Weather & Wildlife
When looking for a home, buyers often have a laundry list of must-have features ranging from a desired floor plan to granite countertops or a hot tub on the deck. For Katie and her husband, the list included ADA features to make their home easily accessible as Katie is a disabled veteran.
"We found a new home at the edge of Black Forest, Colorado, that the owners were selling after just six months as they were moving for a new job," Katie says. "Luckily, Black Oak Homes built a fairly ADA-compliant home, but we'll be making a few adaptations." As Katie and her husband, who is also a veteran, started making changes to the exterior of their new home, they focused on a new front door and lighting.
"We wanted American-made lighting," Katie notes. "We purchased Barn Light Electric fixtures for our previous home and loved them. We wanted heavy-duty fixtures because it's very windy where we live. It's also an equestrian neighborhood so barn lights really fit into the environment."
The couple chose the All Weather Gooseneck Farm Light for their exterior lighting needs. They customized a 13″ shade with a Rust powder coat finish to highlight a sign that their realtors, Andrew and Wendy Weber, gifted them at closing. They also selected a G16 straight gooseneck arm and a dusk-to-dawn photocell for this American-made wall light.
"We chose this size and style because we wanted something that gave direct light over our sign," Katie explains. "And I added the photocell because I want the doorway illuminated but I forget to flip the switch!" For the garage and other exterior spaces, Katie went with a larger 17″ shade and a G31 gooseneck arm but the same Rust finish. They wanted additional light coverage with the larger shade as they have plenty of wildlife in the area.
"It is very, very dark here, and we have wolves, coyote, mountain lion, bear, and deer to name a few," she notes. "We also have big birds like bald eagles and golden-tailed hawks, so we wanted to have as much coverage as possible." The All Weather Gooseneck is handcrafted in Barn Light's Florida facility from commercial-grade materials. This high-quality, industrial light is a lasting gooseneck option no matter the weather or the wildlife!
"My brother-in-law came out and installed all the lighting for us the weekend we first moved in," Katie says. "We love everything about these lights!"
Photos courtesy of the homeowner