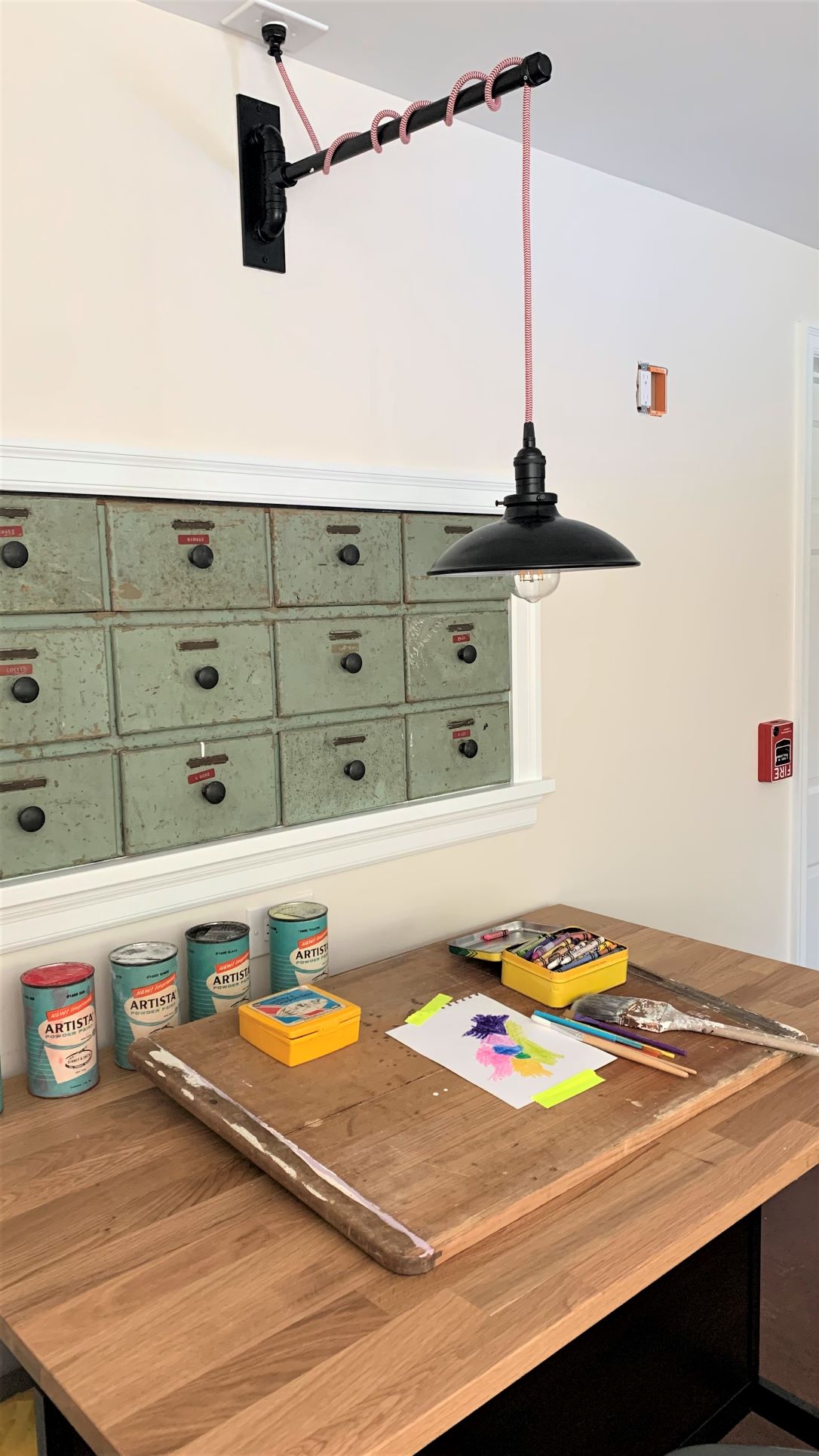 Customized Lighting Puts 'Fun' in Functional Art Room
When Susan and her husband, Ethan, purchased his childhood home in Cincinnati, Ohio, they spent three years restoring it with help from Jackie Barnes Design. As they considered upgrades for the basement, Susan wanted the space to be useful and to promote creativity in their three boys — Jackson, 11, Ben, 7, and Thomas, 5.
"We call this the art room now," Susan says. "It has a new cork floor, a sink, a new wall, and windows. We rarely let the boys play video games, so if they're not outside playing, they're creating big messes in the art room." The couple opted for light-colored walls so the boys' artwork could add color, but Susan wanted one wall to be bold. She used Nola Blue cement tiles from Riad Tile for the wall behind the sink.
For lighting, Susan wanted flush mount lights instead of pendants so that the room could be rearranged easily. She also wanted to be able to choose from a variety of colors and customizing options. Barn Light Electric offered Susan plenty of choices for the space she envisioned.
Susan opted for two Primary Schoolhouse Flush Mount Lights for the ceiling. She customized these handcrafted fixtures with large, opaque glass and a Barn Red fitter.
"We love the schoolhouse style, and the color red as an accent is bold and classy," she explains. "We chose opaque glass because I didn't want to see the light bulb, and I didn't want a directional light. Light needs to fill the room because it's the basement."
Susan and Ethan dug into their attic where they had hidden away a set of drawers Ethan rescued from the local middle school. These drawers are installed along one wall and serve as perfect storage for art supplies.
"Ethan rescued them when they remodeled the building 20 years ago," Susan notes. "We finally found a place for them. We coordinated the drawers with the desk and a swing arm light." Susan chose the Sinclair Swing Arm Sconce to serve as task lighting over the desk. She customized this American-made wall sconce with a Black powder coat finish and red chevron cord.
"The swing arm is just a fun function over the work table," Susan explains. "We chose the black finish and red cord for an industrial look." She adds that the lights all coordinate well with each other and add interest to the room.
"It was worth the search and customizing for such a unique room," she says. " The boys love to spend time making messes!"
Photos courtesy of the homeowner