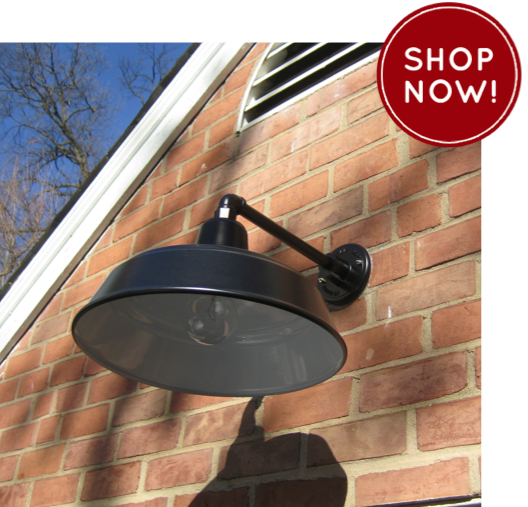 All Weather Gooseneck Farm Light in Arlington, Va Garage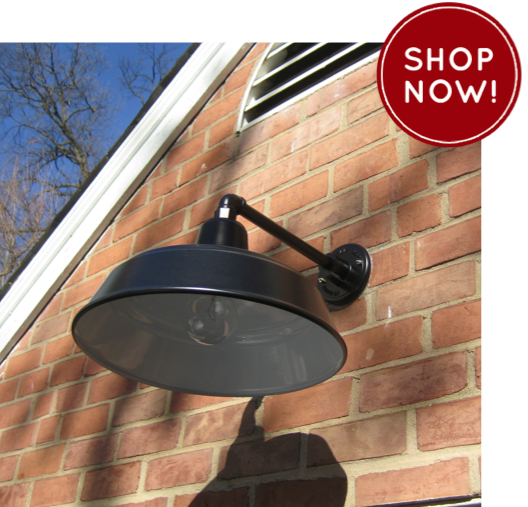 Installed on the front entry to his 1940's garage, a recent customer from Arlington, Virginia sent us some photos using an All Weather Gooseneck Farm Light. Arlington, Virginia is home to many of America's most famous sites and homes that reflect the historic Jeffersonian or Colonial style architecture common to the area near our nation's capital. Like all of our vintage inspired gooseneck barn lights, the All Weather Gooseneck Farm Light provides modern functionality while capturing a classic American look. You can find this fixture in our Discount Barn Lighting section at Barn Light Electric Co.®.
This warehouse shade is a perfect accent to the black wood panel garage door surrounded by red brick. Traditional styles are maintained, while the black accents bring an up to date, modern feel to the home's exterior. The All Weather Gooseneck Farm Light is available for $119 each and comes in your choice of four colors options: Black, White, Dark Green, and Galvanized. For shoppers on a budget, this light fixture is an ideal low cost alternative to any of our larger warehouse lights. It's commonly used within commercial areas or workshops, as well as interior spaces such as kitchens, bathrooms or laundry rooms.
This 15 inch warehouse shade is proudly made in America and is one of several exclusive products only offered by Barn Light Electric Co.®. Another key feature is that this discount barn light also happens to be one of many Dark Sky Compliant Lights sold on our website. Dark Sky Compliance is a new regulation enforced in 18 states which requires a light fixture to project light downward without releasing lighting upward into the atmosphere or outward past the intended projected path.
In residential areas, such as the garage today, the inner light bulb should be shielded within the shade so that the bulb is not directly visible from the front or side. To see more gooseneck lights and vintage barn lights, visit our main site at barnlightelectric.com.