Rustic Wall Sconce, House Numbers Create Attractive Entryway
Luckily for most of us, creating an inviting front entryway doesn't involve rocket science. If you've got the bones of your structure in place, all you need are some additional touches that give your home genuine curb appeal and will enhance its value for years to come. Start off by simply keeping the area around your front door uncluttered so visitors don't have to step over a pile of shoes just to get in. Add some potted plants or seasonal flowers in different sized containers and at different heights to add visual interest.

Exterior lighting can make a home look welcoming at night, discourage intruders, and cast a warm glow on the architectural details. This home is striking with its bold architecture and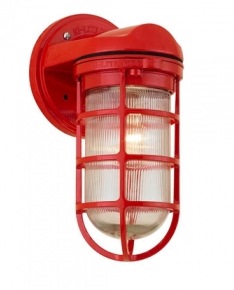 industrial style. What could have been a very stark entry is softened by the choice of colors and the textures of the garden and other plants nearby. The rustic wall sconce is a nod to the Atomic Age and looks much like our Barn Light Industrial Static Topless Sconce.
This wall-hugging fixture is one of our most versatile sconces, available in two sizes, and able to take on a mid-century to modern look with your choice of options. Bold colors like Red and Blue are on the palette as are more traditional tones like Patina and Coppertone. More than half a dozen glass options are available. Rated for wet locations, this sconce will provide years of service by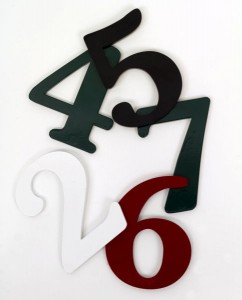 the front door, in breezeways, or on the garage. Choose a matching Atomic Topless CGU Pendant for the porch!
You can also get a similar look with our bold House Numbers. Crafted from heavy duty steel, these 1/4″ thick numbers are powdercoated in your choice of five distinctive colors. Easy to read, even from a distance!
Top photo courtesy Verge Architecture and Design
and Photograher Miguel Edwards